Breen edges Kajetanowicz in mid-Atlantic ERC thriller
First day report of 2014 FIA European Rally Championship, round five of 12 in Açores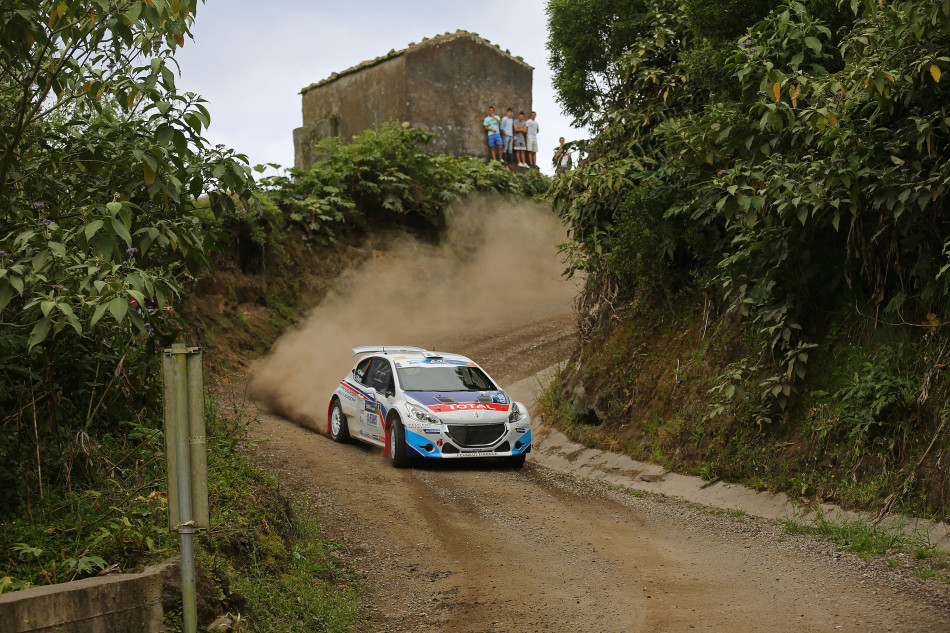 There will be more serious competition ahead when leg one of SATA Rallye Açores resumes on Friday morning following a thrilling start to the spectacular FIA European Rally Championship counter today (Thursday).
After the opening three stages, Craig Breen leads the gravel event in his Michelin-shod Peugeot Rally Academy 208T16 with Kajetan Kajetanowicz just 0.9s behind in his Pirelli-equipped LOTOS Rally Team Ford Fiesta R5.
Breen was fastest on Thursday's opening test but lost time on the very next run when he had to stop to drive around two boulders that had fallen into the road. Kajetanowicz, meanwhile, went quickest and was also fastest on the Grupo Marques superspecial to reach the overnight halt in Ponta Delgada firmly in contention for ERC glory.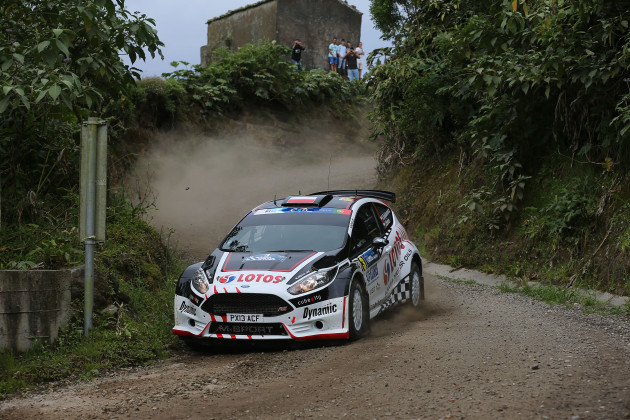 "It's better than I thought before the rally, everything is good but I can be better with my driving," said Kajetanowicz, who is competing in the Açores for the first time. "I am a fighter and I want to win every time but I must be clever and think about all the season. But I think it's stupid to fight with Craig when he was here last year and has the experience. This is why I am happy tonight."
Breen, who can move back to the top of the ERC standings with a strong result in the mid-Atlantic said: "It's good fun and the speed's there. I just wanted to start at a reasonable pace and on the first stage it was perfect but on the second one I had to stop twice because there were some massive boulders on the road. Kajto was very fast on the gravel in Greece and I think it will be a big fight tomorrow."
Kevin Abbring is third overnight in the second 208T16. However, the Dutchman will run ahead of Kajetantowicz on the road on Friday. That's because the reverse seeding for Friday's eight stages is based on the top 10 overall classification prior to today's superspecial, where Kajetantowicz moved into second spot.
Ricardo Moura is the leading local driver in fourth on his debut in his newly acquired Fiesta R5. Bernardo Sousa, running first on the road following a troubled Qualifying Stage, is fifth with Bruno Magalhães sixth in his normally-aspirated Peugeot 207 Super 2000. Rising Russian star Vasily Gryazin is seventh in his Fiesta S2000 with Jaroslav Orsák in eighth. Robert Consani and João Barros complete the top 10.
Ruben Rodrigues holds a 2.1-second lead over Vitaliy Pushkar in the ERC Production Car Cup with Stéphane Lefebvre the clear leader in ERC 2WD and ERC Junior following an accomplished performance by the Peugeot Rally Academy ace. He's 20.1s ahead of ERC Junior rival Risto Immonen with title leader Jan Černý third and not entirely satisfied on his first outing in his Peugeot 208 R2 on gravel. Chris Ingram is fourth following traction issues with Fabio Andolfi a fine fifth on his ERC Junior debut. Gino Bux is sixth with Andrea Crugnola struggling with a down-on-power engine in seventh. Guillaume Dilley completes the ERC Junior runners after Alex Parpottas and Florin Tincescu both retired. Parpottas went off on stage one, while Tincescu stopped with a mechanical issue on stage two.

What's next? More spectacular gravel stages including four broadcast live is the order of the day when leg one resumes on Friday. The two runs of the 23.90-kilometre Sete Cidades volcano stage will be televised live on Eurosport and RTP Açores, while both passes of the 7.46-kilometre Feteiras stage will be streamed live on the official ERC website, Fiaerc.com. ERC Rally Radio will also be broadcasting live with reporters bringing instant reaction from the drivers at the end of virtually every stage. ERC Rally Radio is available at Fiaerc.com where live results and text commentary can also be accessed.