Belgian Grand Prix - Preview 2014
FIA Preview of the 2014 Belgian Grand Prix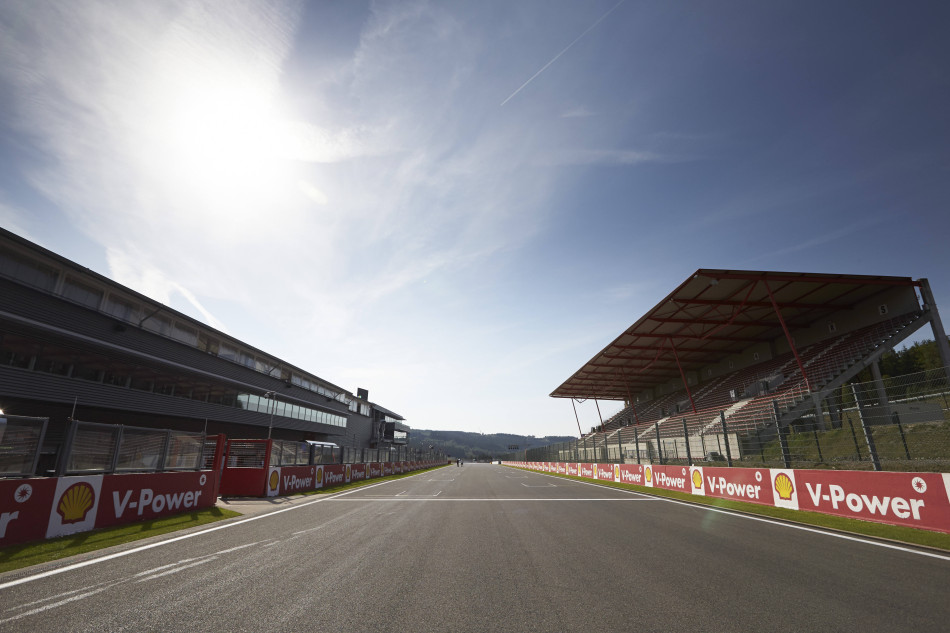 Race
Preview
2014 BELGIAN GRAND PRIX
22 – 24 AUGUST 2014
  
After enjoying its traditional summer break, Formula One returns for round 12 of the 2014 championship, the Belgian Grand Prix at Spa-Francorchamps, one of the calendar's true classics and one of its toughest tests. 
 
The 7.004km circuit features every kind of challenge. From the run down through Eau Rouge and up the steep incline towards the blind Radillon corner, to the flat-out blast of the Kemmel Straight, through Les Combes and the technically difficult stretch down through Rivage, Pouhon and Fagnes and on to the fearsomely fast Blanchimont left-hander, Spa-Francorchamps is a circuit that, despite myriad alterations over the years, still pushes man and machine to the limit. 
 
Spa is one of the season's fastest tracks with average speeds of 230km/h and the stretch from the exit of La Source to Les Combes sees the throttle wide open for 23 seconds – the longest single period on the calendar. Indeed, in the past as much as 70 per cent of each lap has been spent at full throttle so it will be interesting to see how teams meet that demand with 2014's hybrid power units. Set-up is tricky too, with the key to success being the right balance between low downforce for the high-speed first and third sectors and good grip for the twistier middle sector. 
 
And then there's the weather. The Ardennes defines the phrase 'four seasons in one day' and while one end of the circuit can be bathed in sunshine the opposite side can be drenched with rain. The changeable conditions can present a real headache for teams especially regarding tyre choice. 
 
All told, Spa is the perfect venue for F1's title hopefuls to renew hostilities. In the Driver's Championship, just 11 points separate leader Nico Rosberg from Mercedes team-mate Lewis Hamilton, while the battle for third spot sees Daniel Ricciardo, a two-time GP winner this season, 16 points clear of Ferrari's Fernando Alonso. Of these, only Hamilton has won here before, but at mercurial Spa past form often counts for little. A thrilling race lies in prospect.

 

CIRCUIT DATA


  
CIRCUIT SPA-FRANCORCHAMPS
         
Length of lap:
7.004km
Lap record
1:47.263
(Sebastian Vettel, Red Bull Racing, 2009)
Start line/finish line offset  
0.124km
Total number of race laps 
44
Total race distance  
308.052km
Pitlane speed limits  
80km/h in practice, qualifying and the race
   
CIRCUIT NOTES
  
► New debris fences have been installed at Turn One.
► Drainage has been installed or improved at Turns Two, Four, Eight, 11, 16 and 17.
► The wall on the driver's left after Turn 11 has been renewed.   
  
DRS ZONES
  
► There will be two DRS zones in Belgium. The detection point for the first zone will be 240m before Turn Two, with the activation point 310m after Turn Four. The second detection point will be 160m before Turn 18, with the activation point 30m after Turn 19. 
 
 
 
 
 
 
 
 
 
 
 
 
 
 
Belgian GP
Fast Facts
► This will be the 59th Formula One Belgian Grand Prix, the first having been held in 1950 when it formed the fifth round of the inaugural F1 championship. The race was won by Juan Manuel Fangio.
► That first edition of the race was held at Spa-Francorchamps, on the original 14.1km circuit. That circuit, with minor modifications, was used from 1950-'56, 1958 and from 1960-'70, after which the track was deemed too dangerous for Formula One. The Nivelles circuit was used in 1972 and 1974, with Zolder hosting the race in 1973 and then from 1975 until 1982. Spa hosted the 1983 race on a shortened 6.949km circuit and Zolder hosted its final Belgian GP in 1984. 
► With just two exceptions (2003 and 2006, when the Belgian GP was not held) the race has been staged at Spa-Francorchamps every year since 1985. The circuit has been subject to frequent modifications since then, the largest being the construction of new pit and paddock facilities prior to the 2007 race. The resultant 7.004km layout is the one currently in use. This will be the 47th F1 grand prix held at Spa-Francorchamps.
► The most successful driver at the Belgian Grand Prix is Michael Schumacher, with six wins. The first of the German's 91 career wins was scored here in 1992 with Benetton. He won with the same team in 1995 before recording a quartet of victories for Ferrari in 1996, '97, 2001 and 2002. Ayrton Senna comes next, with five wins, in 1985, '88, '89, '90 and '91.  
► No driver has won the Belgian Grand Prix at more than one venue. Emerson Fittipaldi, however, is the only man to have won at Nivelles. The unloved 3.7km circuit near Brussels hosted just two Formula One grands prix and the Brazilian won both, the first with Lotus in 1972 and then in 1974 with McLaren.   
► Ferrari is the most successful constructors at the Belgian Grand Prix. The Italian squad has 16 wins, followed by 14 for McLaren and eight for Lotus. Williams have four wins, while Red Bull Racing have two. Mercedes also have a win to their credit too, in 1955, courtesy of Fangio.
► There are five Belgian Grand Prix winners entered this weekend. Felipe Massa won in 2008, Lewis Hamilton in 2010, Sebastian Vettel in 2011 and 2013 and Hamilton again in 2012. None comes close to the achievements of Kimi Räikkönen, however. The Finn has won this race four times, starting with back-to-back wins with McLaren in 2004 and 2005. He next won for Ferrari in his championship-winning season of 2007 and most recently won again in 2009, the final year of his previous stint with the Scuderia.
► Räikkonen's first win at Spa-Francorchamps came from a starting position of 10th on the grid. It's not the lowest grid slot from which victory has been scored, however. Schumacher's 1995 win was scored from a starting position of 16th.
Belgian GP
Race Stewards
Biographies
DR GERD ENNSER
MEMBER OF THE DMSB'S EXECUTIVE COMMITTEE FOR AUTOMOBILE SPORT, FORMULA ONE AND DTM STEWARD
Dr Gerd Ennser has successfully combined his formal education in law with his passion for motor racing. While still active as a racing driver he began helping out with the management of his local motor sport club and since 2006 has been a permanent steward at every round of Germany's DTM championship. Since 2010 he has also been a Formula One steward. Dr Ennser, who has worked as a judge, a prosecutor and in the legal department of an automotive-industry company, has also acted as a member of the steering committee of German motor sport body, the DMSB, since spring 2010, where he is responsible for automobile sport. In addition, Dr Ennser is a board member of the South Bavaria Section of ADAC, Germany's biggest auto club.
VINCENZO SPANO
PRESIDENT OF THE SPORTING COMMISSION OF THE AUTOMOBILE AND TOURING CLUB OF VENEZUELA
Italian-born Vincenzo Spano grew up in Venezuela, where he went on to study at the Universidad Central de Venezuela, becoming an attorney-at-law. Spano has wide-ranging experience in motor sport, from national to international level. He has worked for the Touring y Automóvil Club de Venezuela since 1991, and served as President of the Sporting Commission since 2001. He was president for two terms and now sits as a member of the Board of the Nacam-FIA zone. Since 1995 Spano has been a licenced steward and obtained his FIA steward superlicence in 2003.Spano has been involved with the FIA and FIA Institute in various roles since 2001: a member of the World Motor Sport Council, the FIA Committee, and the executive committee of the FIA Institute.
EMANUELE PIRRO
FORMER F1 DRIVER AND FIVE-TIME LE MANS WINNER
During a motor sport career spanning almost 40 years, Emanuele Pirro has achieved a huge amount of success, most notably in sportscar racing, with five Le Mans wins, victory at the Daytona 24 Hours and two wins at the Sebring 12 Hours. In addition, the Italian driver has won the German and Italian Touring Car championships (the latter twice) and has twice been American Le Mans Series Champion. Pirro, enjoyed a three-season F1 career from 1989 to 1991, firstly with Benetton and then for Scuderia Italia. His debut as an FIA Steward came at the 2010 Abu Dhabi Grand Prix and he has returned regularly since.
Belgian GP
Championship Standings
(Drivers)
Belgian GP
Championship Standings
(Constructors)
Belgian GP
Formula One Timetable
& FIA Media Schedule
THURSDAY
Press Conference
 
FRIDAY
Practice Session 1
Practice Session 2
Press Conference
 
SATURDAY
Practice Session 3
Qualifying
Followed by unilateral and 
press conference
 
SUNDAY
Drivers' Parade
Race 
Followed by podium interviews and press conference
 
15.00
  
 
10.00-11.30
14.00-15.30
16.00
 
 
11.00-12.00
14.00-15.00
 
 
 
 
12.30
14.00-16.00
 
 
 
ADDITIONAL MEDIA OPPORTUNITIES
  
QUALIFYING
All drivers eliminated in Q1 or Q2 are available for media interviews immediately after the end of each session, as are drivers who participated in Q3, but who are not required for the post-qualifying press conference. The interview pen will be located in front of the media centre, adjacent to the FIA hospitality unit.
     
RACE 
Any driver retiring before the end of the race will be made available at his team's garage/hospitality.
In addition, during the race every team will make available at least one senior spokesperson for interview by officially accredited TV crews. A list of those nominated will be made available in the media centre.