Belgian GP : Race Preview
2012 Belgian Grand Prix (31 August - 2 September 2012)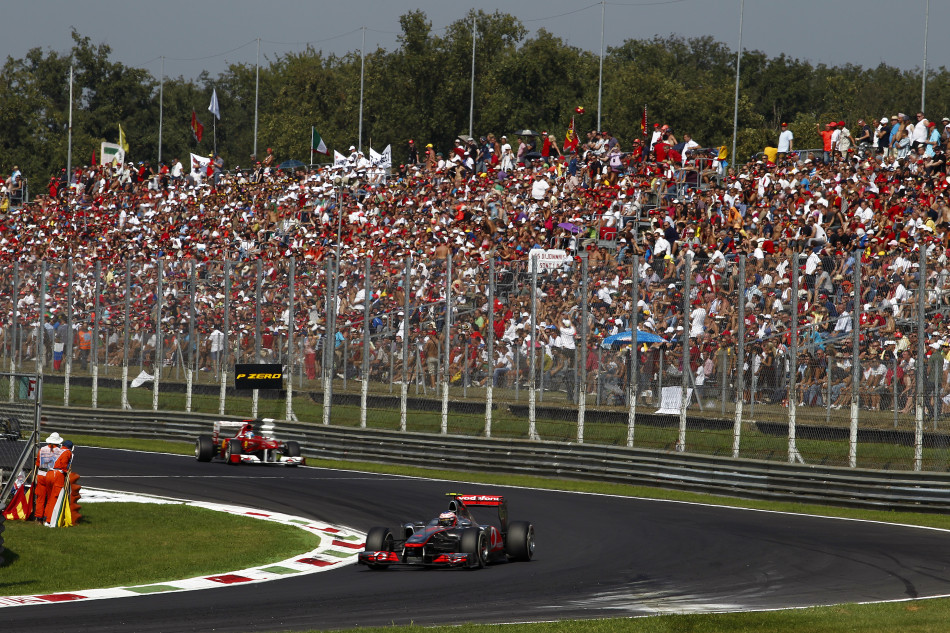 Race
Preview

2012 BELGIAN GRAND PRIX
31 AUGUST - 2 SEPTEMBER 2012

  

The Circuit de Spa-Francorchamps will host the 12th round of the 2012 Formula One World Championship as the Grand Prix of Belgium signals a return to racing following the series' summer break. The track, which winds up and down through the Ardennes, has its reputation built on speed. At around 20 seconds, the section from La Source to Les Combes is the longest duration an F1 car will spend on full-throttle in 2012 – should the driver take the Eau Rouge/Raidillon combination flat-out.
 
Despite this, and another long flat-out run down to the new Bus Stop chicane, Spa is a more technical challenge than perhaps its high-speed reputation suggests, with the ten corners of the twisting middle sector often being where fast laps are crafted. Because of the challenges of Rivage, Blanchimont, Stavelot and especially Pouhon in this middle sector, Spa doesn't demand the ultra-low downforce aero packages seen at Monza. Instead it falls into the medium-low category similar to those used in Montreal. It isn't a race that heavily taxes suspension or braking, but it does see high tyre-wear and, with a longer lap – 7km in total – than any other grand prix, pitting at the right moment carries a greater premium.
 
Another factor is the weather: rare is the year when it doesn't rain at some point over the Belgian Grand Prix weekend. This, in combination with the distance travelled around the lap and its elevation changes, make Spa notorious for inconsistent conditions, with showers falling on some parts of the circuit while others remain dry.
 
Fernando Alonso goes into the race leading the Drivers' World Championship by 40 points. History looks kindly on drivers in his position with 8 out of the last ten World Championships being won by the driver top of the standings at this stage of the year. Spa, however, is not Alonso's best circuit: he hasn't won here since driving in F3000. 
 

 

 

 
CIRCUIT DATA
 

Circuit de Spa-Francorchamps

 

Length of lap: 

7.004km
Lap record:

1:45.108
(Kimi Räikkönen, McLaren, 2004) 
Start line/finish line offset:
0.124km
Total number of race laps:
44
Total race distance:

308.052km
Pitlane speed limits:
60km/h during practice; 100km/h during qualifying/race

 

Changes to the circuit since 2011


► The series of drains and connecting gullies on the right between turns nine and 10 have been re-worked in order to make them flat and level with the surrounding verges. 
► A section of artificial grass two metres wide has been laid behind the painted 'kerb' on the right between turns 10 and 11. 
► An opening has been provided in the guardrail on the right of the run-off area around the outside of turn 9.
► All white lines that border the track will be painted with FIA approved, skid-resistant paint.
► A debris fence has been installed in the guardrail and wall on the right of the pit entry.

Belgian GP
Fast Facts
► The Circuit de Spa-Francorchamps traces its origins back to the inter-war period. In 1920, the first formal racing layout used public roads between the towns of Malmedy, Stavelot and the village of Francorchamps. By the start of the F1 World Championship era, this had developed into a 14.1km circuit. After many fatalities and serious injuries, that was drastically reduced to a c.7km circuit in the late 1970s. There have been several updates to the circuit since, with many of the faster corners being reprofiled to bring the race track up to the safety standards expected of a modern grand prix circuit. 
► Spa-Francorchamps was one of the venues used in 1950 for the inaugural F1 World Championship season. It has been the circuit used for the bulk of Belgian Grands Prix, hosting the race for 44 of its 56 runnings.
► The race has also been held at Nivelles (1972, '74) and Zolder (1973, 1975-82, '84). Spa-Francorchamps has hosted the race in all other years, barring 1957, '59 , '69, '71, '03 and '06, when no championship Belgian Grand Prix was held.

► No driver has won the race at more than one of these venues.  
► Twenty-one Belgian Grand Prix winners are also World Champions. Those drivers have never won World Championships in the years the Belgian Grand Prix has been held at circuits other than the one where they were victorious.
► Ferrari are the most successful constructor at the Belgian Grand Prix. They have 16 victories against 12 wins for McLaren.
► Kimi Räikkönen has an unusual record at Spa: in his seven attempts he has either won or failed to finish. Victories came in 2004, '05, '07 and '09. In 2004 and 2009 his victories at Spa were the only ones taken by his team during the season. DNF's were caused by engine failure in 2002 and a spin while battling for the lead in the closing stages of the 2008 race. His Spa debut in 2001 ended with a technical DNS when transmission failure ensured he did not take the grid for a restart after an early red flag.

► That same race in 2001 saw Michael Schumacher take his 52nd F1 victory, surpassing the standing record set by Alain Prost in 1993. Schumacher's new record currently stands at 91 wins, of which six have come at Spa, making him the most successful driver in the history of the Belgian Grand Prix. Behind him come Ayrton Senna (5), Jim Clark (4) and Räikkönen.
► Schumacher also made his F1 debut at Spa, and this weekend sees him take part in his 300th Grand Prix.  
► While the Belgian Grand Prix has held this end of August/start of September slot for over two decades, the calendar around it has changed dramatically. Ten years ago it was very much towards the end of the season with only three races to follow it. In 2012 it is a mid-season race, with a further eight races to come. 

Belgian GP
Race Stewards
Biographies
GARRY CONNELLY
DEPUTY PRESIDENT, FIA INSTITUTE; DIRECTOR, AUSTRALIAN INSTITUTE OF MOTOR SPORT SAFETY; F1 AND WTCC STEWARD; FIA WORLD MOTOR SPORT COUNCIL MEMBER
Garry Connelly has been involved in motor sport since the late 1960s. A long-time rally competitor, Connelly was instrumental in bringing the World Rally Championship to Australia in 1988 and served as Chairman of the Organising Committee, Board member and Clerk of Course of Rally Australia until December 2002. He has been an FIA Steward and FIA Observer since 1989, covering the FIA's World Rally Championship, World Touring Car Championship and Formula One Championship. He is a director of the Australian Institute of Motor Sport Safety and a member of the FIA World Motor Sport Council.
STEVEN CHOPPING
FORMER VICE PRESIDENT OF THE CONFEDERATION OF AUSTRALIAN MOTOR SPORT (CAMS), CHAIRMAN CAMS JUDICIAL ADVISORY COMMITTEE, PERMANENT CHAIRMAN OF THE STEWARDS PANEL FOR THE V8 SUPERCAR CHAMPIONSHIP
Steven Chopping began participating in motorsports in the 1960's. He competed as a driver in various karting, Formula Ford, Australian Formula 2, Sports and Production Car competitions from the early seventies until 1990. Chopping was a steward at the Australian Rally Championship from 1997-2004 and Chairman of the Stewards at the Australian Production Car Rally Championship from 2001-2004.  He has been a permanent steward at the V8 Supercar Championship in Australia from 2004 until the present day and has been a steward at the Australian Grand Prix from 2005 onwards.

ELISEO SALAZAR

FORMER F1 AND IRL RACER, WRC AND DAKAR DRIVER

Chile's Eliseo Salazar competed in F1 between 1981-83, driving for March, Ensign, ATS and RAM. After F1, Salazar tried his hand at most forms of motorsport. He returned to the limelight in the late 1980s to race in sportscars, as a works drivers for the Jaguar team. From sports cars he went on to open-wheel success in America, taking an IRL victory at the Las Vegas Motor Speedway, and finished on the podium in the Indy 500. He has the distinction of competing in the Monaco Grand Prix, the Indy 500, the 24 Hours of Le Mans and Daytona and the Dakar Rally, and recently added a WRC appearance after competing in the 2012 Rally Argentina. He finished a creditable 12th driving a Mini WRC.
Belgian GP
Championship Standings
(Drivers)
Belgian GP
Championship Standings
(Constructors)

Belgian GP
Formula One Timetable
& FIA Media Schedule

THURSDAY
Press Conference

FRIDAY
Practice Session 1
Practice Session 2
Press Conference

SATURDAY
Practice Session 3
Qualifying
Followed by unilateral and 
press conference

SUNDAY
Drivers' Parade
Race 
Followed by unilateral and 
press conference


15.00
 

10.00-11.30
14.00-15.30
16.00


11.00-12.00
14.00-15.00




12.30
14.00
 
 
ADDITIONAL MEDIA OPPORTUNITIES


QUALIFYING
All drivers eliminated in Q1 or Q2 are available for media interviews immediately after the end of each session, as are drivers who participated in Q3, but who are not required for the post-qualifying press conference. Location: in the Paddock, in front of stair case number 3, between garages 14 and 15.

  
RACE 
Any driver retiring before the end of the race will be made available at each team's garage/hospitality.
In addition, during the race every team will make available at least one senior spokesperson for interview by officially accredited TV crews. A list of those nominated will be made available in the media centre.