This page contains archived information and may not display perfectly
Bakkerud wins Argentina RX as EKS takes 2016 teams' title
World RX - 2016 Rallycross of Argentina - Race report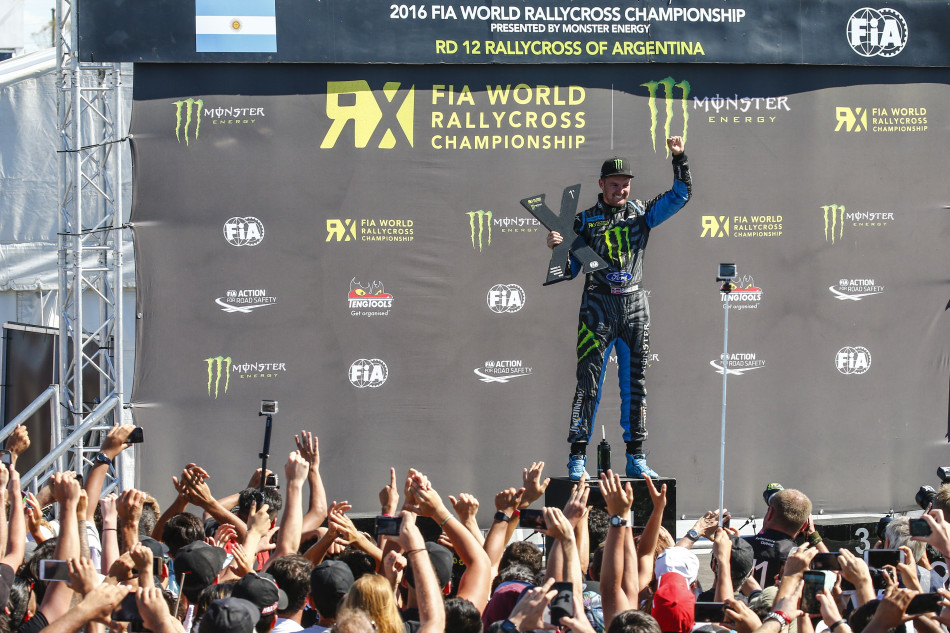 Norway's Andreas Bakkerud has won World RX of Argentina, the final round of the 2016 FIA World Rallycross Championship at the wheel of his Hoonigan Racing Division Ford Focus RS RX Supercar. Volkswagen RX Sweden's Johan Kristoffersson and EKS driver Topi Heikkinen finished second and third.  EKS has clinched the 2016 World RX Teams' Championship as team-mates Mattias Ekstrom and Topi Heikkinen racked up enough points during qualifying to scoop the coveted title ahead of Team Peugeot-Hansen.
Ekstrom was crowned this year's World RX drivers' champion at the previous round in Germany after scoring enough points to secure the accolade before Argentina. In the three-way battle for the 2016 World RX runner-up spot, it was Kristoffersson who came out top – only one point ahead of Bakkerud and Solberg who finished third and fourth respectively.
"Now that it's been confirmed that I'm third in the driver standings, I'm feeling very emotional – I've had so many people supporting me on my route to be here today and it's a great feeling," explained Bakkerud, who also wins the Monster Energy Super Charge Award following his rapid start off the front row of the final. "I am very proud of myself and want to thank all my partners and fans for supporting me.  Ever since Ken called me last year to confirm that I was his team-mate, it's been an incredible journey. Today was a very hard race because there was so much on the line and I'm just so happy that I secured a podium in the Drivers' World Championship."
Second-placed Kristoffersson ends the year second in the standings – one better than his third place finish last year.  He explained:  "After the semi-final, I knew I had to finish P1 or P2 in the final to get second overall so the pressure was on.  Once I got to turn three, I just focused on staying behind Andreas and keeping everything clean."
Newly-crowned 2016 World RX Champion Mattias Ekstrom spoke highly of his team-mate Heikkinen, who finished second today, and EKS taking the 2016 teams' title.  The new 2016 World RX Champion commented: "We have always dreamed of this moment but with the level of competition in World RX, it hasn't been easy. As a driver and team owner, this year has been fantastic - only three years ago we were starting out with a blank sheet of paper and now we are double champions, it is just the best feeling.  For the driver it is nice, but for the team it is even better as everyone has worked so hard."
Timo Scheider took the best result of the year for ALL-INKL.COM Muennich Motorsport after finishing fourth this weekend in a Seat Ibiza. The German DTM driver was delighted with his performance: "It felt awesome to make it through to the final after our issues with the power steering and we really found some pace this weekend."
The 2015 Argentina RX winner Robin Larsson qualified for today's final and finished sixth in his privately-run Audi A1.  Last year's World RX Champion Petter Solberg looked on course for a strong finish after completing a clean sweep of qualifying race victories – a feat only accomplished once before in World RX history. The Norwegian started on pole of today's semi-final one but sustained steering damage at turn one and later hit a tyre barrier. Despite Solberg and Bakkerud being tied on points, Bakkerud beat his fellow Norwegian to third place because he has more event wins.
Timmy Hansen finished a difficult weekend in 13th place. Hansen's team-mate Sebastien Loeb started on the front row of the second semi-final but failed to reach the final after getting stuck in race traffic. Germany RX winner Kevin Eriksson was unable to repeat his Estering performance and finished the event 16th in his OMSE-run Ford Fiesta RX Supercar.
World RX Managing Director for IMG, Paul Bellamy, concluded: "Congratulations to EKS which has made it a double victory this year by winning both the drivers' and the teams' championships which is an extraordinary achievement. Today we saw three Audis in the final for the first time with Mattias, Topi and Robin all representing the marque. We also witnessed a fiercely-fought battle for second and third place in the drivers' standings - Andreas took the event win but it was Johan who edged ahead in the standings by a single point. It's quite incredible to think that our second, third and fourth placed drivers are separated by only one point at the end of 12 events. Now we have a four-and-a-half month break before the 2017 season-opener in Barcelona next April but first we are off to the FIA prize-giving in Vienna where we will watch Mattias and EKS crowned the new drivers' and teams' champions after what has been a year of fantastic race action."