AUTO - Enduring legend
Tom Kristensen's truly exceptional record of nine Le Mans wins stands as a benchmark unlikely to be surpassed any time soon. But as the greatest driver of the world's greatest sports car event reveals, it all pivoted on a single phone call in the summer of 1997…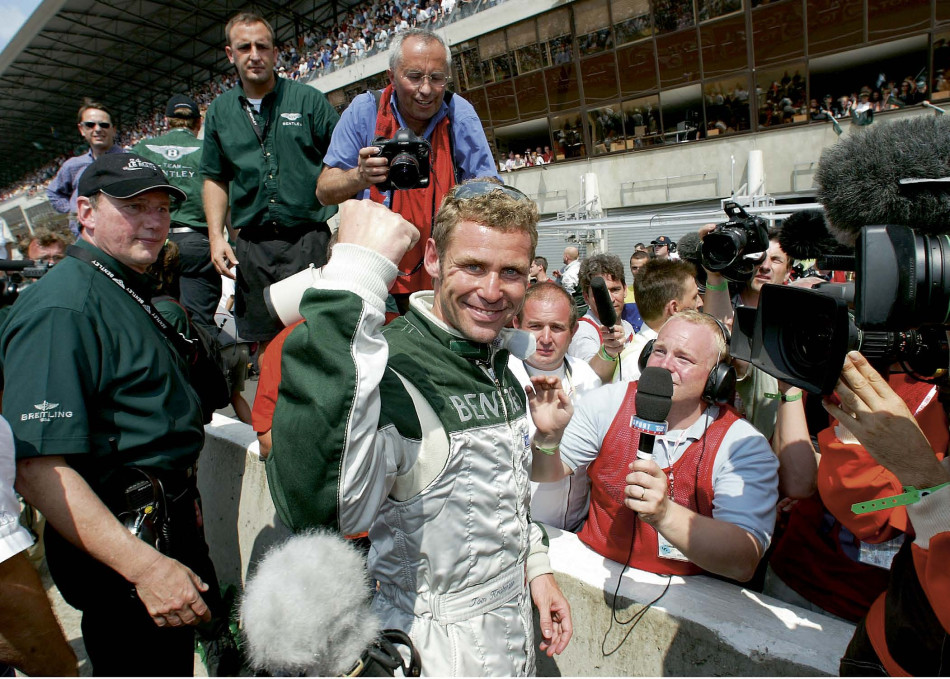 They call him 'Mr Le Mans', and for good reason. Tom Kristensen has won the French 24-hour endurance classic no fewer than nine times. The moniker was one he assumed from the previous record winner, Jacky Ickx, whose six wins many believed would never be beaten. But chance is everything in motor racing, and the Dane, now 51, got his completely out of the blue 21 years ago.
It was one of the turning points of a phenomenal career that made him much more than just the most successful driver in the history of the Le Mans 24 Hours. He holds the same record at the Sebring 12 Hours blue-riband race in the USA — with six victories — and he can also call himself a world champion. He won the FIA World Endurance Championship with long-time driving partner Allan McNish and Frenchman Loïc Duval in 2013. But he knows he owes it all to one phone call in the summer of 1997.
The caller was Ralf Juttner, team manager of the Joest Racing squad. The previous year's Le Mans winner had a seat free in its Porsche WSC95 prototype alongside former Ferrari Formula 1 stars Michele Alboreto and Stefan Johansson. Kristensen was the driver they wanted to fill it.
The only problem was that Le Mans practice was due to start in a week and there would be no time for testing, and this, remember, was in the days before simulators.
"That phone call changed everything for me," recalls Kristensen. "It all happened so fast. I went to see the team and had a seat fitting. I went home and packed, and then on Monday I flew down to Le Mans."
And flew out again on the Thursday. Kristensen owed his place in Joest's privateer Porsche to his successes in that year's FIA Formula 3000 International Championship. He was due to test his F3000 car on the day of second practice.
"I only did 17 laps in practice, but I knew before the start that this was my chance," he says. "My team-mates had a lot of experience at Le Mans and I was the young boy, so I knew I had to dial myself in. My first two stints in the car on Saturday evening were nothing spectacular."
Kristensen started to make his name in sports cars at the race that deffines him in the small hours of Sunday morning. He climbed aboard the car for a second time and began what turned into an amazing quadruple stint using just a single set of tyres. He clambered out of the car after posting a sequence of fastest race laps that included a new track record.
"That's when I really started to fall in love with Le Mans," he explains. "At one point Ralf came on the radio in German and said, 'schnellsten runde, schnellsten runde, fastest lap, fastest lap'. The next time he spoke to me he said, 'lap record, lap record' in English. I thought to get a German to talk to me in English, I must be doing something right."
STAR PERFORMANCE
Kristensen undoubtedly was. Juttner was back in communication shortly afterwards, asking his driver if he felt capable of staying out on track for an unprecedented fourth stint on the tyres. It was the turning point of the race. Kristensen and then his team-mates started putting pressure on the leading factory Porsche, which would retire with less than 90 minutes of the event remaining. "That was when we started to think we could win," says Kristensen. "The factory Porsche in the lead ahead of us had problems, and the fact that we were pushing them hard played a part in that."
This amazing Le Mans debut set Kristensen on course for stardom. He was picked up by BMW for the following year and two years later began a relationship with Audi that despite his retirement from the cockpit at the conclusion of the 2014 FIA WEC season continues to this day. Kristensen already knew that motor sport is about seizing opportunity. Few remember that he didn't contest his first full season of car racing until he was 23. He might have been a successful karter, finishing second in the 1987 Formula K world championship, but his efforts to move onwards and upwards were frustrated by a lack finance. By the time he got his big break with Volkswagen Motorsport in the 1991 German F3 Championship, he'd only contested a handful of car races.
"I was working as a bank clerk. My mother was happy, but I wasn't fulfilling my dream," recalls Kristensen. "I'd done a few races, tested a few cars, but didn't have the money to progress.
But there were four or five people who had seen what I could do and believed in me. They were telling Bertram Schaefer, who ran VW's F3 team, that he should take me.
"That drive in German F3 was the launch pad of my career. I did a few tests and then won the first race at Zolder in Belgium. It's perhaps more important than anything else that has ever happened to me. Everything followed on from that. Without that drive, I would probably still be working in the bank."
His decision to go to Audi for the 2000 season was another turning point. The German make had an inauspicious maiden season of sports car racing in 1999, but Kristensen decided to sign up after he was shown sketches of its forthcoming car.
"People were asking me if I was crazy going to Audi," he says. "But Dr Wolfgang Ullrich [Audi's motor sport boss] showed me the drawings, I liked what I saw and we did a handshake deal right there. The first time I drove the car, I knew they were onto something good."
Kristensen went on to score a hat-trick of victories driving the Audi R8 prototype together with Emanuele Pirro and Frank Biela in 2000-02. The first win was special simply because it was Audi's first at Le Mans, but victory in 2001 was probably the most emotional of the nine. Alboreto, who had joined Audi in 1999, had died in an accident in testing less than two months before Le Mans.
"There's no doubt that in terms of pure driving that was my most challenging Le Mans," explains Kristensen. "It was a tough race because we had something like 19 hours of rain.
"The stint I remember most came early on Sunday morning. I was put onto intermediate tyres and endured the most frightening 20 minutes of my life. It was 20 minutes of near-misses because I couldn't get any heat into the tyres.
"I complained to our engineer, but he remained very calm and told me to stay out. It was the right decision and by the time of the next pit-stop we had extended our lead. At the time I felt that it was too much weight for my shoulders to bear."
The emotions came out on the podium. Kristensen, his team-mates and Ullrich all broke down in tears.
"We'd all been to the funeral and Dr Ullrich had told us that if we didn't want to race, we didn't have to. But we raced to show respect to Michele. There was something inside all of us that said, 'goddam, we're going to get on with this and try to win the race'. You deal with the emotions afterwards."
Le Mans victory number five for Kristensen, when he was loaned out to Audi sister marque Bentley in 2003, is special for different reasons.
"The Bentley Speed 8 was the coolest and most elegant racing car I've ever driven," he says. Most regard Audi's against-the-odds triumph in 2008 with the R10 TDI turbodiesel as one of the greatest editions of the Le Mans 24 Hours. Audi wasn't given a chance against Peugeot, but Kristensen, McNish and Rinaldo 'Dindo' Capello somehow kept a slower car in contention and then excelled when rain came early on Sunday morning.
"People were telling us we couldn't win that race, but that became part of our will to win," says Kristensen. "We had the perfect race, and I'm not just talking about Allan, Dindo and myself. The same goes for the engineers and all the mechanics at Joest. Dindo summed it up best when he said it was the race where the men beat the machines."
There was one more Le Mans win in Kristensen's world title season of 2013 with Audi's R18 e-tron quattro, though he came close to rounding up his tally into double figures the year after. 
"At lunchtime on Sunday we had one sweaty hand on the trophy, but it wasn't to be, but we still came back to finish second," he says. "I said to Dr Ullrich on the podium that I couldn't wait for the following year, but later during the summer I started to think that maybe it was time to stop. I think it was good timing on my part."
STILL IN DEMAND
Kristensen is busier than ever four years after hanging up his helmet. He retains a deep involvement with Audi: his ambassadorial duties with the marque take him all over the globe and he also helps run its pre-season training camps for the drivers. His insight is in demand in the world of television, too. He's an expert Formula 1 commentator on Danish TV and joins the Eurosport roster for Le Mans each year.
Then there's his role with the FIA as President of the Drivers' Commission and his duties in race control as a drivers' steward in Formula 1. He is particularly enthusiastic about the Drivers' Commission.
"Our job is to advise the other FIA commissions," says Kristensen of a body that also counts Pirro, Derek Warwick and Karun Chandhok as members. "The FIA Drivers' Commission has given the drivers a voice for the first time, and we have to thank FIA President Jean Todt for that. It has been very well received by the drivers, and I think our input has been well received too."
Somehow, Kristensen still finds time to keep his hand in as a driver. He's raced — and won — at the Goodwood Revival historic meeting in a variety of machinery. Kristensen has no regrets looking back on his career. He didn't race in F1, but we wouldn't want to swap a brief stint at the pinnacle of the sport for any of his successes at Le Mans.
"I would love to have done it," says a man who tested multiple F1 cars in his time, "but only if I'd had the chance to fight for the championship, no championships. When you are young you set out with the aim of having a career in F1, but I believe my career was better."
Le Mans provides the "ultimate form of racing", according to Kristensen. He came to that realisation sometime during the night back in 1997.