AUTO #34
The latest edition of the international journal of the FIA is online. Enjoy your read.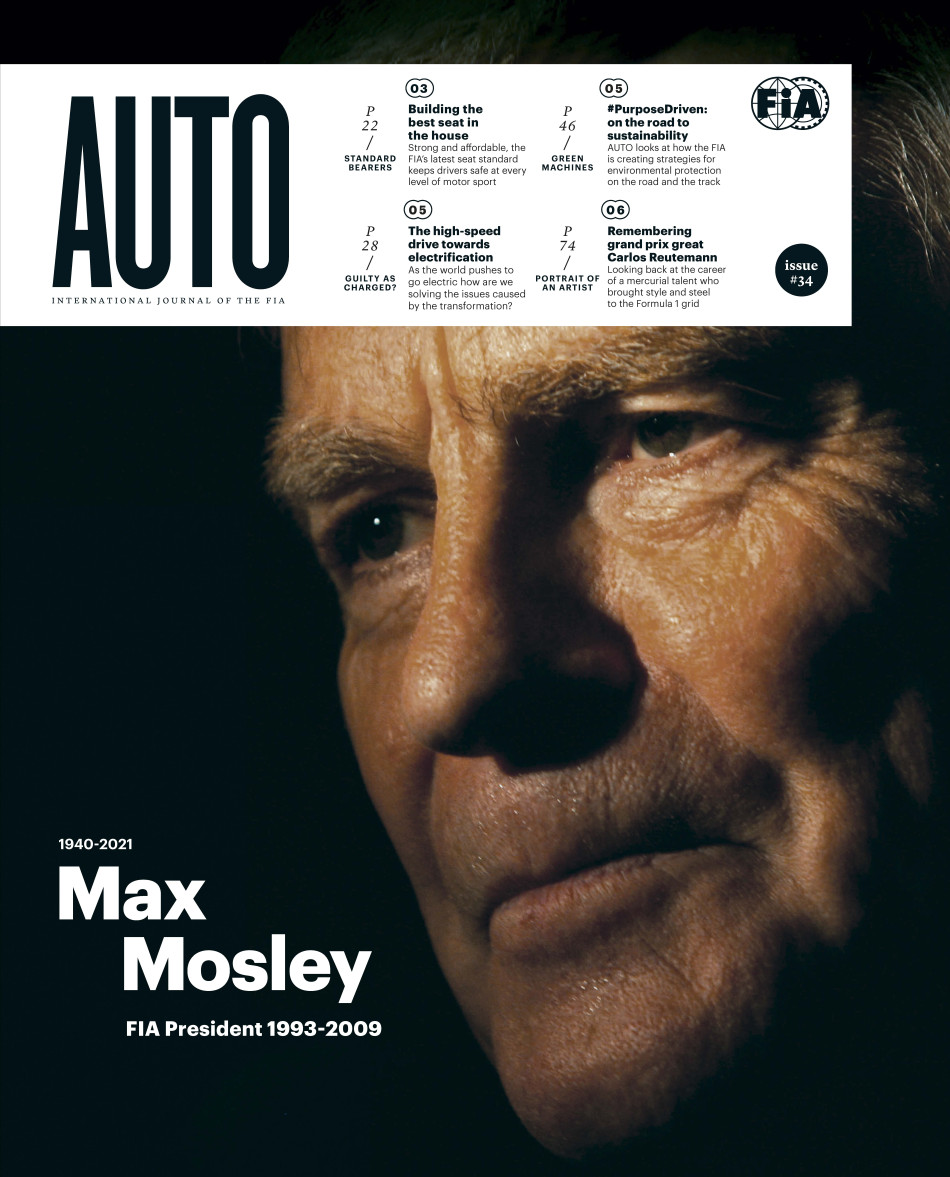 Dear reader, dear friend,
In this edition of AUTO we pay tribute to former FIA President MAX MOSLEY, who passed away at the end of May. In his time as President, Max's pioneering work on safety on the road and the track resulted in the saving of countless lives. He leaves behind a notable legacy of achievement and will be greatly missed. We also remember MANSOUR OJJEH, who marked Formula 1 history and achieved great success with Williams and McLaren. Again, he was a unique figure with a true passion for our sport. And lastly on the theme of remembrance, in the first part of our Rear View section we honour CARLOS REUTEMANN. He was a genuine F1 legend of who brought panache and skill to the grid.
The Federation's work on safety never ceases and in this issue we bring you news of advances on track – in the shape of an updated seat standard for motor sport – and on the road, as we welcome two new ambassadors to the #3500LIVES campaign: Formula 1 racer MICK SCHUMACHER and UCI road cycling champion JULIAN ALAPHILIPPE. We also hear from UCI PRESIDENT DAVID LAPPARTIENT who speaks about the cycling federation's alliance with the FIA to promote SHARING THE ROAD.
We continue our series on the goals of the FIA's #PURPOSEDRIVEN movement, which seeks to bring together the FIA community in pursuit of actions that accelerate positive contributions to society across four pillars: Health & Safety , Environment, Diversity & Inclusion and Community Development.
This time we focus on the topic of environment and the PRESIDENT OF THE FIA ENVIRONMENT & SUSTAINABILITY COMMISSION, FELIPE
CALDERON, details the missions of the recently-formulated FIA ENVIRONMENTAL STRATEGY, explaining why motor sport provides the perfect laboratory for innovation. And there is no better illustration of that than the new FIA ELECTRIC GT CHAMPIONSHIP, which aims to push the development of battery technology. We also look at how the FIA ENVIRONMENTAL ACCREDITATION PROGRAMME is helping Member
Organisations to put sustainability at the heart of their operations. Elsewhere, we profile automotive leader AUDI CEO MARKUS
DUESMANN, and in another leadership role we meet DR YOUNG TAE KIM, SECRETARY-GENERAL OF THE INTERNATIONAL TRANSPORT FORUM.
The ITF and FIA have enjoyed a long and fruitful partnership and Dr Kim explains how our organisations have collaborated on a new website, WWW.DISABLEDMOTORING.FIA.COM, which aims to ease the transport concerns of millions of people globally. In the realm of diversity, we talk to the women spearheading the all-female RICHARD MILLE RACING TEAM'S season in the FIA World Endurance Championship.
Finally, our Rear View section concludes with a look at the history of ZANDVOORT CIRCUIT, in the Netherlands, which in September returns to the Formula 1 calendar as the home of the Dutch Grand Prix for the first time since 1985. I hope you enjoy the read.
Jean TODT, FIA President 
READ THE MAGAZINE HERE: AUTO #34