AUTO #32 NOW AVAILABLE ONLINE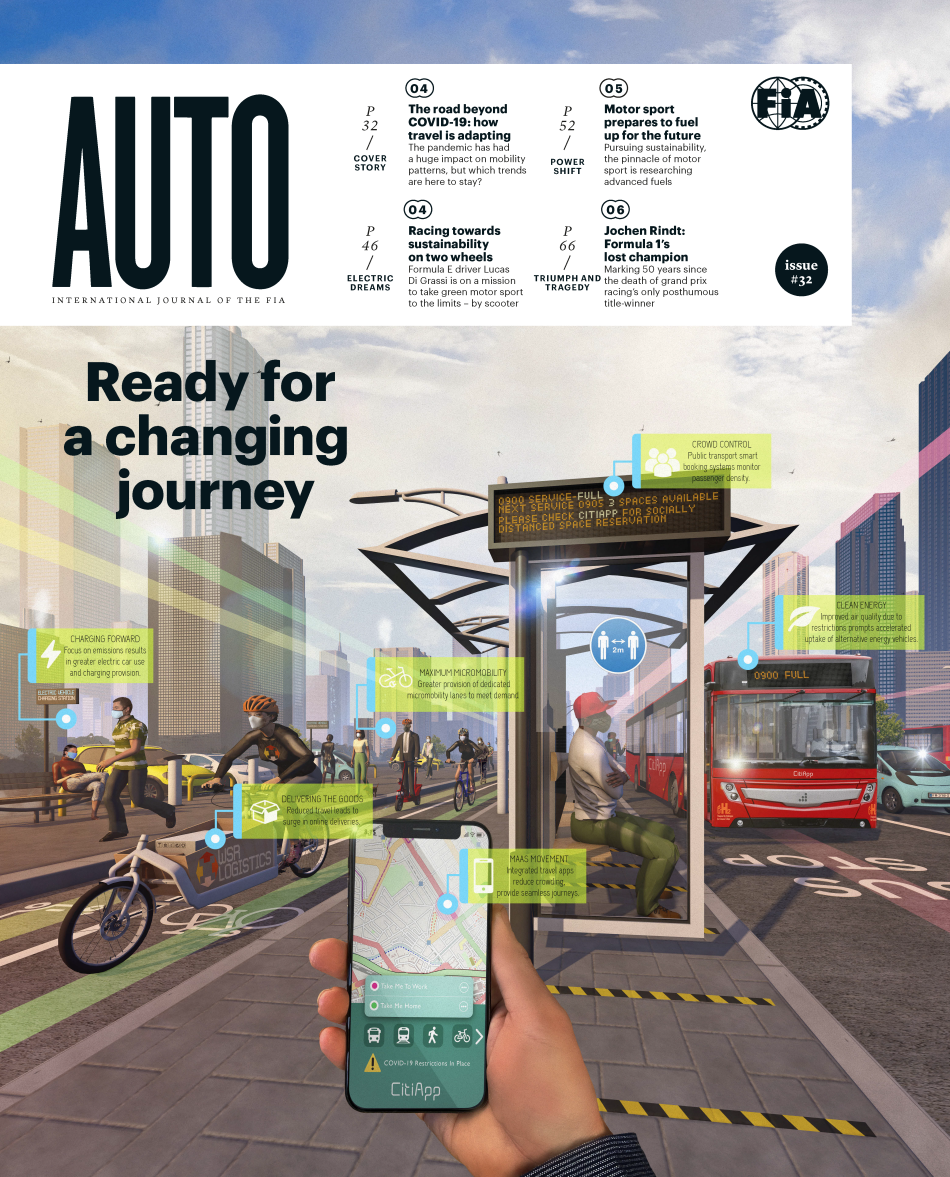 Dear reader, dear friend,
Freedom of movement is one of the great benefits of everyday life that in the past many of us have too often take for granted. Over the last 10 months, however, that benefit has been severely curtailed as the travel restrictions imposed by the COVID-19 pandemic have forced us to narrow our world view and deal with a different reality when it comes to mobility.
And as the effects of the crisis continue to be felt around the world, several questions remain. Are the trends we are seeing short-term adjustments or will journeys be greatly changed in the future? When restrictions ease, will our reluctance to travel closely together lead to shifts in how we make our way to work, or indeed whether we even leave home to work? And finally, will the changed landscape present unexpected positives in the shape of accelerated moves towards clean energy, reductions in congestion and smarter, technologically better travel overall?
While the 2020 FIA Annual General Assembly and Prize Giving are mainly held in digital format, our cover story examines all these questions and more, while also analysing the effect the pandemic has had on motoring organisations and how the FIA has created a support structure in the shape of the FIA Mobility Worldwide toolkit. 
Elsewhere in this issue, we hear from Formula E driver Lucas Di Grassi on his plans for a green future for motor sport and on the roads. We continue the theme of sustainability with a look at how the FIA and Formula 1 are researching advanced renewable fuels for use at the top level of motor sport as part of a drive towards carbon neutrality by 203o.
Another champion of sustainable motoring is Renault Groupe CEO Luca de Meo, who features as this edition's automotive leader. As well as directing the French manufacturer towards greater electric power he is also a passionate fan of motor sport who is returning one of the great racing names, Alpine, back to competition at many levels.
Building a better future is a key goal for young people and helping  them to voice their concerns is the mission of my friend and inspiring leader, Jayathma Wickramanayake, UN Secretary-General's Envoy on Youth, who tells us how today's youth are helping to make roads safer for all. Our focus on youth  advocacy continues with the thoughts of the Co-chairpersons of the  2nd World Youth Assembly on Road Safety, Omnia El Omrani and Thiago Gruner.
Finally, in our Heritage section we look back at the life and achievements of Formula 1's only posthumous champion, Jochen Rindt, who died 50 years ago, and we celebrate 1000 F1 grands prix for Ferrari, a remarkable milestone.
A special reward for Lewis Hamilton, Sébastien Ogier and Julien Ingrassia for their 7th Drivers' World Championship titles in F1 and WRC.
I trust you will enjoy this edition, and while we are still getting through this difficult time I hope you all stay safe and well.
Jean TODT, FIA President 
FULL EDITION TO READ HERE