AUTO #31 Now Available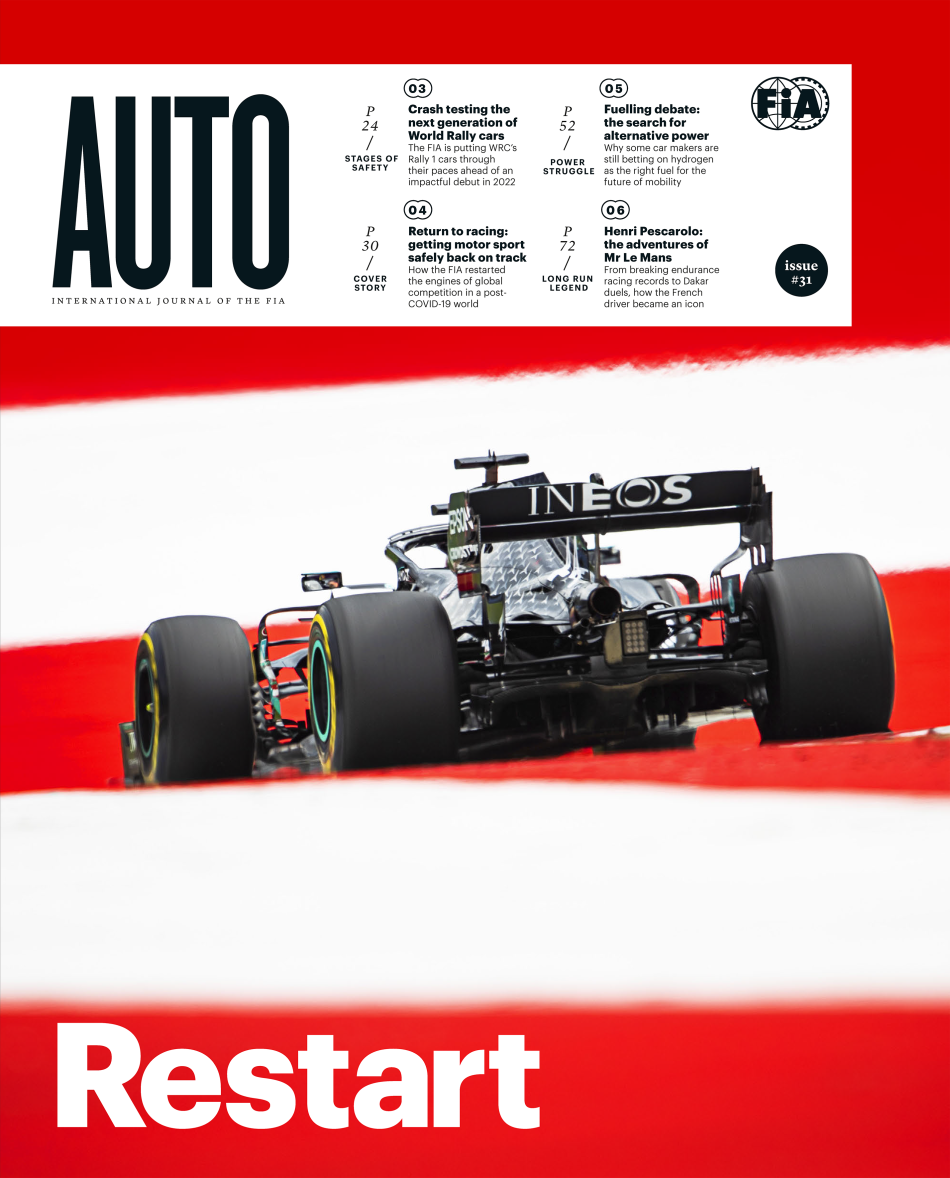 It is often in these difficult times that our strengths are revealed. It is in moments of fear and doubt, of hardship and turmoil that we dig deep and find new levels of resilience that perhaps we did not know we possessed. It is also in this environment that we lean on one another, finding support in common goals, shared hopes. That has certainly been the case for us at the FIA and our Member Clubs in recent months, as we have all grappled with the repercussions of the COVID-19 pandemic.
However, in many countries, we are at last beginning to see a resumption of activity, or what we might refer to as a 'new normal'. Nowhere is that more visible than in the world of Sport and in our cover story we look at the work undertaken by the FIA and by our key motor sport stakeholders to restart competition around the world.
From the development of our Return to Motorsport Guidelines and the COVID-19 Code of Conduct, led by Professor GERARD SAILLANT and the FIA Medical Commission, to the remarkable efforts of Formula 1 in becoming the world's first major international sporting series to return, and on to the recommencement of our other major championships and grassroots motor sport, we examine how the protocols put in place by the FIA have ensured that motor sport can take place in the safest possible conditions. We also take a look at the future of motor sport in a post-COVID-19 world with F1 CEO Chase Carey, Formula E CEO Alejandro Agag and Motorsport Australia and FIA ASN Development Task Force President Andrew Papadopoulos.
Elsewhere in this issue, Jagan Chapagain, General Secretary of the International Federation of Red Cross and Red Crescent Societies, tells us about the organisation's COVID-19 relief efforts and how its partnership with the FIA is helping, while FIA Drivers' Commission President Tom Kristensen reveals the inspiration behind our recent auction of motor sport memorabilia that resulted in a donation of almost €2 million to the IFRC, including the generous contribution of €1 million from the FIA Foundation. We also delve into how the automotive industry is dealing with the crisis with General Motors CEO Mary Barra, who outlines how the US firm is planning for a post-Coronavirus world of zero emissions, crashes and road deaths.
Finally, in our Rear View section we celebrate the career of sports car legend Henri Pescarolo and we look back at one of rallying's greatest cars – the Peugeot 205 T16, of which I have personal and fond memories.
I trust you will enjoy this edition, and while so many human beings are still in the eye of the hurricane of the crisis, I urge you all to remain vigilant, follow your local guidelines and above all to stay safe.
Jean Todt, FIA President
FULL EDITION TO READ HERE