AUTO #25 is available
This final AUTO of the year celebrates a special moment in the life of the FIA family, as its publication comes not long after the GENERAL ASSEMBLY and the PRIZE GIVING ceremony that honours the winners of the FIA championships. Therefore what better cover story than the protagonists of what has been another exciting season of motor sport.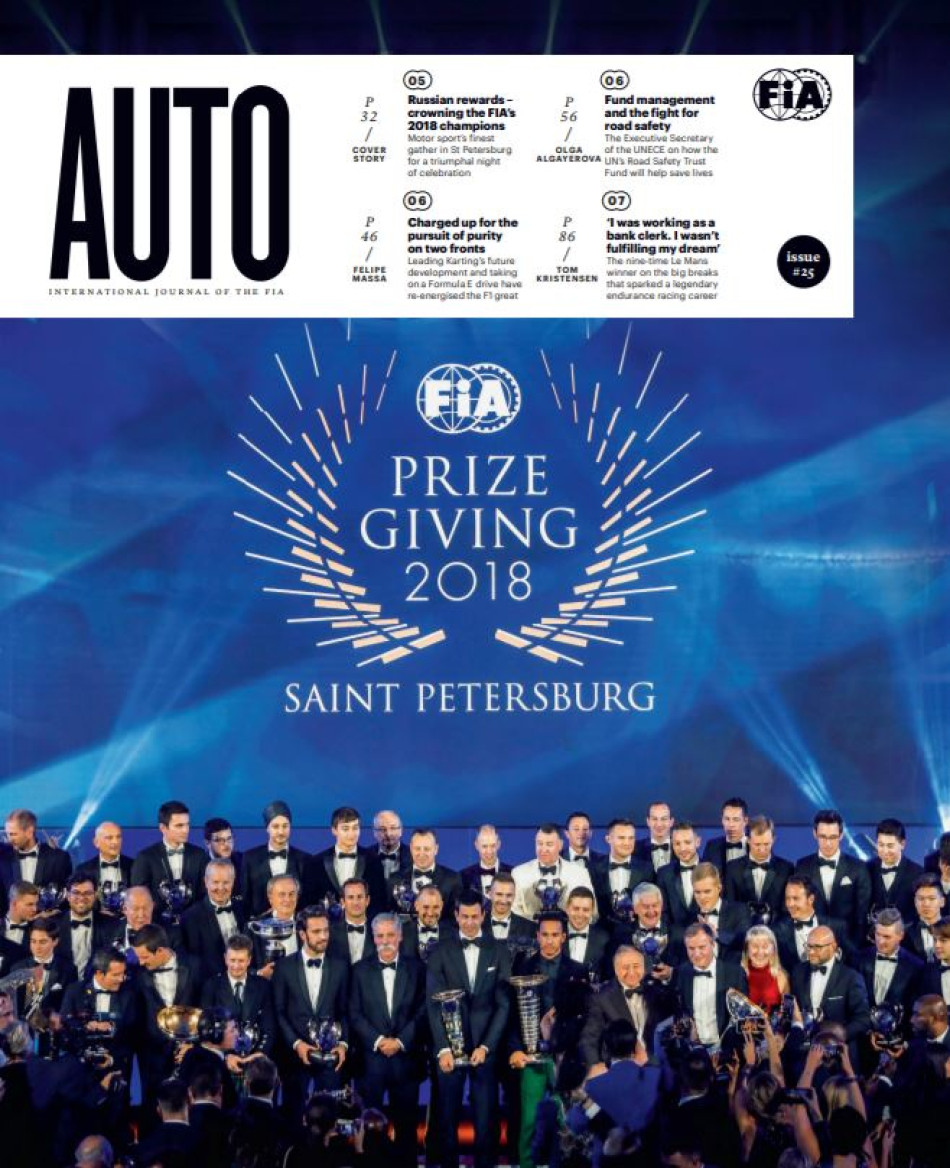 The final edition of 2018 is a good time to look back over the past year and to look to the future.
This is particularly relevant in the world of karting, the first step on the racing ladder, and in this issue we hear the thoughts of FELIPE MASSA at the end of his first year as President of the FIA International Karting Commission. Felipe is still busy on track himself, racing in Season 5 of the ABB FIA FORMULA E CHAMPIONSHIP, which recently began at Ad Diriyah, in Saudi Arabia.
Elsewhere, we take a look at the new FIA Formula 3 Championship, the launch of which completes the racing ladder for young drivers on the way to the ultimate form of single-seater racing, F1. This new championship is the latest to get the Halo device and in our technical section we look at how innovations from the top levels of motor sport are cascaded down to other disciplines.
Speaking of talented youngsters, among the current crop is one particularly dear to me – MICK SCHUMACHER. We feature the winner of the 2018 FIA Formula 3 European Championship in our Driving Forces slot.
In Mobility, we feature two women helping to advance the cause of road safety, OLGA ALGAYEROVA, Executive Secretary of the United Nations Economic Commission for Europe and MICHELLE YEOH, who was recently made a Trustee of the FIA Foundation.
We also profile Toyota chief AKIO TOYODA.
Finally we present an overview of the FIA FOUNDING MEMBERS CLUB and the FIA Heritage Cup, and speak to nine-time Le Mans winner TOM KRISTENSEN about his remarkable career and work as President of the FIA Drivers' Commission.
We also look to the future, with an analysis of the impact made by motor sport's debut at the recent YOUTH OLYMPIC GAMES in Buenos Aires.
Enjoy the read!
Jean Todt, FIA President
Click here to read AUTO #25