This page contains archived information and may not display perfectly
From Auto #18: Continental divide
Until Felipe Massa announced his late return to the 2017 grid, Formula One was facing its first season without a Brazilian driver since 1969. It's a tale mirrored across South America, where a once-steady stream of drivers progressing to the top level has slowed to a trickle. So what is causing the problem? AUTO investigates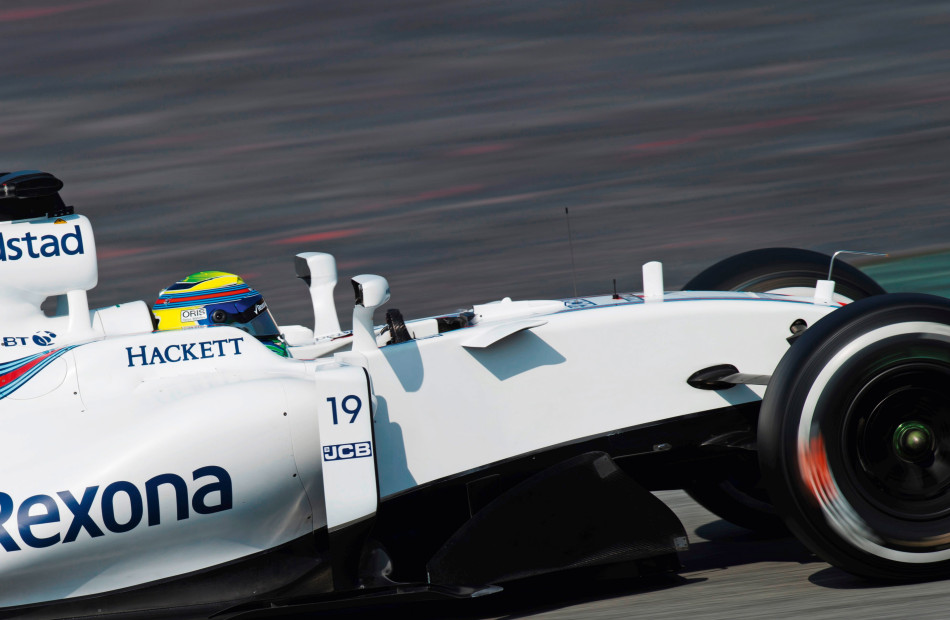 Click here to read the full Auto #18 magazine.
It is 25 years since a driver from the Americas last won the Formula One World Championship, dating back to Ayrton Senna's third title in 1991, although few doubt he could have gone on to claim more. Since then, only a couple of Latin drivers have found themselves in the thick of a championship battle: there was Juan Pablo Montoya against Michael Schumacher and Kimi Räikkönen in 2003, and Felipe Massa's near-miss against Lewis Hamilton in '08. To date, before starting the 2017 F1 season, Pastor Maldonado's victory in the 2012 Spanish Grand Prix stands as the last time a Latin American driver topped the F1 podium. And yet in the 67-year history of the FIA Formula One World Championship, Brazil ranks third in the list of countries with the most Grand Prix victories and drivers' titles, beaten only by the UK and Germany. When Rubens Barrichello won the 2009 Italian Grand Prix for Brawn GP at Monza, he claimed the 101st and – to date – most recent win for a Brazilian in F1, almost eight years ago. The way the 2016-2017 winter unfolded, with Felipe Massa returning to Williams after having announced his retirement last September, while Felipe Nasr, his younger countryman, was left without a seat after winning two crucial points for Sauber at Interlagos, goes to show how much things have changed for the country that once used to send one sensational driver after another across the pond. Fernando Plata looks after Carlos Slim's Escudería Telmex drivers programme in Europe and is currently guiding the career of Pietro Fittipaldi, who may well be Brazil's next F1 hope. The 20-year-old grandson of two-time Formula One World Champion Emerson is lined up for a second season in Formula V8 3.5 with the Lotus team this year.
"Brazil was very fortunate to have Emerson Fittipaldi because he opened the doors to other Brazilian drivers," says Plata. "The country appreciated the relevance of having a world champion and that created opportunities for others to follow his path."
A STREAM OF TALENT
For three decades Brazil was the most prolific country in F1, its drivers winning eight championships over a period of nearly 20 years, between 1972 and '91. Junior categories were graced by a consistent flow of talent that claimed lots of wins and titles in Europe, especially during the late '80s. Rubens Barrichello, Gil de Ferran, Mario Haberfeld, Antonio Pizzonia, Nelson Piquet Jr – all claimed the coveted British Formula 3 Championship, while Roberto Moreno, Christian Fittipaldi, Ricardo Zonta and Bruno Junqueira were champions in the Formula 3000 International Championship, with Felipe Massa winning the Euro F3000 series as well. It seemed that Brazil's main exports back in those heady days were football players, coffee and racing drivers. A strong local karting ladder and good, healthy single-seater series to take those first steps in cars – be it in South American F3 or Formula Chevrolet – were common to most of the names who went on to follow a similar path to Europe. Karting remains strong in Brazil today, but that next step is where the problem lies. The Formula 4 Codasur series is hoping to help bridge the gap for drivers moving from karting to single-seaters before they attempt the jump to Europe. However, not as many drivers are securing the budgets necessary to progress to the international scene any more. It was notable that for the first time in its history the GP2 Series did not include a Brazilian driver in its field in 2016. The local economic climate is probably partly to blame, but it doesn't help either that 25 years have now passed since a Brazilian driver won the F1 title.
Those Brazilian F1 drivers in the late 1990s and early 2000s came with the momentum and the backing, but they couldn't quite match the impact of their predecessors. "I think Brazil may need another World Champion before we see that flow of drivers to F1 again," says Plata. "Felipe Nasr should be the one following in Felipe Massa's footsteps and next in line we have Pietro Fittipaldi." Sérgio Sette Camara, Pedro Piquet and Vitor Baptista are among current names pursuing the F1 dream, while others before them have simply chosen an alternate path, carving out a professional career in Brazil. Twenty-one year old Felipe Fraga had hopes of a successful career in Europe, but after a short spell in the Renault Eurocup and NEC series in 2012, he shifted his focus to touring cars. Two years later he was winning races in the Stock Car Brasil Championship while competing against names such as Barrichello and Zonta, and last year he became the youngest champion in the history of Brazil's most popular series. "This didn't happen in Brazil in Emerson Fittipaldi's time: Brazilians didn't have a choice if they wanted to make a living as a racing driver, they had to go international," says Fernando Paiva, who runs his own sports marketing agency, Lit Entertainment, having previously worked with fellow Brazilians including Christian Fittipaldi and Cristiano da Matta. What Paiva is referring to is exactly the same situation that for years has seen some of the best talent from Argentina blossom locally instead of choosing to climb the ladder to Formula One, just as in America NASCAR tends to become the ultimate goal for many young racing drivers. Despite the legacy of Juan Manuel Fangio and legends like José Froilán González, more than 15 years have passed since Argentina was last represented in a Grand Prix.
José María 'Pechito' López came closest to ending that drought with spells in F3000 and GP2 before returning home to race touring cars and effectively turning professional in his native country. His success on home soil ultimately gave his career a boost and he made the most of a chance to compete in the FIA World Touring Car Championship in Argentina as an independent entrant in 2013, beating all the factory teams and drivers. The rest of the story of the now three-time WTCC champion is well documented. "These days the goal of a driver who wins the Formula Renault championship in Argentina is to race in the Super TC2000 or Turismo Carretera," says Facu Regalia, who came close to winning the GP3 series title in 2013 and is now trying to rebuild his career in single-seaters.  Lack of funding brought his momentum to a halt in 2014, while his championship rival Daniil Kvyat went on to make his debut for Red Bull-backed Toro Rosso in Formula One.
"Top drivers in Argentina make a lot of money because they compete in up to three different series, there's a massive following of the sport locally and manufacturers are involved, so there is no real motivation for many young talents to look elsewhere," he adds. "The budgets needed to race in Europe are a big step up from what they need in Argentina, and unless one day there is a wellstructured programme like Escudería Telmex has in Mexico, it will be difficult to see more drivers from Argentina emerging in Europe." There has been talk of a possible return for F1 to Argentina – it last visited the Autódromo Oscar y Juan Gálvez in Buenos Aires almost 20 years ago. If that prospect were to materialise, it would bring F1 back in focus for young hopefuls and potential sponsors. While Regalia is the last Argentine driver to come closest to competing at the top level, his countryman Marcos Siebert won the 2016 Italian F4 Championship, beating Mick Schumacher to the title, while another young talented Mexican backed by Escudería Telmex, Raul Guzmán, finished third. American/Ecuadorian driver Juan Manuel Correa was a race winner in the same series and placed sixth in the points, while Venezuela had Mauricio Baiz and Sebastián Fernandez on the same grid, both as race winners. Manuel Maldonado, cousin of F1 race winner Pastor, also took his first steps in the series. The days when Venezuelan oil and gas giant PDVSA and the local government provided support to a good number of drivers all the way from F1 down to karting seem to be over for now, given the current turmoil in the country. That will certainly not make things any easier for young drivers as budgets rise along the racing ladder. But just as was the case in Brazil decades ago, Venezuela and Colombia don't have a strong professional local racing scene, forcing drivers elsewhere in pursuit of their goals. Proof of that was seen in 2014 when Colombia achieved anunprecedented full-sweep of the podium in an IndyCar Series race in Houston, with Carlos Huertas winning from Juan Pablo Montoya and Carlos Muñoz. Huertas, a race winner in British F3, and Muñoz, a podium finisher in Euro F3, were both inspired in their infancy by the driver who later became their rival. However, neither of them raced cars in their native country.
While Montoya seems to be easing away from full-time racing, Muñoz has established himself in IndyCar, something Uruguay's Santiago Urrutia, a former GP3 racer, is hoping to achieve after coming close to winning back-to-back Indy Lights titles last year. Tatiana Calderon is Colombia's sole representative in any of F1's support series and is set to contest a second season in GP3. She's also just been appointed as a development driver for Sauber F1 team. Countryman Oscar Tunjo won a race in GP3 in 2015 but ran out of funding and has been on and off the grid since. There is talent in Latin America in abundance, but only a few secure the resources to back them all the way. "For the next big star in Latin America to emerge two things have to come together: talent and financial backing," concludes Plata. "It's no secret that the main promoter of young drivers in Latin America is Carlos Slim. He has already achieved the goal of helping a driver to reach F1 with Sergio Pérez. But his search for the next great talent continues."