Australian GP qualifying postponed
Heavy rain after Q1 sees remaining qualifying sessions rescheduled for Sunday morning.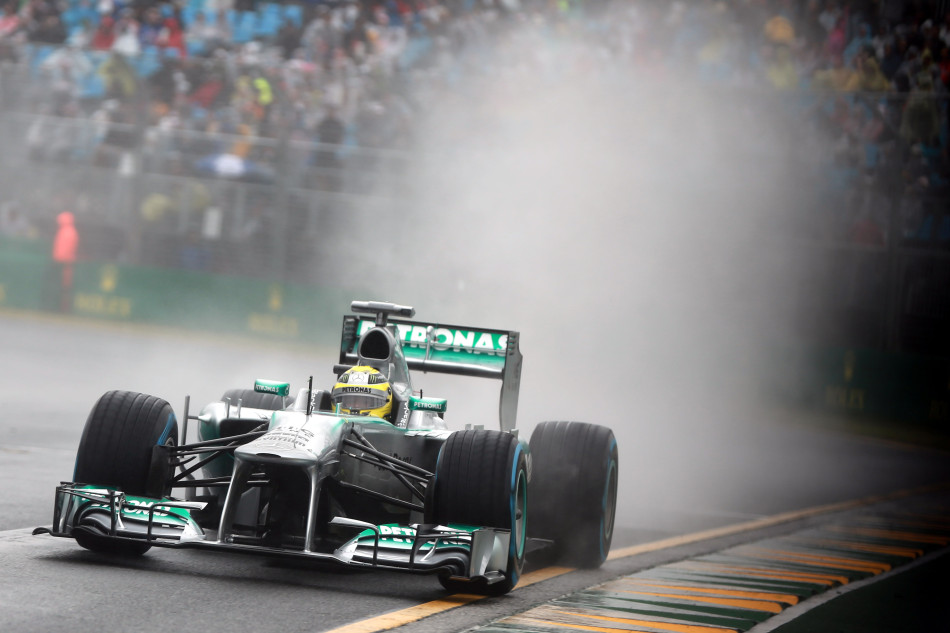 Qualifying for the Australian Grand Prix was postponed until Sunday morning after heavy rain caused repeated delays following Q1 at Albert Park.Final practice had been disrupted by showers but in the run up to qualifying the rain intensified and the opening segment of the session itself delayed.
When the session did begin, the conditions contributed to several drivers crashing and many other minor spins and excursions. First to be caught out was Caterham's Giedo van der Garde, the Dutchman forced to limp back to his garage with the front wing lodged under the nosecone of the CT03.
Felipe Massa too was forced to return to his garage late on after he caught a kerb and was pitched hard into the wall. The Brazilian's spin was followed soon after by Charles Pic taking a trip into the barriers and leaving the front wing of his Caterham behind.
Esteban Gutiérrez fared worst, though. The Mexican edged out onto a trackside white line on his final flying lap and his Sauber immediately spun. His impact was hard enough to not only tear off the front wing but left him stranded in the middle of track as the rest of the field dodged around him to complete their runs under yellow flags.
The chaos left Nico Rosberg at the top of the timesheet, followed by Fernando Alonso, Romain Grosjean and Sergio Perez. Mark Webber was fifth, having also had an off-track moment of his own. He was followed by Felipe Massa, with Sebastian Vettel seventh.
The conditions seemed to favour Toro Rosso, however. For much of the early part of the session, when the cars were running on full wet tyres, Jean-Eric Vergne was in second place behind Rosberg, with team-mate Daniel Ricciardo third. They slipped down the order as the track dried but with cars spinning out into the drop zone and Williams uncompetitive, Vergne went through to Q2 in ninth position, with Ricciardo 14th. When Q1 ended, eliminated were Pastor Maldonado, Gutiérrez, Jules Bianchi, Max Chilton, Van der Garde and Pic.
That, though, was it for the day's track action. The rain intensified and the second session was quickly subject to a 10-minute delay as track personnel desperately tried (and failed) to sweep away the standing water.
The safety and medical cars took the track for assessment runs as the session start time was progressively put back. Eventually at 6.47pm local time the decision was taken to reschedule Q2 and Q3 for Sunday morning. The battle for grid positions will resume at 11am Melbourne time.
Qualifying session interim classication
1. Nico Rosberg Mercedes 1m43.380
 2. Fernando Alonso Ferrari 1m43.850
 3. Romain Grosjean Lotus 1m44.284
 4. Sergio Perez McLaren 1m44.300
 5. Mark Webber Red Bull Racing 1m44.472
 6. Felipe Massa Ferrari 1m44.635
 7. Sebastian Vettel Red Bull Racing 1m44.657
 8. Jenson Button McLaren 1m44.688
 9. Jean-Eric Vergne Toro Rosso 1m44.871
10. Lewis Hamilton Mercedes 1m45.456
11. Kimi Raikkonen Lotus 1m45.545
12. Paul di Resta Force India 1m45.601
13. Nico Hulkenberg Sauber 1m45.930
14. Daniel Ricciardo Toro Rosso 1m46.450
15. Valtteri Bottas Williams 1m47.328
16. Adrian Sutil Force India 1m47.330
17. Pastor Maldonado Williams 1m47.614
18. Esteban Gutierrez Sauber 1m47.776
19. Jules Bianchi Marussia 1m48.147
20. Max Chilton Marussia 1m48.909
21. Giedo van der Garde Caterham 1m49.519
22. Charles Pic Caterham 1m50.626