This page contains archived information and may not display perfectly
Antonio Giovinazzi scores his third win of the season
Antonio Giovinazzi (Jagonya Ayam with Carlin) has won the 18th season race of the FIA Formula 3 European Championship.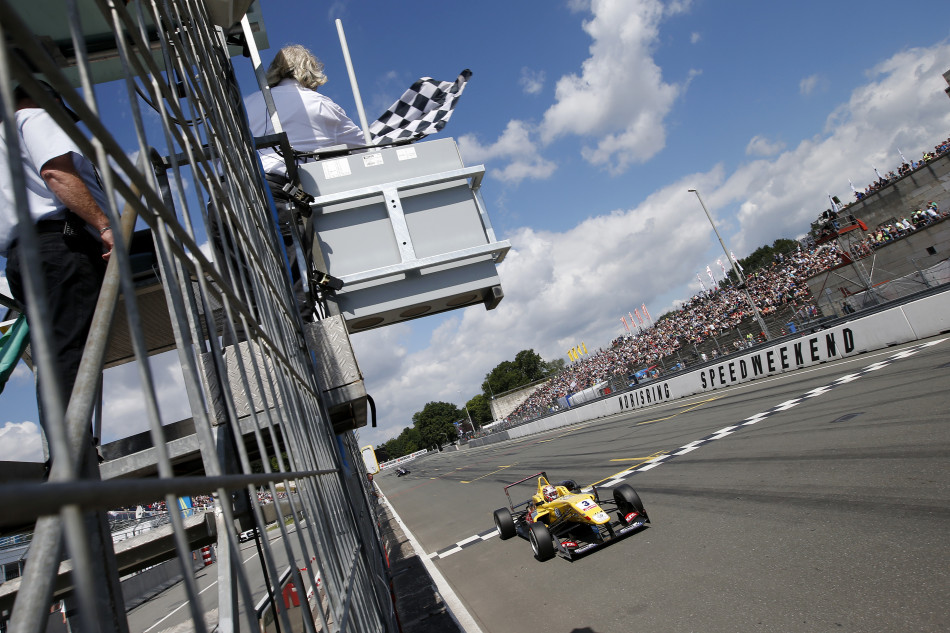 In sunny conditions at the 2.300 kilometres long Norisring, the Italian already took the lead at the start and safely brought victory home. Behind him, rookie drivers George Russell (Carlin) and Alexander Albon (Signature) finished second and third respectively. Points' leader Charles Leclerc (Van Amersfoort Racing) took the chequered flag in fourth place and heads home from Nuremberg with a margin of 42.5 points from Giovinazzi, who moved up to second in the drivers' standings.
Antonio Giovinazzi had the best start and already took the lead on the first metres of the race. Behind him, Jake Dennis (Prema Powerteam), George Russell, Charles Leclerc and Alexander Albon, who had started from pole position, slotted in. Further down the ranks, Sam MacLeod (Motopark) ran into the rear of Matt Solomon's car (Double R Racing), which brought the safety car out for the first time.
Within two laps after the restart, the next accident happened: Gustavo Menezes (Jagonya Ayam with Carlin) and Maximilian Günther (kfzteile24 Mücke Motorsport) collided in the first corner and retired. To allow for the two cars to be recovered, the safety car was deployed again. Giovinazzi remained in front during the second restart, but wasn't able to pull clear from his rivals Russell, Albon and Leclerc. Behind this quartet, Dennis, Dorian Boccolacci (Signature) and Santino Ferrucci (kfzteile24 Mücke Motorsport) were involved in a fierce battle for fifth to seventh place.
Antics were even more rural in the duel between Nabil Jeffri (Motopark) and Matthew Rao (Fortec Motorsports), the two collided on lap 24. Race control sent the safety car out for another four laps. After the next restart, the positions out in front again remained unchanged. Antonio Giovinazzi won from George Russell, Alexander Albon and Charles Leclerc. Just before the finish, Mikkel Jensen (kfzteile24 Mücke Motorsport) claimed sixth place from Santino Ferrucci, Dorian Boccolacci, Alessio Lorandi (Van Amersfoort Racing) and Brandon Maïsano (Prema Powerteam).
Antonio Giovinazzi (Jagonya Ayam with Carlin): "My start was very good, I was able to overtake George and Alexander right away and take the lead. The restarts after the three safety car interventions were the only difficult moments of this race, but I managed to get them right. I would like to dedicate this win to my grandfather, who passed away this week. He was my biggest fan."
George Russell (Carlin): "Just like Alexander next to me, I had a bad start, because after DTM practice, the grip level at our two positions was unexpectedly high. After that, I couldn't quite keep up with Antonio's speed either. He was not only fast in the race, he also left me without a chance during the three restarts. Nevertheless, I am happy with this podium finish."
Alexander Albon (Signature): "My hopes of a better result were already blown at the start, because I dropped back from pole position to fifth place. In this race, my car was really good again and being on the podium is always nice. It is my first season in the FIA Formula 3 European Championship and I am learning race after race. Moreover, my team is doing a very good job."