Alonso reigns in Spain
Ferrari's Fernando Alonso rose from fifth on the grid to take a comfortable Spanish Grand Prix victory at the Circuit de Catalunya.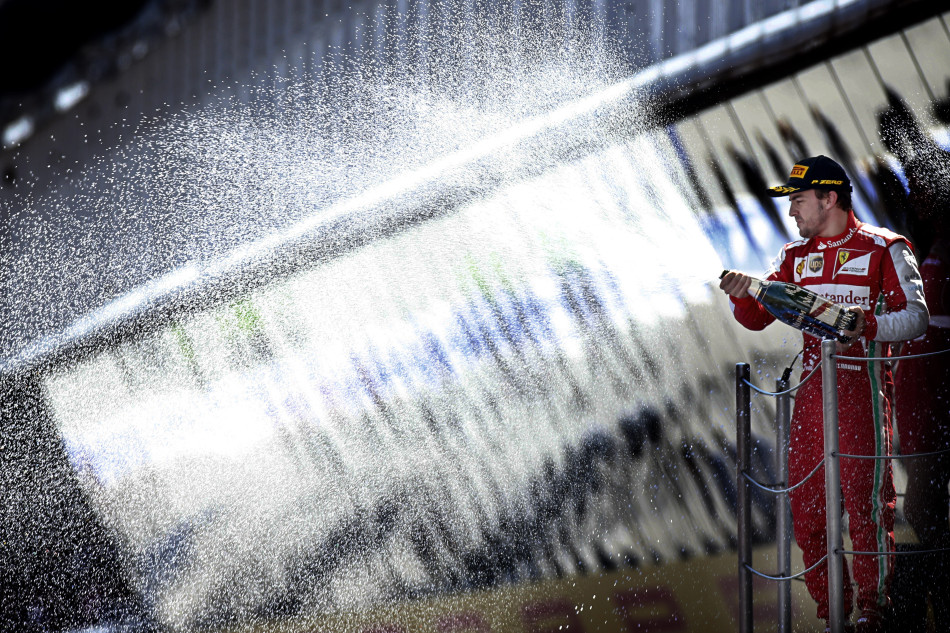 Fernando Alonso's second Spanish Grand Prix victory flew in the face of precedent. No-one before had won at the Circuit de Catalunya from the third row of the rid but the Spaniard did not let that stand in his way, cruising around in the final laps to finish nine seconds ahead of Kimi Räikkönen's Lotus, who in turn was a comfortable margin ahead of Felipe Massa in the second Ferrari.
Behind the podium party, Sebastian Vettel failed to impress, though finishing fourth was sufficient to maintain his lead in the Drivers' Championship. Behind him came team-mate Mark Webber to ensure Red Bull stay top of the Constructor's Championship table also.
From pole position Mercedes' Nico Rosberg fell to sixth at the flag – better rewarded than team-mate Lewis Hamilton, who dropped from second to 12th but displaying Mercedes' expected lack of long-run pace. He finished ahead of Paul di Resta for Force India, seventh and the two McLarens of Jenson Button and Sergio Pérez were eighth and ninth respectively. Daniel Ricciardo took the final point for Toro Rosso, narrowly prevailing over Sauber's Esteban Gutiérrez on the final lap.
Tyre choice did not seem as critical as had been the case in Bahrain but nevertheless this was a race where strategy played its part. The majority of the points-scorers opted for a four-stop race but Räikkönen, Rosberg and Button eked out their rubber and did only three. Once those choices became clear the question to be answered in the latter half of the race was whether Räikkönen's frugality or Alonso's pace would win out.
Alonso had put himself in a strong position, passing Räikkönen and Hamilton at the start to move up to third behind the equally fast-starting Vettel and Rosberg. It was, said the Ferrari man speaking after the race in the FIA press conference, essential to his chance of winning.
"I think we knew that to win the race we needed to pass people at the start. I saw Kimi and Lewis running a little bit wide in turn one so I changed trajectory and I had a clean exit in turn two. I passed Kimi and I said 'why not also Hamilton?' I had a little bit of KERS that I saved from the start for turn three, so I used that to pass Hamilton and I think that was a lot in the race – [but] also when exiting the first pit stop."
Alonso got ahead of Vettel in that first pit window and forced his way past Rosberg shortly afterwards as the Mercedes faded from contention. Räikkönen, however, did not quite manage to do the same and got stuck behind a manifestly slower Vettel for several laps. The Finn, though, did not believe those laps were a significant factor in the race's outcome.
"Obviously I have to overtake and I took maybe a few laps more than I expected but I got past him and I really could pull away," said Räikkönen. "In the end I really don't think those were the decisions that were the deciding story of the race.
"I think we deserved to be second and not really winning today. It's OK for the team, the guys did a good job and we go for the next race to try to do better and get the best out of it."
That Ferrari had genuine pace today was underlined by the form of Massa. Having qualified sixth and been demoted to ninth for blocking, the Brazilian recovered his position superbly to take his first podium of the season.
"Our car was really superb for this track," said Massa. "The degradation on the tyres was not [as minimal as] Lotus but I think we did the best as we're supposed to do and we showed a good performance."
Having won in Bahrain, the previous round of the championship, more might have been expected from Red Bull, especially given Vettel's good start which took him into second behind Rosberg. The World Champion, however, refused to be disappointed with finishing off the podium, claiming he ran a good race. Vettel also suggested that Red Bull aren't completely comfortable with the behaviour of the tyres.
"I think we can be happy with fourth today," he said. "The first three cars were a little bit too fast for us and regarding looking after the tyres, they did a better job. We need to catch up; we're not going the pace of the car, we're going the pace of the tyres and obviously we do something to make the tyres wear more.  We got some good points today, although of course we wanted more."
For Alonso, though, there were no such problems. His second Spanish Grand Prix victory and a third on Spanish soil took ahead of Nigel Mansell in the all-time list of F1 winners with 32 wins. Asked if he had ambitions to catch Ayrton Senna, Alain Prost and Michael Schumacher ahead, Alonso suggested he had other priorities:
"I'd just be happy if I finish second in all the races and I win more championships."
He moves up to third place in this year's battle.
2013 FIA Formula One Spanish Grand Prix result
1 Fernando Alonso Ferrari 1:39:16.596 25pts
2 Kimi Räikkönen Lotus +9.3s 18pts
3 Felipe Massa Ferrari +26.0s 15pts
4 Sebastian Vettel Red Bull Racing +38.2s 12pts
5 Mark Webber Red Bull Racing +47.9s 10pts
6 Nico Rosberg Mercedes +68.0s 8pts
7 Paul di Resta Force India +68.9s 6pts
8 Jenson Button McLaren +79.5s 4pts
9 Sergio Pérez McLaren +81.7s 2pts
10 Daniel Ricciardo Toro Rosso +1 Lap 1pts
11 Esteban Gutiérrez Sauber +1 Lap
12 Lewis Hamilton Mercedes +1 Lap
13 Adrian Sutil Force India +1 Lap
14 Pastor Maldonado Williams +1 Lap
15 Nico Hülkenberg Sauber +1 Lap
16 Valtteri Bottas Williams +1 Lap
17 Charles Pic Caterham +1 Lap
18 Jules Bianchi Marussia +2 Laps
19 Max Chilton Marussia +2 Laps
Ret Jean-Eric Vergne Toro Rosso Collision damage
Ret Giedo van der Garde Caterham +45 Laps
Ret Romain Grosjean Lotus Suspension