Alonso Reigns in Spain !
Fernando Alonso won a compelling European Grand Prix, thrilling a partisan crowd in Valencia.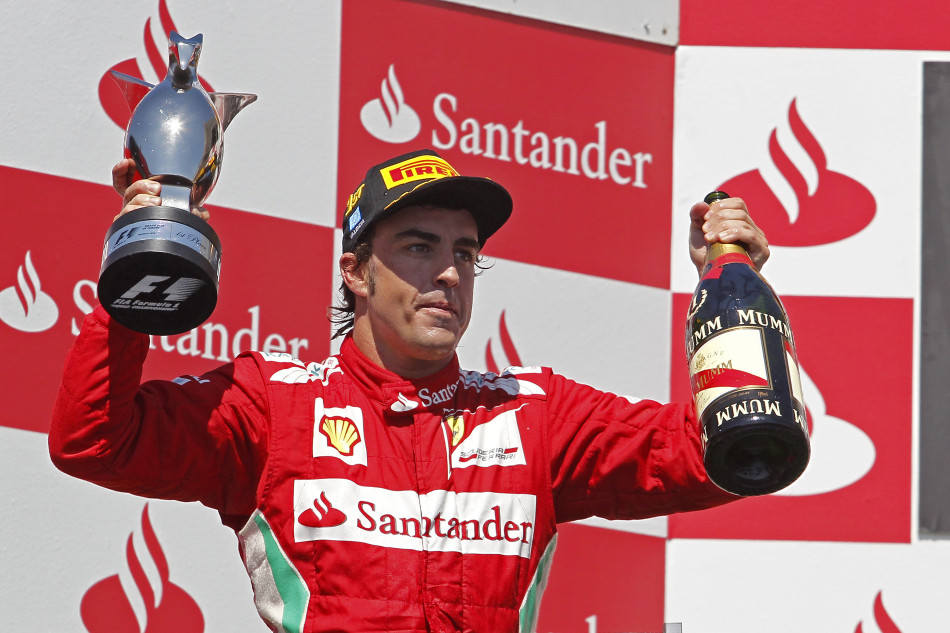 Having qualified in 11th, the Ferrari driver confidently stated last night that a podium finish was out of the question. But good luck and even better driving saw him mount the top step, having been largely unchallenged in the last quarter of the race. 
At that start it looked like Sebastian Vettel would be the one to take a regulation victory. His Red Bull got off well from pole position and streaked away from the field. For 28 laps he forged remorselessly ahead, building a 20-seconds gap to second placed Romain Grosjean and taking a first pitstop under no pressure. He, rather than Alonso, was odds-on to be 2012's first double-winner. 
 
Then came a safety car. Heikki Kovalainen and Jean-Eric Vergne's Toro Rosso tangled on lap 28, both picked up punctures and damage. The debris they left on the track was dangerous, the safety car came out, and Vettel's lead was gone in an instant.
 
Just about into the window for a second stop, the leaders streamed in to the pits. Lewis Hamilton, from third, had yet another poor stop, and emerged down in sixth. The top five at the restart were Vettel, leading Grosjean, Alonso, Daniel Ricciardo and Kimi Räikkönen. Ricciardo's position was slightly false as he had another stop to make; the rest were clearly going to run to the end. 
 
Vettel got away well from the restart but Alonso, to the great delight of the crowd, passed Grosjean for P2. That turned into P1 shortly afterwards as Vettel slowed to a halt, his car cutting out with a broken alternator. Grosjean made a spirited attempt to get on terms with Alonso, but the Ferrari wasn't seriously tested. Then Grosjean joined Vettel in retirement, also with an alternator failure. Alonso was free and clear.
 
"It's an amazing feeling," said a visibly emotional Alonso in the FIA post-race press conference. "When you find yourself third in the race after the safety car, I said: 'hopefully there is the chequered flag now and I enjoy this podium celebration.' Two laps later I overtake Grosjean on the restart and you think again 'hopefully the race finishes now'. Then Vettel stopped and it was a very long race until the end and, yeah, I enjoyed so much this moment."
 
While Alonso ran untroubled to the flag, behind him the racing was furious. Hamilton passed Räikkönen to regain second position but the Finn wasn't giving it up. Instead of chasing down Alonso, the McLaren driver had to fend off the Lotus.  Having all made their final stops very early in the race, tyres were deteriorating rapidly, which presented more opportunities for overtaking. Räikkönen hounded Hamilton and retook second with two laps remaining.
 
"When I was in the third place, I thought I would try to save the tyres a bit and try to get Hamilton at some point," said Raikkonen. "I saw him sliding a bit. So I think it was the second-last lap or something but I got him in the end. And for the team, bad luck. It would have been much nicer to have both cars on the podium."
 
Immediately after ceding second to Räikkönen, Hamilton came under attack from the charging Williams of Pastor Maldonado. Maldonado attempted a pass in the DRS zone but got it wrong, spearing into the side of the McLaren and losing his front wing. Hamilton came off worse, however, his race over in the barriers. Maldonado later laid the blame squarely on his McLaren rival. The Stewards disagreed and gave Maldonado a drive-through penalty, translated into 20-seconds added to his race time.
 
That promoted Michael Schumacher into third place for his first podium since the Chinese Grand Prix of 2006 – though the Mercedes driver admitted he was unaware of this until after the chequered flag. "Certainly I wasn't aware I was going in the direction of a podium," said the seven-times World Champion. "Even crossing the line I wasn't aware at that stage. But, being pretty heavily involved for most of the race in some kind of battling and then having Webber on my tail and needing to fight forward but needing to pay attention to the back, that was very exciting. But that's what I'm here for: to be excited and those guys got me excited, no doubt. And hearing finally the message 'P3' – yeah, that's a sweet finish."
 
As Schumacher alludes, he had Mark Webber right behind him. From 19th on the grid Webber had dragged himself back into contention but pitting after the safety car period put him down to 13th. With fresh tyres and cars struggling ahead, he recovered to fourth. 
 
Fifth was Nico Hulkenberg for his best ever finish. Sixth was Nico Rosberg, now the only driver to have scored points in every grand prix on this circuit. Paul Di Resta ran a lonely one-stop race for seventh, Jenson Button had another day to forget in eighth. Sergio Pérez was ninth for Sauber. With Maldonado docked time, his tenth place finish was handed to team-mate Bruno Senna. 
 
Thanks to Webber's fine drive, Red Bull improved their grip on the Constructors' Championship, now leading McLaren by 176 points to 137. 
 
In the Drivers' Championship Alonso regain the lead and Webber moves into second position– but on 91 points he is 20 adrift of Alonso. "I'm feeling very proud to be a Spanish sportsman at the moment," concluded Alonso. "Winning in Spain is probably the best victory I ever felt in terms of emotions. Nothing maybe compares to this one."