Alonso heads quiet first practice session in Belgium
Ferrari's Fernando Alonso topped the first practice session of the Belgian Grand Prix weekend as rain disrupted team preparations.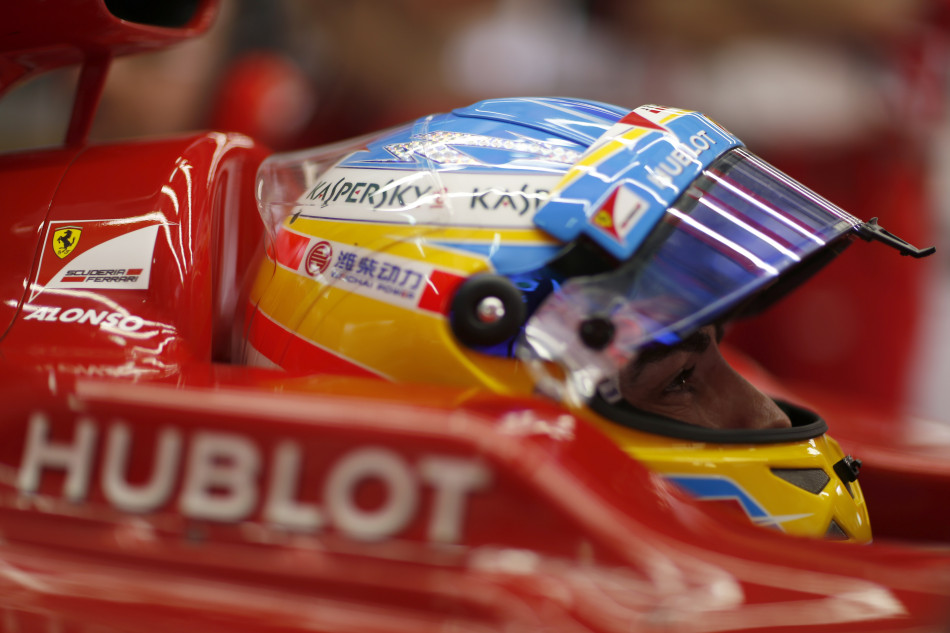 The first half of FP1 was defined by the light but steady rain that had fallen across the Spa-Francorchamps circuit in the run-up to the 90-minute session. Despite the showers ceasing just in time for the start, the track was wet and never properly dried as light rain hung in the air throughout the hour and a half.
There was a flurry of installation laps on rain tyres when the pitlane light went green. After that the likely front-runners returned to the garages to watch and wait. In the opening 45 minutes just seven drivers set timed laps. The McLarens of Jenson Button and Sergio Pérez were the pick of the bunch. With times hovering around the two-minute mark, they swapped the lead several times. They, like the other runners, were using the Intermediate tyre – but conditions made it difficult to do more than one flying lap. While the track was still wet around the first sector, at the top of the hill a steady breeze had dried it to the extent the Inters were overheating. Keen to huband resources for a potentially wet Saturday and Sunday, everyone was jealously guarding their allocation of tyres.
Despite on-off drizzle, the circuit reached the crossover point at around the halfway mark. There followed a period of intense activity, with Pirelli's orange-banded hard tyres making an appearance, Red Bull Racing's Mark Webber leading the way with the field keen to make the most of track conditions. More rain expected just after the hour mark.
Lap times went into freefall, Fernando Alonso ultimately going quickest with 1:55.198 in his Ferrari. Conditions never improved to the point of being fully-dry, and Alonso's time was some way off a representative lap on slicks when the rain intensified again and halted the downwards trend.
These were poor conditions for practice: too dry to keep the Inters in good condition; too wet to run properly on slicks. As such in the last half-hour many drivers either stayed in the garage or returned after careful reconnaissance laps. The session ended as it had begun, under dark skies and with spots of rain falling on a quiet circuit.
2013 Belgian Grand Prix first practice session results
1 Fernando Alonso Ferrari 1:55.198
2 Paul di Resta Force India 1:55.224 +0.026
3 Adrian Sutil Force India 1:55.373 +0.175
4 Sergio Pérez McLaren 1:55.518 +0.320
5 Nico Rosberg Mercedes 1:55.614 +0.416
6 Sebastian Vettel Red Bull Racing 1:55.636 +0.438
7 Esteban Gutiérrez Sauber 1:55.954 +0.756
8 Nico Hülkenberg Sauber 1:56.110 +0.912
9 Daniel Ricciardo Toro Rosso 1:56.770 +1.572
10 Valtteri Bottas Williams 1:56.858 +1.660
11 Felipe Massa Ferrari 1:56.863 +1.665
12 Pastor Maldonado Williams 1:57.081 +1.883
13 Jean-Eric Vergne Toro Rosso 1:57.084 +1.886
14 Jenson Button McLaren 1:57.281 +2.083
15 Lewis Hamilton Mercedes 1:57.358 +2.160
16 Heikki Kovalainen Caterham 1:57.821 +2.623
17 Giedo van der Garde Caterham 1:57.887 +2.689
18 Max Chilton Marussia 1:58.600 +3.402
19 Mark Webber Red Bull Racing 1:58.929 +3.731
20 Jules Bianchi Marussia 1:59.209 +4.011
21 Kimi Räikkönen Lotus 1:59.441 +4.243
22 Romain Grosjean Lotus 2:03.176 +7.978