Alonso fastest in Canada FP2
Ferrari driver sets the afternoon pace in dry conditions in Montreal.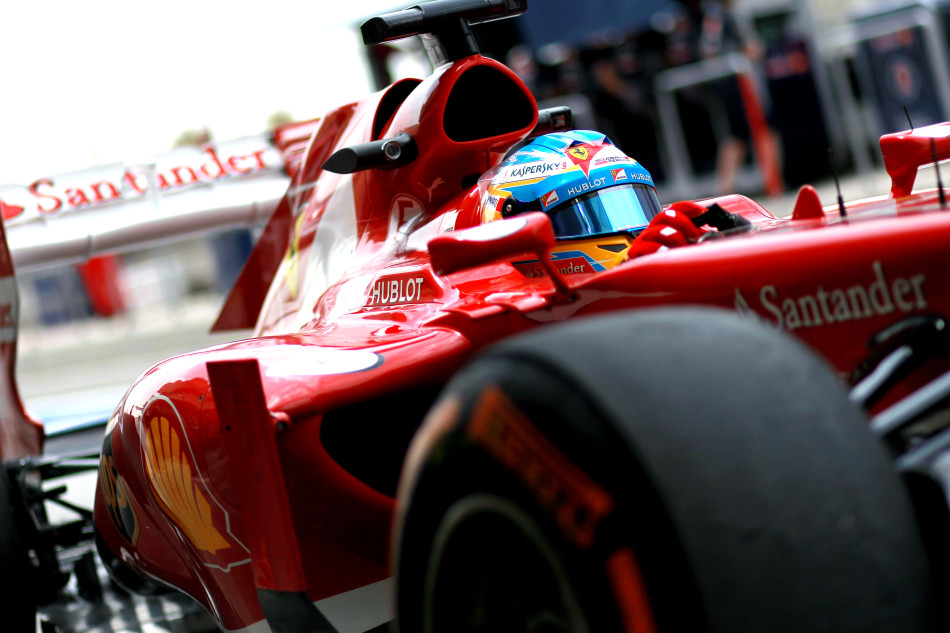 Ferrari's Fernando Alonso claimed the fastest time of Friday afternoon in Montreal as the rain showers that disrupted the morning session stayed away in second practice at the Circuit Gilles-Villeneuve.
Alonso's lap time of 1:14.818 came 55 minutes into FP2. It narrowly edged the Mercedes of Lewis Hamilton into P2 and was the last significant change to the leader board. Afterwards everyone then settled into long run simulations for the final half hour. Romain Grosjean was third for Lotus, ahead of Red Bull Racing's Mark Webber and the second Mercedes of Nico Rosberg.
Felipe Massa was sixth for Ferrari, followed by Sebastian Vettel for Red Bull. Adrian Sutil was eighth for Force India, ahead of McLaren's Jenson Button. Toro Rosso's Daniel Ricciardo completed the top ten.
The absence of rain was a significant factor this afternoon, with the field rushing out en masse as the pitlane light went green. The track stayed dry for the whole session, though a few drops of rain did fall towards the end of the 90 minutes. It has the threat of heavier showers, however, that affected the run plans. The session began with most runners using Pirelli's experimental tyre for a stint. They then swapped onto the medium compound – but after a short burst switched to the red-banded supersoft for another short burst, rather than leaving that to the end of the session as would frequently be the case. Once the supersoft runs were completed, drivers settled into high-fuel long runs to the chequered flag.
From the start, the field were immediately lapping a few seconds faster than they had on the supersoft compound at the end of FP1. Hamilton was the first man to break through the 1m16s barrier, setting a time of 1:15.702 half an hour into the session. After that the Red Bulls took over the pace settings, with Vettel and Webber swapping fastest times – Webber ultimately the faster with 1:15.212 at the halfway mark.
Hamilton was the first man under 1m15s, resetting P1 to 1:14.830, but held the lead for only a minute before Alonso narrowly beat that with 37 minutes left on the clock.
2013 Canadian Grand Prix free practice 2 times
1 Fernando Alonso Ferrari 1:14.818
2 Lewis Hamilton Mercedes 1:14.830 0.012
3 Romain Grosjean Lotus 1:15.083 0.265
4 Mark Webber Red Bull Racing 1:15.212 0.394
5 Nico Rosberg Mercedes 1:15.249 0.431
6 Felipe Massa Ferrari 1:15.254 0.436
7 Sebastian Vettel Red Bull Racing 1:15.280 0.462
8 Adrian Sutil Force India 1:15.396 0.578
9 Jenson Button McLaren 1:15.422 0.604
10 Daniel Ricciardo Toro Rosso 1:15.566 0.748
11 Kimi Räikkönen Lotus 1:15.599 0.781
12 Sergio Pérez McLaren 1:15.661 0.843
13 Paul di Resta Force India 1:15.855 1.037
14 Pastor Maldonado Williams 1:16.319 1.501
15 Jean-Eric Vergne Toro Rosso 1:16.351 1.533
16 Valtteri Bottas Williams 1:16.374 1.556
17 Esteban Gutiérrez Sauber 1:16.475 1.657
18 Nico Hülkenberg Sauber 1:16.929 2.111
19 Jules Bianchi Marussia 1:17.070 2.252
20 Charles Pic Caterham 1:17.236 2.418
21 Max Chilton Marussia 1:17.888 3.070
22 Giedo van der Garde Caterham 1:18.392 3.574