Alonso in control in Catalunya
Ferrari take one-two in opening practice session ahead of Spanish Grand Prix.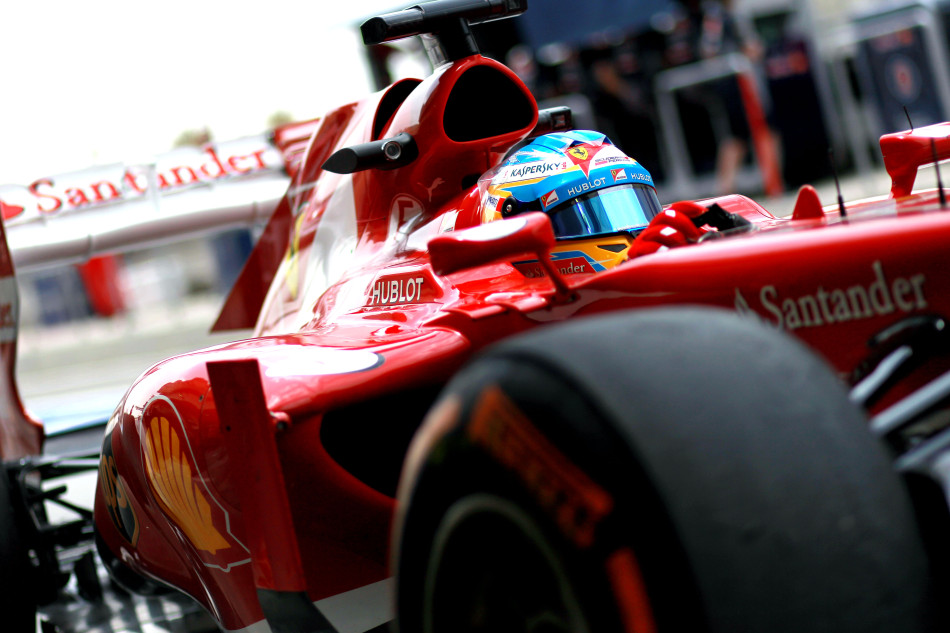 Ferrari's Fernando Alonso snatched P1 in the last seconds of a damp first practice at the Circuit de Catalunya.
With most teams bringing upgrades to Spain, and Pirelli supplying an extra set of hard tyres, the thing everyone wanted to see this morning was clear skies over Barcelona. Instead they got clouds and intermittent rain. Although most of this fell before the session started, the track dried only very slowly and the first 70minutes of the session were ran exclusively on the Intermediate tyre. Toro Rosso's Jean-Eric Vergne was the first to try slicks, and went into P1 on his second dry lap. This triggered a wholesale changeover and the timesheets were rewritten in the last quarter of an hour, with the fastest lap being swapped by a dozen drivers during this time.
Alonso was quickest with a time of 1:25.252. He was followed by team-mate Felipe Massa, Vergne was P3, Romain Grosjean P4 for Renault, Adrian Sutil P5 for Force India, Lewis Hamilton took P6 in the Mercedes, followed by the hard-charging Williams of Valtteri Bottas. Kimi Räikkönen was eighth in the second Lotus, followed by the second Mercedes of Nico Rosberg and Paul di Resta rounded out the top ten for Force India.
For a wet session there was remarkably little incident. Grosjean had an early slide on his installation lap but that apart most drivers stayed within the lines, albeit with the occasional twitch. Sauber's Nico Hülkenberg was the first driver to set a time, with 1:51.644. That dropped steadily as a line dried, and with 20 minutes of the session remaining Lewis Hamilton was fastest with 1:36.159 when Vergne appeared on the experimental hard slicks. Despite a few twitchy moments, he set 1:34.710 on his second lap to move to the top of the leaderboard. He triggered a mass migration to the hard tyres – mostly the standard specification orange-banded Pirelli – and the last 15 minutes was characterised by fastest sectors from a wide array of drivers. With the track continuing to improve, Alonso finished in P1 largely by virtue of crossing the line after his rivals.
2013 Spain Grand Prix – Free Practice 1 Times
1 Fernando Alonso Ferrari 1:25.252 
2 Felipe Massa Ferrari 1:25.455 +0.20
3 Jean-Eric Vergne Toro Rosso 1:25.667 +0.415
4 Romain Grosjean Lotus 1:26.042 +0.790
5 Adrian Sutil Force India 1:26.212 +0.960
6 Lewis Hamilton Mercedes 1:26.374 +1.122
7 Valtteri Bottas Williams 1:26.456 +1.204
8 Kimi Räikkönen Lotus 1:26.614 +1.362
9 Nico Rosberg Mercedes 1:26.621 +1.369
10 Paul di Resta Force India 1:26.755 +1.503
11 Daniel Ricciardo Toro Rosso 1:26.940 +1.688
12 Nico Hülkenberg Sauber 1:27.061 +1.809
13 Sergio Pérez McLaren 1:27.135 +1.883
14 Esteban Gutiérrez Sauber 1:27.250 +1.998
15 Pastor Maldonado Williams 1:27.576 +2.324
16 Heikki Kovalainen Caterham 1:28.373 +3.121
17 Giedo van der Garde Caterham 1:28.600 +3.348
18 Jules Bianchi Marussia 1:28.887 +3.635
19 Sebastian Vettel Red Bull Racing 1:29.457 +4.205
20 Mark Webber Red Bull Racing 1:29.473 +4.221
21 Rodolfo González Marussia 1:30.314 +5.062
22 Jenson Button McLaren No time