Al-Attiyah/Baumel claim slim lead mid-way through Andalucía Rally
Andalucía Rally - Round 1 of the FIA World Cup for Cross-Country Rallies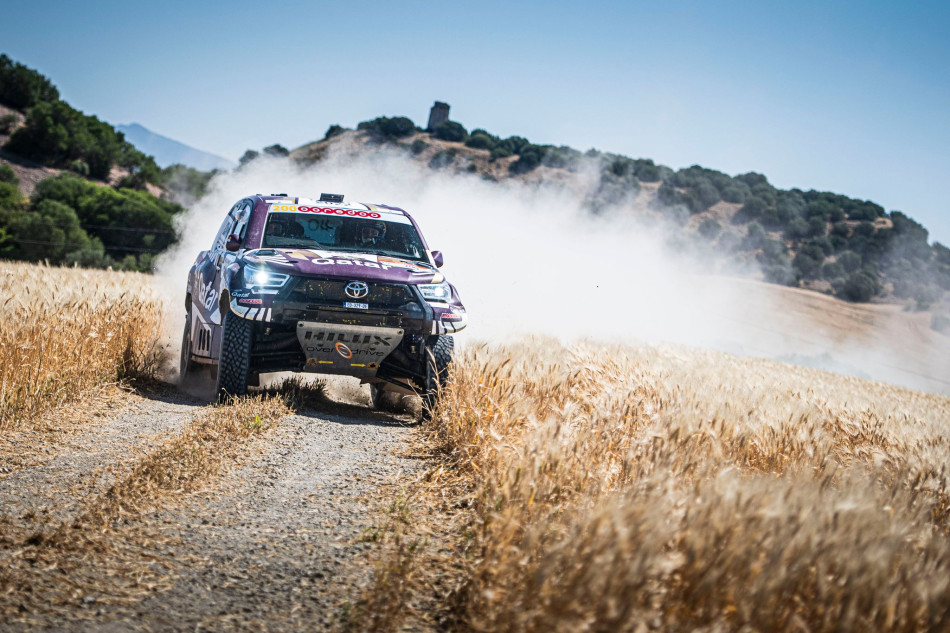 Nasser Al-Attiyah and Matthieu Baumel lead the Andalucía Rally after two of the four legs of the opening round of the FIA World Cup for Cross-Country Rallies. The Toyota Hilux crew are over a minute ahead of Carlos Sainz and Lucas Cruz, the MINI duo closing in on the lead after claiming today's stage victory. Vaidotas Zala and Paulo Fiuza have had a fine run in a similar John Cooper Works Rally and hold third at the mid-point of the event.
Al-Attiyah and Baumel have the benefit of previous experience of the event, the Qatari/French pairing claiming victory in 2020 when the rally ran for the first time prior to being included in the FIA World Cup calendar. Setting down the marker from the outset, they won the short eight kilometre qualifying stage on Wednesday and then set the fastest time on yesterday's 177 kilometre section. Today, the route headed to the Province of Cordoba and the furthest point away from the bivouac located near Villamartin in eastern Spain. Opening the road for their rivals, they got lost at one point and dropped a minute, ultimately finishing third in the section that took the contenders over a mix of technical and high-speed tracks.
Sainz, double FIA World Rally Champion and winner of the Dakar Rally on three occasions, is another returnee to the Andalucía Rally. The Spaniard, with Cruz alongside him in the MINI John Cooper Works Rally, is chasing hard despite not competing in a four-wheel drive car for a decade. Yesterday, consequently, he lacked confidence to push and finished third in the section, 2 minutes and 32 seconds adrift of Al-Attiyah's winning pace. Today, however, he bounced back; fastest time demonstrating greater trust in the car after overnight set-up changes which elevated himself and Cruz to second overall.
Zala and Fiuza have been impressive from the outset, finishing just three seconds adrift of Al-Attiyah on the qualifying stage. Despite being out of competition for five months, the Lithuanian/Portuguese crew slotted in just behind their rival in yesterday's stage to claim second, just one minute and 25 seconds adrift of the lead despite a few spins. Today, it was a tough and long day for the duo with some mistakes, and they finished fourth in the section and dropped to third overall, such was the pace of Sainz.
Having lost time in yesterday's 177 kilometre section, which resulted in eighth position overall, Yazeed Al-Rajhi and Dirk von Zitzewitz have climbed the leaderboard and hold fourth overall in their Toyota Hilux Overdrive. The Saudi Arabian driver is another to have stood on the Andalucía Rally podium, having claimed third last year, and he is three minutes adrift of Zala despite a slow puncture.
Erik van Loon and Sébastien Delaunay made a spectacular recovery from 18th on the qualifying stage to a fine fifth in yesterday's stage. The Dutch/French Hilux Overdrive crew mirrored that performance again today to maintain position as Al-Rajhi moved up the leaderboard and Vladimir Vasilyev, previously fourth going into today's stage, was forced to retire after an accident.
Guillaume de Mevius and Tom Colsoul are on fine form in their OT3 and are sixth overall and first in T3. They have powered up the leaderboard from fourth of the category contenders to leading after the second leg. Eighteen-year-old American, Seth Quintero, previously led the category after storming to sixth overall in another OT3, but was unable to start today's stage following a gearbox problem.
The Portuguese crew of Paulo Ferreira/Jorge Monteiro hold seventh in another Toyota Hilux, just ahead of the MINI John Cooper Works Buggy crew of Mattias Ekström, 2016 FIA World Rallycross Champion, and Emil Bergkvist. Twenty-nine year old Spaniard Cristina Gutierrez is an impressive ninth and second in T3 in her OT3 and the Polish/Finnish pairing of Martin Kaczmarski and Tapio Suominen round out the top 10. Laia Sanz, also supporting her home round of the FIA World Cup for Cross-Country Rallies, is 11th as she continues to adjust to competition on four wheels.
Qatari Khalifa Al-Attiyah and Frenchman Xavier Panseri head the T4 category in their Can-Am Maverick XRS with two stage wins to their name. They head Austin Jones/Gustavo Gugelmin in the classification with Aron Domzala – who won his category in Spain last year – second on today's stage after rolling yesterday.