This page contains archived information and may not display perfectly
Al-Attiyah and Toyota in Dakar command at the rest day
The first half of the 44th Dakar Rally saw both the domination of the event's favourite crew in the T1 category and the emergence of new-technology cars. Can-Am drivers Lopez Contardo and Luppi de Oliveira lead T3 (light cars) and T4 (SSV), while Kamaz dominates the T5 Truck category with top three positions.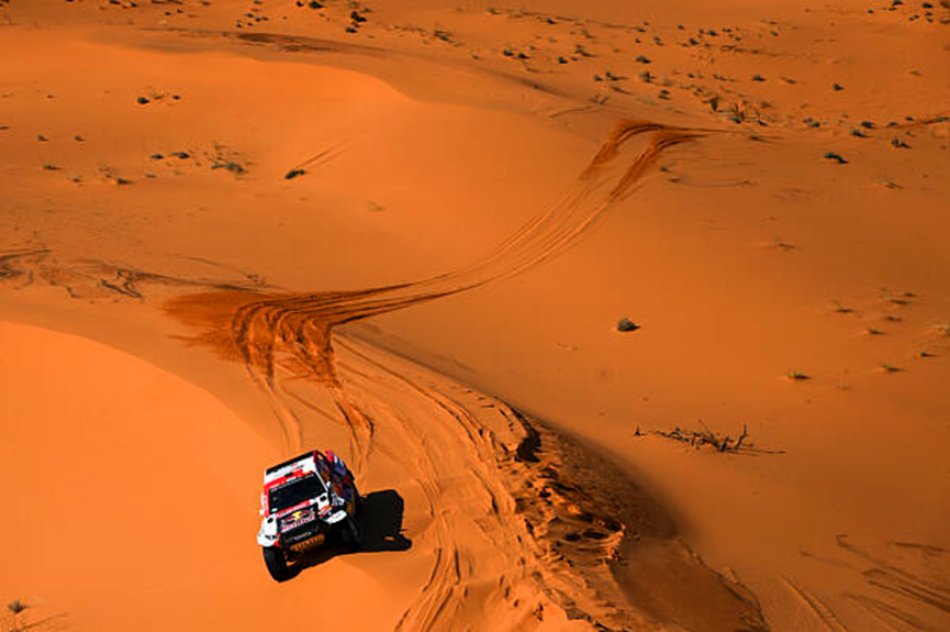 Toyota Gazoo Racing's Nasser Al-Attiyah controlled proceedings at the head of the field through the first week of the 44th Dakar Rally, the Qatari winning three stages to hold a lead of 48min 54sec over local rival Yazeed Al-Rajhi (Overdrive Toyota) and 50min 25 sec over Nine-time WRC champion Sébastien Loeb (BRX Hunter), at the event's traditional rest day in Riyadh.
Aiming to make a winning start to his challenge for honours in the new FIA World Rally-Raid Championship, the 2021 FIA World Cup winner set his stall out by winning the Qualifying Stage and managed his pace over the next six days to stay on course for a fourth Dakar win, the Qatari benefitting from French co-driver Mathieu Baumel's navigational skills on several occasions.
Toyota Gazoo Racing's performances are completed by Giniel de Villiers (fourth overall in at the rest day in Riyadh) and 27-year-old Henk Lategan, who grabbed his first stage win on day six.
Al-Attiyah said: "We tried to push from the beginning, but some drivers made some mistakes. We are quite happy to have finished the first week of the Dakar with a good lead. Mathieu did a good job. He was very careful to avoid making mistakes. I think we are in a good way. We've worked a lot this week without any risks. This is the Dakar and we will try to manage next week without any risks. We need to be strong all the way. We need to have a good pace without any relaxing because, when you relax, you make a mistake. We also need to navigate well."
Sébastien Loeb was Al-Attiyah's main rival during the first week in the first of three Hunter BRXs entered by Prodrive. The Frenchman won stage two – a Dakar first for the Bahraini team – and pressurised the Qatari each day. But he ceded half an hour on stage three ha had to race in 2WD, and 15 valuable minutes on the last stage before the rest day and slipped behind Al-Rajhi and into third place.
Loeb said: "the gap to Nasser is 50 minutes. It's quite a lot, nearly one hour. But we'll see. There is still a long way to go, so we'll continue to push, to try and do some good stages. I have no goal. I will try to do my best and the result will be what it is."
Loeb's BRX team-mates Joan "Nani" Roma and Orlando Terranova have also demonstrated the performance of the biofuel powered Hunter T1+. The two-time Dakar winner delivered several solid stage performances, but a roll in stage four had plagued him, and he reached Riyadh near the foot of the rankings in the BRX Hunter. The Argentinean driver got an impressive stage win, being 8th overall at mid race.
Al-Rajhi and Lucio Alvarez (Overdrive Toyota team-mates), both made an impressive start to their Dakar challenge. Alvarez held fifth at the rest day, with Al-Rajhi up to second and deprived of a stage win only by a speeding penalty.
The X-raid Mini JCW Team fared better during the first week, as the Germany-based operation attempts to win a seventh Dakar and a first since Sainz's success in 2020. Jakub Przygonski was well-placed in sixth in the first of the Mini Buggies, the Pole heading Argentinean team-mate Sebastien Halpern, who held tenth.
Russian privateer Vladimir Vasilyev is a former FIA World Cup champion and last year's winner of the FIA World Cup for Cross-Country Bajas. He held seventh place in a VRT Team BMW X5.
The first week was one of mixed fortunes for Team Audi Sport and its trio of new electric RS Q e-trons in the hands of 14-time Dakar winner Stéphane Peterhansel, three-time winner Carlos Sainz and Sweden's Mathias Ekström.
Although the squad misses out on a top ten finish, Sainz's success on stage three – his 40th in his Dakar career - marked a revolutionary milestone in the sport's history with a first win for an electric hybrid car.
But both the Spaniard and Peterhansel suffered suspension breakages, the Frenchman incurring hefty time penalties on two occasions and Sainz also losing over two hours with navigational woes. Ekstrom's consistency allowed him to reach the rest day in Riyadh in 14th overall and Sainz 23rd but Peterhansel was at the foot of the rankings
Twenty-one crews lined up at the start in Jeddah in the FIA World Rally-Raid Championship's T3 category and a fierce battle waged between the Red Bull Off-Road Junior Team and South Racing for success.
American driver Seth Quintero was the fastest pilot during the first week and won six stages, but transmission issues cost the Overdrive OT3 man dearly and Chile's Francisco Lopez Contardo held first in the category at the rest day in his South Racing-built Can-Am Mavericks.
"That's six stage wins and we are going to keep ticking them off," said Quintero. "Nine is the record, so we are going to see if we can break it!"