2021 WRC Rally Portugal Preview
Round four of the 2021 FIA World Rally Championship season takes the crews onto gravel for the first time this year for the return of Rally Portugal (May 20-23).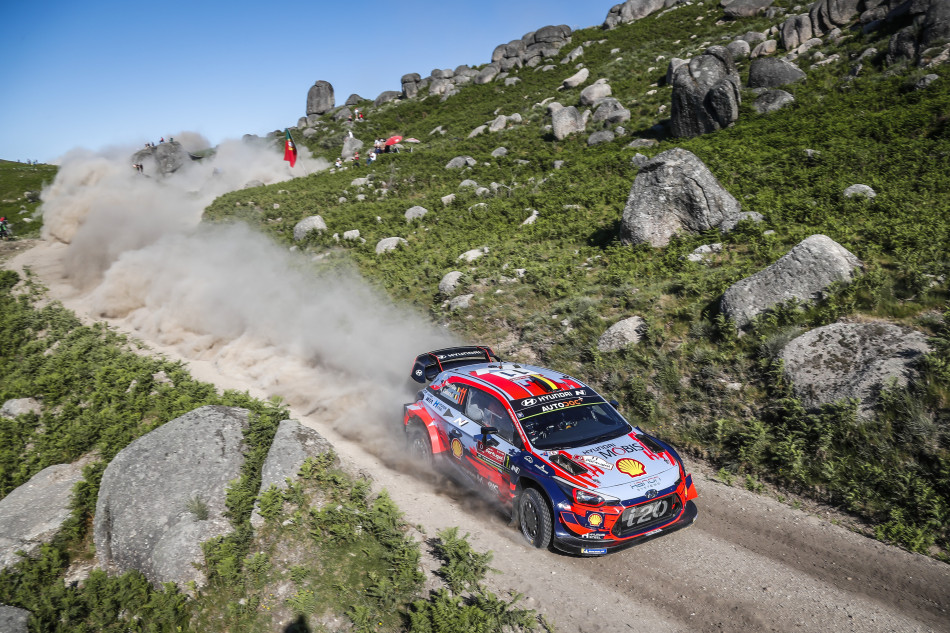 Last run in 2019, the highly popular event is based in Matosinhos, close to the city of Porto, and features fast and technical roads. The surface generally starts out with soft and sandy stages but can often turn rocky and rutted for the second pass.
Sébastien Ogier – who is a five-time winner in Portugal, sharing the record with Finnish rally icon Markku Alén – leads the championship for Toyota following his victory in Croatia last month. It is close behind, with Hyundai's Thierry Neuville eight points away from Ogier and two in front of Elfyn Evans. Ott Tänak, the 2019 event winner, is 21 points from the leader, with Kalle Rovanperä just one point further back.
Dani Sordo returns to action in the third factory Hyundai entry in what will be the debut appearance for his new co-driver Borja Rozada. Adrien Fourmaux continues alongside Gus Greensmith in the M-Sport Ford line-up following his impressive debut performance in Croatia. Completing the World Rally Car crews are the fourth Toyota driver Takamoto Katsuta and 2C Competition Hyundai driver Pierre-Louis Loubet, who also welcomes a new co-driver with Florian Haut-Labourdette.
FIA WRC2 features an incredibly strong 12-car entry for Rally Portugal, with the championship leader Andreas Mikkelsen in his Toksport Škoda Fabia Evo to face competition from other well-known names like Esapekka Lappi (Movisport Volkswagen Polo GTI), Mads Østberg (TRT Citroën C3) and Teemu Suninen (M-Sport Ford WRT Fiesta Mk II). Hyundai Motorsport N's Oliver Solberg joins teammate Ole Christian Veiby, as well as fellow young guns Marco Bulacia (Toksport Škoda Fabia Evo), Nikolay Gryazin (Movisport VW Polo GTI) and Tom Kristensson (M-Sport Ford Fiesta Mk II) in action. Eric Camilli (Sports & You Citroën C3), Martin Prokop (M-Sport Ford) and Georg Linnamäe (ALM Motorsport Citroën C3) complete the category line-up.
Among a total entry list of 81 cars, 25 are entered in FIA WRC3, including points leader Yohan Rossel from France and Croatia winner Kajetan Kajetanowicz from Poland. Spaniards Jan Solans and Pepe Lopez, Chile's Alberto Heller and Emilio Fernandez, plus Irishman Josh McErlean, will make their season debut. A total of 11 Portuguese crews in the class range from local stars like Armindo Araújo and Bruno Magalhães to newcomer André Villas-Boas – the former Chelsea and Tottenham football manager.
Great Britain's Jon Armstrong heads the eight-car FIA Junior WRC field after winning the opening round in Croatia. Latvian driver There's a 9-point gap between him and Martin Sesks in second place, while Sami Pajari from Finland is only one point away from Sesks in the current standings. They will be all competing on the Portuguese stages in identical Ford Fiesta Rally4 cars.
THE 2021 ROUTE
With twenty stages and 337.51 competitive kilometres, Rally Portugal will be the longest of the season so far. After Shakedown on Thursday morning, the crews head south for a ceremonial start in Coimbra ahead of the opening day on Friday, concentrated around Arganil. This area, which returned to the rally in 2019, will host two loops of three stages without a midday service. The Mortágua test, last run 20 years ago, and Lousada super special stage round out the day. Saturday takes place mostly in the Cabreira mountains north-east of Porto, with three stages each run twice, plus a new street stage close to Porto. A total of five stages will conclude the rally on Sunday, including another returning test in Felguieras and two passes of the famous Fafe and its iconic jump – the latter run serving as the rally-ending Wolf Power Stage.
MEDIA ACCREDITATION
Media accreditation and attendance is strictly managed with modified terms under COVID-19 regulations. All attendees are required to comply with the COVID protocol as defined by the event organisers (please refer to Bulletin 1 - see the Virtual Notice Board in the Competitors section on the event website).
Media accreditation must be collected personally by accredited Pass Holders at the Accreditation Desk, located opposite to the EXPONOR main entrance:
Exponor Feira International do Porto, Av. Dr Antonio Macedo, 574, 4454-515 Leça da Palmeira, Matosinhos (GPS: 41°11.972' N - 8°41.535 W)
The opening hours are:
Tuesday, May 18:  14:00 - 19:00
Wednesday, May 19: 08:00 - 20:00
Thursday, May 20:  08:00 - 20:00
Friday, May 21:   08:00 - 13:00

2021 WRC RALLY PORTUGAL TIMETABLE AND MEDIA OPPORTUNITIES
| | |
| --- | --- |
| Wednesday, May 19 |   |
| Mandatory media safety briefing via video conference (details TBC) | 17:00 hrs |
|   |   |
| Thursday, May 20 |   |
| Shakedown for P1 drivers, Paredes | 09:00 – 10:30 hrs |
| Shakedown for P2, P3; P4 drivers, Paredes | 10:30 – 12:30 hrs |
| Shakedown for non-priority drivers, Paredes | 12:30 – 14:00 hrs |
| FIA Press Conference, via video conference (details TBC) | 13:30 hrs |
| - FIA WRC | 13:30 hrs |
| - FIA WRC2 | 13:40 hrs |
| - FIA WRC3 | 13:50 hrs |
| - FIA Junior WRC | 14:00 hrs |
| Ceremonial start, Coimbra | 20:30 hrs |
|   |   |
| Friday, May 21 |   |
| Start of the rally (Section 1), Coimbra | 06:50 hrs |
| First car arrives for media zone, technical zone & service (TC8A), SP | 19:50 hrs |
|   |   |
| Saturday, May 22 |   |
| Start of Section 4, Exponor Service Park | 06:15 hrs |
| First car arrives for MZ, regroup, tech. zone & service (TC11A), SP | 12:05 hrs |
| First car arrives for media zone, technical zone & service (TC15A), SP | 19:23 hrs |
|   |   |
| Sunday, May 23 |   |
| Start of Section 6, Exponor Service Park | 05:45 hrs |
| First car arrives for media zone after having checked in at TC20D, SP | 14:20 hrs |
| Podium Ceremony & Price Giving, Matosinhos | 15:45 hrs (approx.) |
| FIA Press Conference, via video conference (details TBC) | 16:30 hrs (TBC) |
FIA PRESS CONFERENCE ATTENDANCE
| | |
| --- | --- |
| Thursday, May 20 | FIA WRC |
|   | Toyota Gazoo Racing WRT – Sébastien Ogier (FRA) |
|   | Hyundai Shell Mobis WRT – Dani Sordo (ESP) |
|   | M-Sport Ford WRT – Adrien Fourmaux (FRA) |
|   |   |
|   | FIA WRC2 |
|   | Toksport WRT - Andreas Mikkelsen (NOR), Škoda Fabia Evo |
|   | Movisport - Esapekka Lappi (FIN), Volkswagen Polo GTI |
|   | TRT World Rally Team - Mads Østberg (NOR), Citroën C3 |
|   | Hyundai Motorsport N - Oliver Solberg (SWE), Hyundai NG i20 |
|   |   |
|   | FIA WRC3 |
|   | Nicolas Ciamin (FRA) |
|   | Armindo Araujo (PRT) |
|   | André Villas-Boas (PRT) |
|   |   |
|   | FIA Junior WRC |
|   | Jon Armstrong (GBR) |
|   | Lauri Joona (FIN) |
|   |   |
| Sunday, May 23 | Winning FIA Junior WRC Championship driver |
|   | Winning FIA WRC3 Championship driver |
|   | Winning FIA WRC2 Championship driver |
|   | Top three drivers in the overall classification |
|   | Representative of the winning manufacturer |
MANUFACTURER WRC ENTRIES, 2021 WRC RALLY PORTUGAL
| | |
| --- | --- |
| Toyota Gazoo Racing WRT | Sébastien Ogier (FRA) / Julien Ingrassia (FRA) - #1 |
|   | Elfyn Evans (GBR) / Scott Martin (GBR) - #33 |
|   | Kalle Rovanperä (FIN) / Jonne Halttunen (FIN) - #69 |
|   |   |
| Hyundai Shell Mobis WRT | Thierry Neuville (BEL) / Martin Wydaeghe (BEL) - #11 |
|   | Ott Tänak (EST) / Martin Järveoja (EST) - #8 |
|   | Dani Sordo (ESP) / Borja Rozada (ESP) - #6 |
|   |   |
| M-Sport Ford WRT | Adrien Fourmaux (FRA) / Renaud Jamoul (BEL) - #16 |
|   | Gus Greensmith (GBR) / Chris Patterson (IRL) - #44 |