This page contains archived information and may not display perfectly
2021 FIA World Rally Championship Acropolis Rally Greece - Preview
FIA World Rally Championship crews will take on another of the sport's legendary challenges when the Acropolis Rally Greece returns on September 9-12.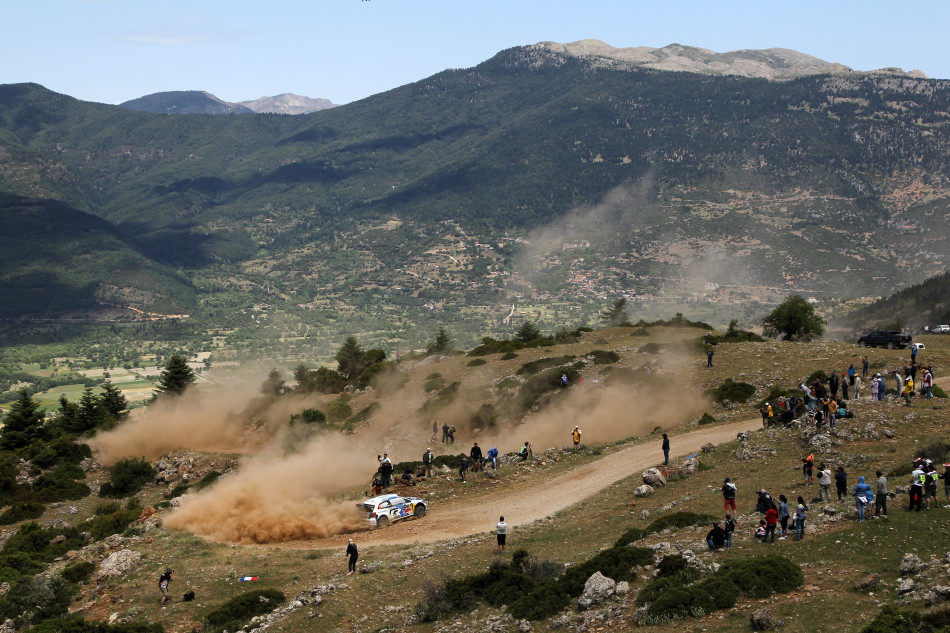 This will be the world series' first visit to Greece since 2013. Prior to that, the Acropolis Rally had been a fixture almost every year since the inaugural season in 1973, and is known for its incredibly punishing terrain, combining rocky gravel stages with high temperatures.

Sébastien Ogier won the Acropolis Rally in 2011 and takes a championship lead of 38 points into this year's event. His Toyota team-mate Elfyn Evans, in second place, has been joined on the same number of points by Thierry Neuville following the Hyundai driver's superb home victory at the previous round, Ypres Rally Belgium. Kalle Rovanperä (Toyota), Ott Tänak (Hyundai) and Takamoto Katsuta (Toyota) follow in the standings and in the road order for the opening day in Greece.

Dani Sordo returns to action in the third factory Hyundai, with Pierre-Louis Loubet also entered with a i20 Coupé WRC under the 2C Compétition banner. Gus Greensmith and Adrien Fourmaux will lead the M-Sport attack, with Greek driver Jourdan Serderidis returning to a Ford Fiesta WRC to contest his home event.

Nine cars are entered into FIA WRC2 in Greece, with championship leader Andreas Mikkelsen in a Toksport-entered Škoda Fabia Evo to go head-to-head with his nearest rivals, his teammate Marco Bulacia and TRT WRT's Mads Østberg in a Citroën C3. Movisport's Nikolay Gryazin switches to a Ford Fiesta Rally2 for this event. 

Eighteen drivers are entered in FIA WRC3, including points leader Yohan Rossel from France and his chief rival Kajetan Kajetanowicz from Poland - twice an Acropolis Rally winner in the FIA European Rally Championship. Lambros Athanassoulas, a class winner on the event back in 2009, leads the local contingent


THE 2021 ROUTE

After Shakedown on Thursday morning close to the Service Park in Lamia, the rally will begin in the capital city of Athens with a ceremonial start beneath the famous Acropolis and an opening street stage around Syntagma Square. On Friday, the rally moves west to the Peloponnese peninsula. Two passes of Aghii Theodori are separated by a single stage close to Loutraki, where there will also be a tyre-fitting zone. The Thiva and Elatia tests will then be run on the way back to Lamia. Saturday is the longest day of the event and features six stages in total. An initial loop of four stages is split in half by a tyre-fitting zone in Itea, before two of those tests – Pavliani and Eleftherohori – are repeated following service in Lamia. Sunday features the longest stage of the rally, the 33.2-kilometre Pyrgos between two runs of the renowned Tarzan test - the shorter second pass will serve as the rally-ending Power Stage.


RALLY DATA
| | |
| --- | --- |
| Total distance: | 1285.85 km |
| Stage distance: | 292.19 km (22.72%) |
| Number of stages: | 15 |


MEDIA ACCREDITATION

Media accreditation and attendance is strictly managed with modified terms under COVID-19 regulations. All attendees are required to comply with the COVID protocol as defined by the event organisers (please refer to Bulletin 1 and 2 on the Virtual Notice Board and in particular the COVID Delegate notes).
Media accreditation in Lamia

Location:
Media accreditation must be collected personally by accredited Pass Holders at the Media Accreditation Desk, located at in the Media Center building, Service Park at the National Trade Fair in Lamia. GPS: N38°53.422 E22°26.929

Opening hours:
Monday 6 September: 14:00 - 19:00
Tuesday 7 September: 08:00 – 21:00
Wednesday 8 September: 08:00 – 20:00
Thursday 9 September: 08h00 – 20:00
Friday 10 September: 08:00 - 20:00

Media accreditation in Athens

Media accreditation will also be possible in Athens on Thursday 9 September only just before ceremonial start.

Location:
Motorsport Greece - Olympic Athletic Center of Athens 
1 Spyros Louis street, 151 23 Maroussi
Entrance 6 (= ΣΤ in Greek letters on main entrance).
GPS: https://goo.gl/maps/iYSKvEyQUM69mTXS6

Opening hours: 
Monday 6 September: 10:00 - 20:00
Tuesday 7 September: 10:00 - 20:00
Wednesday 8 September: 10:00 - 20:00
Thursday 9 September: 14:30 to 16:00


2021 ACROPOLIS RALLY GREECE TIMETABLE & MEDIA OPPORTUNITIES
 
| | |
| --- | --- |
| Wednesday 8 September |   |
| Mandatory media safety briefing via video conference (details TBC) | 17:00 hrs |
|   |   |
| Thursday 9 September |   |
| Shakedown for P1 and nominated drivers (max 3 passages) | 08:00 – 09:00 |
| Shakedown for P1 & only registered P2 & P3 drivers (max 3 passages) | 09:00 - 10:00 |
| Shakedown for non-priority drivers (only registered - max 3 passages) | 10:00 - 11:00 |
| FIA Press Conference, via video conference (details TBC) | 11:00 hrs |
| -FIA WRC | 11:00 hrs |
| -FIA WRC2 | 11:25 hrs |
| -FIA WRC3 & non-priority guest driver  | 11:20 hrs |
| WRC family photo in front of start ramp (P1 drivers/co-drivers), Athens | 16:55 hrs |
| Acropolis ceremonial start followed by SS1, Athens | 17:30 hrs  |
|   |   |
| Friday 10 September |   |
| Start of Sections 2, Lamia Service Park | 09:00 hrs |
| Tyre-fitting zone, Loutraki | 12:26 hrs |
| First car arrives media zone, tech. zone & flexi-service (TC6A), Lamia | 19:40 hrs |
|   |   |
| Saturday 11 September |   |
| Start of Sections 5, Lamia Service Park | 07:15 hrs |
| Tyre-fitting zone, Itea | 11:19 hrs |
| First car for media zone, regroup, tech. zone & service (TC10A), Lamia | 14:33 hrs |
| First car arrives media zone, tech. zone & flexi-service (TC12A), Lamia | 19:03 hrs |
|   |   |
| Sunday 12 September |   |
| Start of Sections 8, Lamia Service Park | 06:15 hrs |
| Tyre-fitting zone, town of Sperchiada | 11:01 hrs |
| Podium Ceremony & Prize Giving, Lamia Service Park | 15:18 hrs |
| Final media zone (TC15B), Lamia Service Park | After podium |
| FIA Press Conference, via video conference (details TBC) | 16:05 hrs |
| - FIA WRC2 and WRC3 winning drivers | 16:05 hrs |
| - Top three overall drivers and winning manufacturer representative | 16:15 hrs |
|   |   |

FIA PRESS CONFERENCE ATTENDANCE
 
| | |
| --- | --- |
| Thursday 9 September | FIA WRC |
|   | Toyota Gazoo Racing WRT – Elfyn Evans (GBR) |
|   | Hyundai Shell Mobis WRT – Dani Sordo (ESP) |
|   | M-Sport Ford WRT – Richard Millener (GBR) |
|   |   |
|   | FIA WRC2 |
|   | Toksport WRT – Andreas Mikkelsen (NOR) |
|   | TRT WRT – Mads Østberg (NOR) |
|   |   |
|   | FIA WRC3 & non-priority drivers |
|   | WRC3 - Kajetan Kajetanowicz (POL) |
|   | WRC3 - Lambros Athanassoulas (GRC) |
|   | Non-priority - Molly Taylor (AUS) |
|   |   |
| Sunday 12 September | Winning FIA WRC3 Championship driver |
|   | Winning FIA WRC2 Championship driver |
|   | Top three drivers in the overall classification |
|   | Representative of the winning manufacturer |


2021 ACROPOLIS RALLY GREECE MANUFACTURER ENTRIES
 
| | |
| --- | --- |
| Toyota Gazoo Racing WRT | Sébastien Ogier (FRA) / Julien Ingrassia (FRA) - #1 |
|   | Elfyn Evans (GBR) / Scott Martin (GBR) - #33 |
|   | Kalle Rovanperä (FIN) / Jonne Halttunen (FIN) - #69 |
|   |   |
| Hyundai Shell Mobis WRT | Thierry Neuville (BEL) / Martijn Wydaeghe (BEL) - #11 |
|   | Ott Tänak (EST) / Martin Järveoja (EST) - #8 |
|   | Dani Sordo (ESP) / Borja Rosada (ESP) - #6 |
|   |   |
| M-Sport Ford WRT | Gus Greensmith (GBR) / Chris Patterson (IRL) - #44 |
|   | Adrien Fourmaux (FRA) / Renaud Jamoul (BEL) - #16 |
2021 FIA WORLD RALLY CHAMPIONSHIP CLASSIFICATIONS

The provisional classifications for all the WRC Championships is available on the following link:
https://www.fia.com/events/world-rally-championship/season-2021/standings