This page contains archived information and may not display perfectly
2015 Mexican Grand Prix - Thursday Press Conference
Transcript of the Thursday Press Conference organised by the FIA for the 2015 Mexican Grand Prix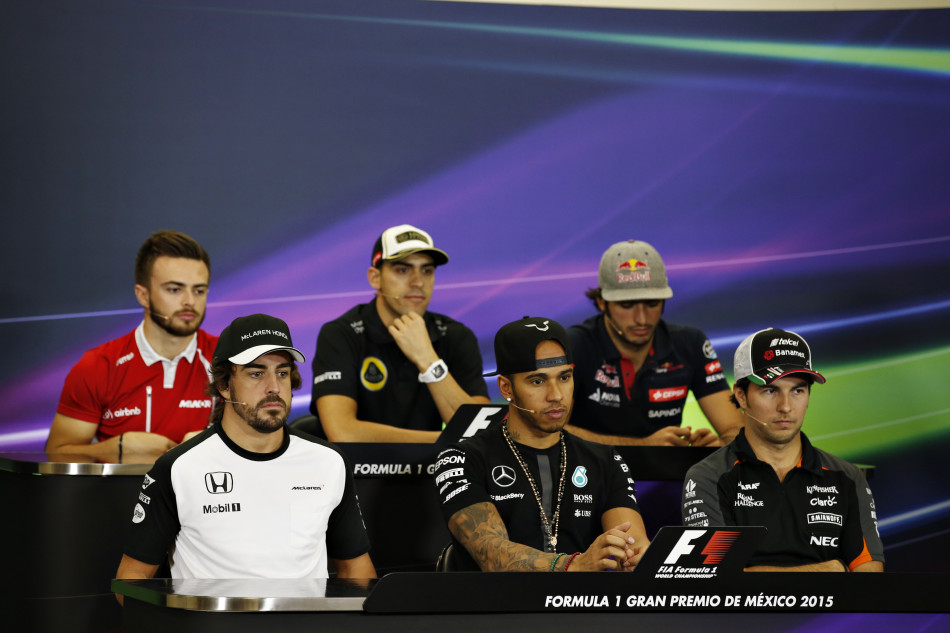 DRIVERS – Carlos SAINZ (Toro Rosso), Pastor MALDONADO (Lotus), Will STEVENS (Manor), Fernando ALONSO (McLaren), Lewis HAMILTON (Mercedes), Sergio PEREZ (Force India)
PRESS CONFERENCE
Lewis, if we can start with you: you've had a few days for it to sink in and now you arrive here as a three-time world champion. How does it feel and how were the celebration? 
Lewis HAMILTON: Well, hola everyone. Is it como estas.
Sergio PEREZ: Como estas.
LH: Como estas? Really happy to be here in Mexico, it's my first time and the last few days have been relaxed, not too hectic, a little bit of partying but obviously conscious that we have the race this weekend, so couldn't do too much damage. So I plan for more the end of the year to really go in. I don't think it's really sunk in yet. I think every day I'm kind of pinching myself, thinking 'I can't believe it's really happened'. And I guess probably, like, yesterday I was straight back into business, I hit race mode, so I've not really been thinking about it that much but still it's a good feeling.
You haven't won it before with three races to go, you've only ever won it at the last, so what's the plan for the rest of the season, still maximum attack?
LH: For me it's always maximum attack, so we've still got these three races. For example, we've got the Mexican Grand Prix here, the first time in 23 years. I think it's exciting for the Mexican people; it's exciting for me, and as all us driver [feel], you love to have your stamp on the first race back here, so that's the target and yeah, we've still got big races to win.
Thank you for that. Sergio, big week for you, busy week for you. Are you enjoying all the attention? Is it what you dreamed of?
SP: Yeah, it's definitely a big dream for me to be able to race in my home country. It's been more than 12 years since I raced in my country, so definitely it's going to be the biggest day of my career on Sunday, because to race in front of my whole people, all my country, it's something very special. You know how Mexicans are. So, it's going to be the most special day of my career, no matter what result I get on Sunday. I really hope that we can have a great result and cheer all the fans that are doing the effort to come. But definitely it's just going to be a dream come true on Sunday to race in front of my crowd.
You're on a bit of a roll right now in terms of performance, so you've got a lot of confidence coming into this race. It's the perfect time to have it for you, isn't it?
SP: Yeah, definitely, we've been having a very good couple of races; the last six have been really strong for us. I think there is a very good chance we can keep up the momentum. I'm looking forward to do that and try to score as many points as possible on the weekend for the team and for all the people who are coming to see me on Sunday.
Thank you. Fernando, you drove a great race for little reward unfortunately in Austin, but you're clearly not lacking motivation. Where do you think that inner steel, that inner strength from?
Fernando ALONSO: Well, I think the team is doing a good job and everyone is pushing to improve the situation. All the new parts that we bring to the races they seem to deliver what we expect from them. Definitely there is a very nice direction in the team this year. It has been tough; it has been frustrating at times. But we kept all united, we kept all moving in one direction, one team and for next year I think we are putting some of the problems we had this year in [their] place for next year. So you keep enjoying racing and when the circuit suits a little bit our car there is a little bit of extra motivation and we push a little bit harder. It was the case in Austin, where we felt more competitive in all sessions over the weekend. In the race as well, it has been probably the best race of the year for me, Austin. In the first 20 laps I think in nine of them was quicker than Lewis and this didn't happen for the past two years and a half! So this was very good news and definitely I enjoyed the race and, as you said, zero points for an issue in the last 10 laps but it was definitely a different feeling compared to the rest of the year.
You've said you think McLaren can find two and a half seconds over the winter. What makes you so confident, what have you seen?
FA: Well, I think the lack of performance we have in some areas of the car are quite fundamental issues that should have a not too difficult answer, let's a say, or not too difficult a solution. It's just we need to copy the direction everyone has apart from us. It's some of the time that we feel we will recover with not much penalty, because for the others they already have it in their package. So some of the performance gain we expect will come for free but it's true that all the competitors will work very hard over the winter and they will recover a couple of seconds also, so we need to make an extra, but we are feeling optimistic, we feel confident of next year being very competitive. We are realistic at the same time. We understand that in Formula One there are no magic things for being one year out of Q1 and the next year fighting for the championship – that's a very, very optimistic target but we will try our best.
Thank you. Pastor, what can you tell us about your race in Austin? You managed to avoid all chaos and end up in the points.
Pastor MALDONADO: Yeah, to be honest it was quite difficult from the set-up and balance point of view with the car during the entire race. We were not as quick as expected, as always, during the race. But yeah, when I saw the people fighting in the front, I was very cautious and trying to get the places from other car mistakes and yeah it was quite clean from my side and very consistent. At the end, P8. For sure we were expecting something but a few more points. It's important for us at this stage of the season, so looking forward to continuing like this and going in the points.
Your new team-mate was announced in Austin. You'll essentially be team leader next year. How do you feel about that? Does it change your outlook; do you feel added responsibility? 
PM: Yeah, I hope it will be a completely different year to this one, with more resources. We need to push harder than this year, especially on the car and you know, yeah, try to be more solid on the development.
Carlos, coming to you. At this point in the season there is a lot of personal pride at stake. The battle between you and Max is really tight on track, even if the points don't show it. Are you enjoying that battle and how do you come out on top with three races left?
Carlos SAINZ: Yeah, I think it's been a great year for both of us. Apart from the results, apart from the show, I think we are both learning a lot. From my side, I am enjoying a lot every single race, especially these last two. Obviously I started from the back and had to make my way through and I enjoyed that a lot. Everything is very good. We just need to make sure we keep learning, I keep learning until the end of the season. We have three races. I think it's important to finish on a high, so keep the momentum up from the last two races and yeah, finish the season on a high.
It was your first time racing in Austin and conditions were difficult to say the least: schedules changing all the time, let alone the conditions. What did you learn from it and what confidence did you gain from that weekend?
CS: It was a much more difficult race than you may think for me, because my first lap in the dry in Austin was during the race. So I had no data, absolutely nothing, no information from the car, from the tyres. All of a sudden we had to go on slicks and I was learning every lap, lap by lap. I was enjoying it a lot. I knew I couldn't do any mistakes. I couldn't push so hard because I needed to learn the track and even though we had lots of problems during the race to come up with a P6 and finally a P7 with the penalty was a great achievement. So I was very pleased with that race, probably one of the best of the season for sure and I cannot wait for Mexico and to continue in that way.
Thank you. Will, same question to you really: first time racing in Austin, although cut short. Changing conditions, first dry running in the race, just talk us through what you learned from that weekend?
Will STEVENS: Yeah, Austin was a pretty cool weekend. Clearly not as much running as we hoped but the track was actually really good fun to drive in the wet – we were really having a lot of fun out there. Clearly the race was cut short for me, which was disappointing because it looked like the race was the best opportunity to have a good race besides Silverstone. It was disappointing. Then race looked good fun and I hope that I was out there to enjoy it.
You've got three races to go now. Do you think you have had a successful season and what indications have you had about next year?
WS: Yeah, I think the year has been really good for me. My pace has always been really strong this year. I've only been out-qualified by team-mate four times this year so pace has never really been an issue. The last few races haven't really gone our way. A few things have happened that have made it a little bit more difficult. But if I was to assess the year as a whole, I think it's been really positive and for my options for next year, obviously we are pushing hard and everything is moving in the right direction.
QUESTIONS FROM THE FLOOR
Q: (Dan Knutson – Honorary) Lewis, you've won three titles now, going back to when you won the first championship, what changed within you and what changed all around you after that first championship?
LH: I think quite a lot really. I think a lot of growth a lot of… there has been a lot of movement around me of course: different teams; different management team; different people around me. But I guess just grown a lot and through those experiences, it's taken a long time, gone through the hard route. Before I got to Formula One I didn't have any preparation for media and for press conferences like this stuff, so I felt like I was thrown in the deep end. It took a long, long time to really acclimatise, firstly to that side of Formula One, but also the fame. I think being able to feel comfortable within yourself, come out of your shell a little bit more and be comfortable and sure in who you are. It's helped me drive better than ever today. Just over those years you learn more and more about racing so you hopefully improve. I definitely think as an all round driver I should be better today. Well, I am better.
Q: (Livio Oricchio – Globoesporte.com) Lewis you won the championship, your team also won the Constructors' Championship. What are you goals now? Do you go to the race maybe taking some more risks to fight for the win really – you don't have anything to lose now.
LH: I think I generally have a really balanced approach. Balanced between risk and not-too-much-risk. I don't think I need to change it really because it's done me well this year with the ten wins. So I think keeping it the same and, of course, there's not pressure this weekend but to enjoy, just enjoy the experience. And so that's what I'm going to try and do.
Q: (Ricardo Roga – US. News) This is for Fernando Alonso. One year ago you were here, near the track. How do you see all the complex of Autódromo Hermanos Rodríguez right now?
FA: Yes, I was one year ago here. Obviously many things changed and now the circuit is ready for the grand prix. I didn't walk around, I think I will do it this afternoon. On the simulator it looks interesting. Very different part of the circuit with a very long straight and then the second sector with medium speed corners and the third sector with very low speed corners. A challenge for the engineers to set up the car. I think the last sector with the stadium area, that will be quite enjoyable for us, for drivers, being so close to thousands of people. Hopefully we will put on a good show for everyone. I think the passion and the atmosphere we've felt from a few days in Mexico is quite special. How people live Formula One here. With Checo also having a good weekend hopefully, we will see a fantastic weekend.
Q: (César Herrera – Diario Récord) Hi guys. For all the drivers, after seeing the track, what can you expect from the race on Sunday? Do you think it's going to be a funny race? Do you think this track has opportunities to be the finest of the season?
PM: Yes. A lot of expectation from our side for this race. It's maybe the most expected one for all of us. Very special for me. Very close to my country, Latin American, Spanish-speaking, a lot of friends here. I've been here in the past as well so, yes, very special. Of course, you make an amazing job on rebuilding the track. For sure it's very difficult to predict something before we jump in the track and we test with the car. We just only can work and see from the outside but not from the car. I'm 100 per cent sure it's going to be very spectacular for all of you.
Carlos?
CS: From the outside I managed to do the track walk yesterday and I was surprised with the amount of grandstands, especially the last sector and the entry to the stadium. I think it was very special. It's something that we don't have yet in Formula One and it's going to be very interesting. And new tarmac so new circumstances, new degradations, new strategies. It's going to be interesting. And those couple of long straights are for sure going to create some movement in the race and maybe with the rain coming that's a bit expected now, it could be even more interesting. Hopefully we can have as good a race as in Austin, as good a show as in Austin and people in Mexico enjoy it.
Will?
WS: Similar to what Carlos said. I think the weather looks pretty unpredictable for the weekend. So we saw from Austin it can be a pretty exciting race and I think with the long straights for sure there's going to be some overtaking. So, I only arrived here yesterday, it's my first time in Mexico, so, looking to get used to the city a little bit. There's always a really good atmosphere in places like this and I'm sure Checo's doing a good job with helping promote it. Looking forwards to the weekend. It should be a good one.
Checo, you probably know this place best…
SP: Yeah, it's great to hear all of the drivers so happy to be here in my country. That makes me feel very proud of what we have done. I think, walking through the paddock, it looks like we have done a great job for the track and we can compare this track against any other around the world. And the track layout itself, the circuit, it's a great circuit. It can really offer good racing. We have one of the longest straights, which generally always helps to have good racing. So, I would really expect to have great racing between all of us on Sunday, which will be great for the fans.
Lewis?
LH: Well I just arrived so I haven't seen the track as such. I haven't walked around – but hopefully I'll get the chance to walk around later. But from the simulator it looked pretty awesome, and from images I've seen. And knowing that… generally the crowd really is what makes the atmosphere and makes the weekend. I've heard this weekend is sold out and I know… I've got some Mexican friends that I spend Christmases with, so I know the spirit of the Mexicans. If they all come out in their thousands, I think it could be one of the most amazing weekends. So I'm looking forward to that.
SP: They will, don't worry!
Fernando?
FA: Yeah, the same. Nothing really to add. The atmosphere on the weekend is amazing. It's one of the very first things that we need to enjoy and experience. The race itself, how it can be, it's impossible to predict. We should not judge on Sunday afternoon on whatever race it was. In Russia we saw a very boring race the first year and very exciting race the second. The circuit was exactly the same. Sometimes in football you see 0-0, sometimes 5-4. It's difficult to predict, this sport. First we need to enjoy this weekend and put on a good race for all the fans.
Q: (Alan Baldwin – Reuters) If I could ask all the drivers, just how physical and demanding is it going to be with that combination of altitude, the long straight. Is it going to be more demanding than other races this season?
FA: Again, we should wait until Sunday but yes, definitely there is a little bit different conditions here. So, we should be taking care of this race a little bit better than others in terms of physical preparation with altitude. With these cars we drive now, it should be OK. If we had this race ten years ago with cars eight seconds quicker, it would be very tough.
Lewis, any concerns about the altitude?
LH: I think it's going to… I really don't know what to expect. Naturally by having higher altitude, I train in high altitude during the winter so I anticipate it's going to be more physical for us – but it also depends on how much grip there is. On the simulator I had not much. So, I guess we'll find out tomorrow. We'll have a much better idea about it tomorrow.
Checo?
SP: The same to what they've said. I think we have to wait until Sunday and see how we end up after the race. I don't expect big issues as I think having those compounds it shouldn't be such a big issue.
LH: There should be champagne and tequila on the podium and sombreros.
SP: There will be…
Carlos, anything to add?
CS: No. I agree with them.
Pastor?
PM: Yeah, I agree with them. We have to wait and see. It's something new for all us.
Will?
WS: No. Not much more to add.
Q: (Peter Windsor – F1 Racing) To everyone, in view of the kind of weird situation we had in Austin where Nico seemed to pass Daniel Ricciardo at the end of the virtual safety car period, with Red Bull still thinking it was continuing, presumably it was all legal but it was odd. What are your collective views on virtual safety car and how difficult it is to restart from that, to keep the delta?
FA: I don't think it's a big issue. I know in Austin it was a little bit strange because we had many of them and we were always in a group of cars but we have to sit down with the race director and try to find little tweaks if necessary but it's the same for everybody and it's like all the rules: you need to be spot on, you need to be focussed, you need to be clever. I don't think that whatever solution we find, it will be always a tweak that someone will spoil. I don't see any big problem.
WS: I actually think it works pretty well to be honest. If there's a scenario where it doesn't need to be a safety car, it normally keeps everything as it was and normally they can clear it quicker. I think generally it works pretty well. I think sometimes... in Russia we had a situation at the start where the virtual safety car came out pretty quickly and all the cars at the back bunched up quite a lot. I think how you go into it sometimes can be better but overall I think the system works pretty well.
LH: Yeah, I don't really have much more to add to it. I think it works well. It not the easiest to stay to the delta but it's the same for everyone and we do our best.
PM: Yeah, happy with that. I guess what we saw in the last race was a bit extreme just because of the conditions and I was not happy. On the other hand what happened to have a spectacular race so quite good.
SP: Yeah, similar to all the others. I don't have any issues. The race was very extreme. We had plenty of virtual safety cars and that didn't help but I think at the same time you have to be on it because especially in Austin, by the time that my team advised me that it was going to end was a very short period, about three or four seconds, really short period whereas in the past it was a bit longer in that respect so something to look at with the race director.
CS: Yeah, I have no issues with it. I think it works pretty well. So obviously just like another restart of safety car, you just need to be on it. It's not easy when the message comes because you have to do a lot of changes while you are trying to look out for the green panel but that's all. As these guys have said, it's the same for everyone and it's just sometimes you will get it perfect, others not so much and you need to be on it.
Q: (Daniel Johnson – The Telegraph) Lewis, since the race in Austin, have you discussed the turn one incident with the Nico or the team at all? And secondly, obviously Nico is in quite a close battle for second in the drivers' championship and Mercedes would like him to finish second. Will you help him out at all in that respect?
LH: We haven't spoken, not that I think we really need to. The team has not asked me to support him in that role as I'm here to win the race. The team has won the constructors' championship so I think from here on there's not really a huge benefit for the team for me to start helping. We'll see what Toto wants me to do.
Q: (Ian Parkes – Autosport) Lewis, just following on from that, Toto was quite clear after the race that he did feel the need for talks to take place, that he didn't want any fall-out like that which occurred in Spa. Why would you suggest that you don't think there's a need for any talks? And secondly, as a supplementary question, what happened with the cap flinging incident? Are you and Nico going to have a chat about that at all going forward... with the cap flinging incident that happened in the green room?
LH: Ah, OK. The reason for me is just that I'm very easy going and so I never really have any problems. I think Toto feels that he needs to perhaps sit with Nico to see where his head's at. Obviously we don't want any tension in the team. Generally we do often come together and just keep it transparent. I don't really have anything to say about it but of course I'm sure we will sit down and see what Nico's feeling and whatever emotions he has and try and dilute them and then move on. In terms of the cap thing, I don't know, it's pretty funny so I don't really have much else to say about it.
Q: (Jorge Koechlin – AutoMundo) Checo, your dream, when we met when you were five years old and racing go-karts against your brother and you've come all this way with great talent. Do you feel responsible for this happening today in Mexico? And there's a name that comes to mind, Carlos Slim. How has it been all this time and how do you feel together with him today that this is actually happening?
SP: Yeah, it's been a great trip. As you say, Carlos has been a great supporter of my career, a great friend of mine and we're so proud of what we have achieved in terms of the Mexican Grand Prix. It's not only the both of us, there's been a lot of people - the government... as I say, so many people involved to try to  bring this race to make it happen and it just makes me feel so proud to actually arrive here, see all the drivers, see all the teams, all the worldwide media and it's something that makes me feel extremely proud and I'm sure we will do a great event and I have no doubt that this event will become very popular for everyone, all amongst the F1 family.
Q: (Jim Virtuno – Associated Press) Sergio, what did you hear, growing up, about the Mexican drivers who came before you in Formula One and with all the excitement around you and your home race, can it become a negative pressure sort of thing? You have to just sit back and focus on the racing rather than everything else that's going on.
SP: What I've heard from the drivers... I mean it's been a long time since we don't have a driver and I even grew up with a Mexican driver in Formula One, so all what I've heard, what I heard from the people, from the Mexicans, obviously from the Rodriguez who are the most popular ones, yeah, I think they were great. Unfortunately they died at a very young age. I think they had a lot more to offer to the sport and to Formula One. In terms of Sunday, I think it's very positive pressure Obviously there is a lot of pressure but I take it as a very positive one, there will be a lot of energy, people really supporting me and what I have to do is what I do every weekend, it's focus on myself. Once I put the helmet on, it's time to focus on what I'm doing,  I have to do the normal procedure that I do throughout the races. There are a lot of things that we have to do before the race start, before qualifying and so on. Obviously there is a lot of pressure but a very positive type of pressure  and I see that it will give me a very good motivation to do well this Sunday.
Q: (Osvaldo Anaya - Estadio Newspaper) Lewis, yesterday you told us that you expect this main straight to be one of the fastest if not the fastest of the year. Could you elaborate on that?
LH: Just my engineers told me that it's going to be the fastest, the fast straight, right?
SP: It's a very fast straight, yes.
LH: Because it's quite long, because we've got the high altitude, we've got the least amount of drag, probably of the whole year, so I think because we've got the turbo... I think in the past, it was the V8 and the normally aspirated engines, we would have lost power alongside with the downforce, but with this car we don't, we lose downforce and drag but we don't lose any power with the turbo so it should be pretty unbelievably fast this weekend.
Q: (Thomas Goubin – AutoHebdo) Checo, you said that your last race in Mexico was twelve years ago, I just wanted to know what was this race and what memories you have of this race?
SP: Yeah, they're not great memories because it's a very long story and we don't have all the time to go through it but basically on the Sunday they didn't allow me to race because I have a special licence to race, I was twelve years old and I had a special permit to race against drivers of twenty, 25 years old. I was winning the championship and one race before I had a contact with another driver so the federation took the licence away and they were giving me the chance to race and not, so in the end they allowed me to qualify. I qualified second but then in the race they didn't allow me to race so that was my last experience here in Mexico, so I hope on Sunday will be a lot better.