This page contains archived information and may not display perfectly
2015 Buenos Aires ePrix - Preview
The fourth race takes place in Buenos Aires, Argentina, on a temporary circuit inside the Parque Mujeres Argentinas in the Puerto Madero district.
The inaugural season runs from September 2014 to June 2015, competing in some of the world's leading cities including London, Beijing and Miami. For the inaugural season, 10 teams, each with two drivers, go head-to-head creating a unique and exciting racing series designed to appeal to a new generation of motorsport fans, whilst also helping to promote sustainability.
EVENT DETAILS
Season so far (after Rd 3):
Three events in and Formula E has had three thrilling races, each producing a different winner. In the season-opener in Beijing it was Lucas di Grassi (Audi Sport Abt) who snatched the victory after a dramatic last lap, last corner crash between long-time race-leader Nicolas Prost (e.dams-Renault) and Venturi's Nick Heidfeld. For round two in Putrajaya, Malaysia, it was Virgin Racing's Sam Bird who took the chequered flag after an impressive showing and clever use of battery management. Meanwhile, for the picturesque round three in Uruguay's Punta del Este, it was Sebastien Buemi (e.dams-Renault) who recorded his maiden Formula E win after another action-packed race. As things stand, it's di Grassi who leads the drivers' standings with Buemi and Bird tied for second place and a long way still to go in the series.
Teams & Drivers racing in Buenos Aires ePrix (Rd 4):
Amlin Aguri: Antonio Felix da Costa & Salvador Duran
Andretti: Marco Andretti & Jean-Eric Vergne
Audi Sport ABT: Lucas di Grassi & Daniel Abt
China Racing: Nelson Piquet Jr & Ho-Pin Tung
Dragon Racing: Oriol Servia & Jerome d'Ambrosio
e.dams-Renault: Nicolas Prost & Sebastien Buemi
Mahindra Racing: Karun Chandhok & Bruno Senna Trulli: Jarno Trulli & Michela Cerruti
Venturi: Nick Heidfeld & Stephane Sarrazin
Virgin Racing: Jaime Alguersuari & Sam Bird
Support race
For the first time, Formula E's new official support race will take place ahead of the Buenos Aires ePrix. The FE School Series is an initiative for school children to build their own mini electric karts and race them on the full Formula E race track, encouraging students to learn more about sustainability and engineering.
CIRCUIT INFORMATION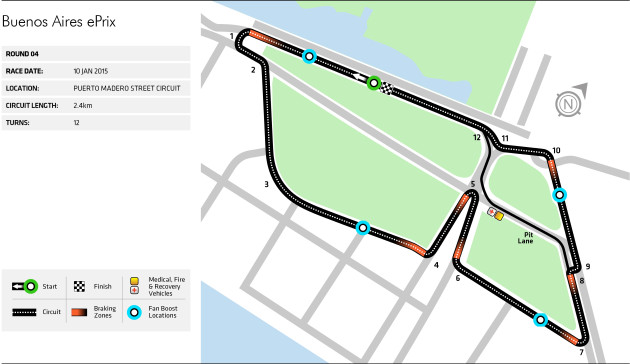 Buenos Aires ePrix (Rd 4)
Length:           2.407km
Turns:              12
Laps:               35 lap race
STANDINGS
Drivers' Standings (After Rd 3):
1. Lucas di Grassi 58pts
2. Sebastien Buemi 40pts
3. Sam Bird 40pts
4. Nicolas Prost 24pts
5. Nelson Piquet Jr 22pts
6. Jerome d'Ambrosio 22pts
7. Franck Montagny 18pts
8. Karun Chandhok 18pts
9. Jaime Alguersuari 14pts
10. Oriol Servia 14pts
Teams' Standings (After Rd 3):
1. e.dams-Renault Formula E 64pts
2. Audi Sport Abt Formula E 62pts
3. Virgin Racing Formula E 54pts
4. Dragon Racing Formula E 36pts
5. Andretti Formula E 33pts
6. Mahindra Racing Formula E 26pts
7. China Racing Formula 22pts
8. Trulli Formula E 12pts
9. Amlin Aguri 6pts
10. Venturi Formula E 3pts
GUIDE TO…
Car – Spark-Renault SRT_01E
All drivers use an identical fully-electric single-seater designed and built by Spark Racing technology together with a consortium of the leading manufacturers including McLaren, Williams, Renault, Michelin and Dallara.
Practice
The Buenos Aires ePrix will begin with two practice sessions, 45 minutes followed by 30 minutes. Drivers will have up to two cars available to them giving them the option to change cars should they wish. Full power (200kw / 270bhp) will be available throughout.
Qualifying
The qualifying session is a straight fight for the fastest laptime and determines the order for the day's race. The session will last 55 minutes (40 minutes track) and see drivers divided into four groups of five cars, with each group having 10 minutes to set their best time. Full power (200kw / 270bhp) will be available throughout with drivers only able to use one car.
ePrix
Races will begin by standing start (no formation lap) and last for approximately 45 minutes with drivers making one mandatory pit stop in order to change cars. Power will be restricted to 'race mode' (150kw / 202.5bhp) but for those drivers with FanBoost, the power output can be temporarily increased to 180kw / 243bhp for 5 secs per car.
FanBoost
Fans can give their favourite driver an extra speed boost by voting for them prior to the race. The three drivers with the most votes will each receive a 5-second 'power boost' per car per driver, temporarily increasing their car's power from 150kw to 180kw. To vote visit http://fanboost.fiaformulae.com/
Points
Drives will score points using the standard FIA system of: 1st = 25pts, 2nd = 18pts, 3 = 15pts, 4th = 12pts, 5th = 10pts, 6th = 8pts, 7th = 6pts, 8th = 4pts, 9th = 2pts and 10th = 1pt. Three points will be awarded to the driver securing pole position, whilst the driver setting the fastest lap receives two points.
MEDIA INFORMATION/SCHEDULE OF EVENTS
Timetable:
[All sessions take place in one day]
8:15 – 9:00 Free practice 1
9:30 – 9:50 FE School Series
10:30 – 11:00 Free practice 2
12:00 – 12:10 Qualifying group 1
12:15 – 12:25 Qualifying group 2
12:30 – 12:40 Qualifying group 3
12:45 – 12:55 Qualifying group 4 14:10 – 14:40 FE School Series
16:00 Race (35 laps)
Media Accreditation
Hilton Buenos Aires, Av Macacha Guemes 351, Buenos Aires, C1106BKG, Argentina
Opening hours:
Thursday 08:00 – 18:00
Friday 08:00 – 18:00
Saturday 07:00 – 10:00
Media Centre
Located in the east of the paddock. All media with pre-approved trackside, pitlane and/or grid access must collect a tabard from the welcome desk beforehand. Free wifi available upon request. Interview area located outside the media centre.
Opening hours:
Thursday Closed
Friday 08:00 – 18:00/late
Saturday 07:00 – Until late
FIA FORMULA E CHAMPIONSHIP
Shortly after the finish of the sessions, results of the event can be found on the following link:
http://www.fia.com/championship/fia-formula-e-championship/2014/fia-form...