2014 Spanish Grand Prix - Preview
FIA preview of the 2014 Spanish Grand Prix.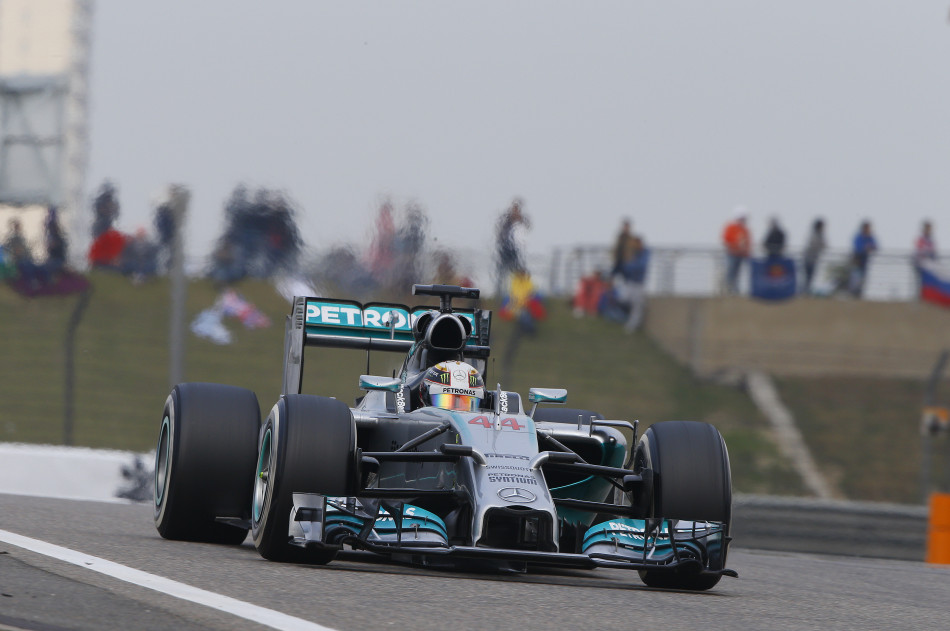 Race
Preview
2014 SPANISH GRAND PRIX
9 –11 MAY 2014
  
The Circuit de Catalunya hosts the fifth round of the 2014 FIA Formula One World Championship as teams and drivers arrive in Barcelona for the Spanish Grand Prix.  After four 'flyaway' races F1 returns to the comfortable familiarity of trucks and motorhomes for the start of the European season. 
 
Barcelona is famed as a bellwether circuit: cars that race well here are expected to race well in any and all conditions. The logic behind this is that the Circuit de Catalunya provides a well-rounded examination of every aspect of car design, requiring maximum downforce, strong power delivery, excellent traction and handling.
 
Particularly interesting is how Pirelli's Hard and Medium compounds will cope with the conditions. The Circuit de Catalunya has a combination of high-energy corners, an abrasive surface and only one long straight on which tyres can cool. In warm weather degradation is expected to be high, with the left side of the car particularly vulnerable. While the tyre manufacturer does not predict a repeat of last year's four-stop strategies, the powerful new cars are nevertheless expected to work tyres hard.
 
Mercedes arrive at the Spanish Grand Prix in ominous form. With a clean sweep of pole positions and victories, they are very much the team to beat in 2014. Lewis Hamilton has been the driver to watch so far this year, winning the last three races – but it is team-mate Nico Rosberg who leads the Championship.
 
Barcelona, however, is the race at which teams traditionally reveal their first major upgrade of the season. Though 2014 has seen a constant stream of traffic between the factories and the circuit, with upgrades appearing on a daily basis, most teams have circled this race for something more substantial. While Mercedes may hold too much of an advantage for the moment, down the order there is much potential for movement.

 

CIRCUIT DATA


  
CIRCUIT DE CATALUNYA
  
Length of lap:
4.655km
Lap record
1:21.670
(Kimi Räikkönen, Ferrari, 2008)
Start line/finish line offset  
0.126km
Total number of race laps 
66
Total race distance  
307.104km
Pitlane speed limits  
80km/h in practice, qualifying and the race
   
CIRCUIT NOTES
  
► The kerb on the approach to Turn One has been renewed and the verge behind it is now laid with asphalt.
► The kerbs on the exit of Turns Nine and 12 have been renewed and the artificial grass behind them extended.
► A 7m wide strip of gravel around the outside of Turn 11 has been replaced with asphalt.
  
DRS ZONES
 
► Two DRS zones will be in use at the Circuit de Catalunya. The first has a detection point 86m before Turn Nine and an activation point 40m after. DRS detection point two is at the Safety Car line, with activation 157m after
Turn 16.
 
 
 
 
 
 
 
 
 
Spanish GP
Fast Facts
► The F1 World Championship Spanish Grand Prix has been held at the Circuit de Catalunya every year since the circuit first opened in 1991. The race has also been held at Jerez (1986-'90), Jarama (1968, '70, '72, '74, 1976-'79, 1981), Montjuïc (1969, '71, '73, '75) and the Pedralbes Street Circuit (1951, '54).
► Barcelona is the most familiar circuit for F1 teams – but for the first time this century, they arrive for the Spanish Grand Prix without pre-season testing data from the Circuit de Catalunya – this being the first time it has not featured as a winter testing venue.
► Jenson Button holds the record for the number of test kilometres completed at this circuit with a mighty 34,706km. The record for most days testing completed, however, belongs to David Coulthard with 118.
► Pastor Maldonado's victory for Williams at the 2012 Spanish Grand Prix makes the Venezuelan the most recent driver to take a maiden F1 victory. Nico Rosberg joined the list two races earlier, winning the 2012 Chinese Grand Prix and before that it was Mark Webber with victory at the 2009 German Grand Prix.
► While Maldonado may add to his tally, he currently shares with Jochen Mass the distinction of being a winner of the Spanish Grand Prix with only that solitary victory to his name. Mass took victory in the 1975 Spanish Grand Prix, racing for McLaren at Montjuïc.
► Pole position is a priority at this circuit. On 17 of the 23 occassions the Spanish Grand Prix has been held at the Circuit de Catalunya, the driver starting in pole position has won the race. Damon Hill, Mika Häkkinen, Nigel Mansell, and Sebastian Vettel have won from P2, Michael Schumacher from P3 and Fernando Alonso last year from P5.
► Alonso is the only Spanish winner of the F1 World Championship Spanish Grand Prix. Alonso took victory last year for Ferrari, using a four-stop strategy to advance from his third-row grid slot. Alonso, driving for Renault, also won the race in 2006, on that occasion starting from pole position.
► Mercedes' four straight wins is the most dominant start to the season since Renault managed the same in 2005. They have some way to go before threatening the all-time record of 11, claimed by McLaren in 1988.
► The 2014 Grands Prix of Malaysia, Bahrain and China mark the first time Lewis Hamilton has achieved three consecutive victories. Of the current field, Jenson Button managed a string of four wins in 2009, Fernando Alonso managed four in 2006 and three in 2005, while Sebastian Vettel leads the way with strings of nine (2013), four (2010-11 and 2012) and three in a row on two other occasions in 2011.
► Excluding the returning/new races in Austria and Russia, the Spanish Grand Prix is one of only two current races at which Lewis Hamilton has not stood on the top step. The other is Brazil.
Spanish GP
Race Stewards
Biographies
GARRY CONNELLY
DEPUTY PRESIDENT, FIA INSTITUTE; DIRECTOR, AUSTRALIAN INSTITUTE OF MOTOR SPORT SAFETY; F1 AND WTCC STEWARD; FIA WORLD MOTOR SPORT COUNCIL MEMBER
Garry Connelly has been involved in motor sport since the late 1960s. A long-time rally competitor, Connelly was instrumental in bringing the World Rally Championship to Australia in 1988 and served as Chairman of the Organising Committee, Board member and Clerk of Course of Rally Australia until December 2002. He has been an FIA Steward and FIA Observer since 1989, covering the FIA's World Rally Championship, World Touring Car Championship and Formula One Championship. He is a director of the Australian Institute of Motor Sport Safety and a member of the FIA World Motor Sport Council.
FARHAN VOHRA
MEMBER OF THE FEDERATION OF MOTOR SPORTS CLUBS OF INDIA
Farhan Vohra, an economics graduate from Loyola College, Chennai, and a member of the FMSCI, India's national motor sport authority, is best known to the F1 paddock for his work at Buddh International Circuit, home of the Indian Grand Prix. In 2012 his work at Buddh was recognised when he won the Best Clerk of the Course award at the FIA Gala. Vohra is one of the FMSCI's senior stewards and alongside his duties at several grands prix for the FIA he has also been a steward for the FIM, motorcycling's governing body. A long-time competitor, involved in motor sport since the mid-1990s, Vohra started officiating in 2006 after taking a break from active competition.He has since been the Clerk of the Course for all Indian national championships, both racing and karting.
DANNY SULLIVAN
FORMER F1 DRIVER, INDIANAPOLIS 500 WINNER AND CART CHAMPION
US racer Danny Sullivan made his F1 debut with Tyrrell at the 1983 Brazilian Grand Prix. He raced just one season in F1, scoring a best result of fifth in Monaco. In 1984, Sullivan returned to the US where he resumed a successful Indy Car career. He is perhaps best known for his 'spin and win' victory at the 1985 Indianapolis 500, where he passed leader Mario Andretti, survived a 360 degree spin, and then caught and re-passed Andretti to claim the Borg-Warner Trophy. He won the Indy Car World Series title in 1988. After 17 victories from 170 Indy Car starts he drew a line under his open-wheel career in 1995. He finished third in the Le Mans 24 Hours in a Dauer Porsche 962 in 1994. He made four starts at Le Mans, the most recent being 2004.
Spanish GP
Championship Standings
(Drivers)
Spanish GP
Championship Standings
(Constructors)
Spanish GP
Formula One Timetable
& FIA Media Schedule
THURSDAY
Press Conference
 
FRIDAY
Practice Session 1
Practice Session 2
Press Conference
 
SATURDAY
Practice Session 3
Qualifying
Followed by unilateral and
press conference
 
SUNDAY
Drivers' Parade
Race
Followed by unilateral and
press conference
 
15.00
 
 
10.00-11.30
14.00-15.30
16.00
 
 
11.00-12.00
14.00-15.00
 
 
 
 
12.30
14.00-16.00
 
 
 
ADDITIONAL MEDIA OPPORTUNITIES
 
QUALIFYING
All drivers eliminated in Q1 or Q2 are available for media interviews immediately after the end of each session, as are drivers who participated in Q3, but who are not required for the post-qualifying press conference. The interview pen is located in the paddock in front of the FIA garages.
    
RACE
Any driver retiring before the end of the race will be made available at his team's garage/hospitality.
In addition, during the race every team will make available at least one senior spokesperson for interview by officially accredited TV crews. A list of those nominated will be made available in the media centre.