2014 Malaysian Grand Prix - Preview
FIA preview of the 2014 Malaysian Grand Prix.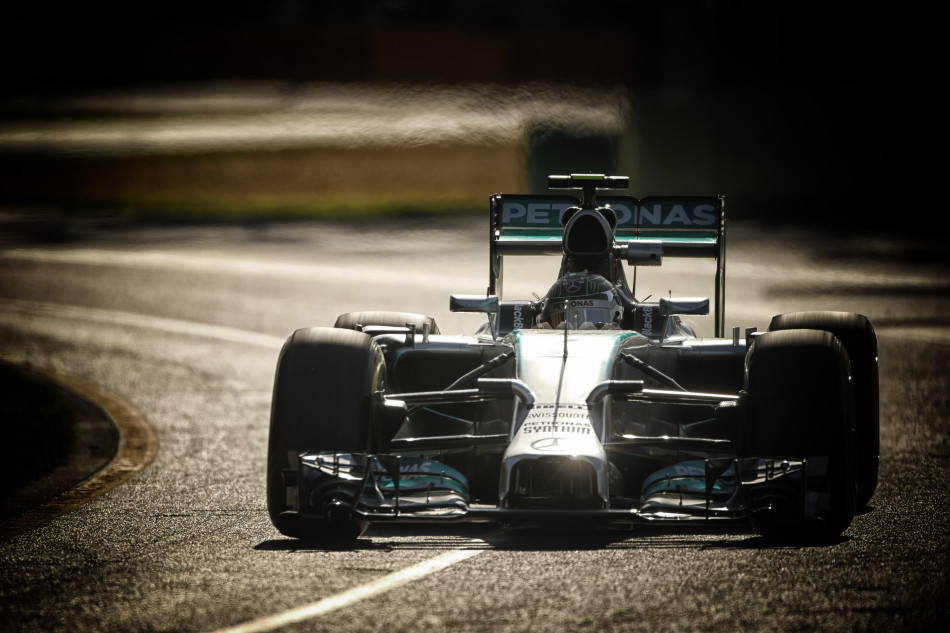 Race
Preview
2014 MALAYSIAN GRAND PRIX
28-30 MARCH 2014
  
After a short break Formula One returns this week, the teams assembling at Sepang for the Malaysian Grand Prix, the second round of the 2014 F1 World Championship.

The Australian Grand Prix provided an excellent appetiser for the season ahead, promoting new stars of the sport while suggesting the form guide shaped by winter testing was not entirely to be relied upon. Equatorial Sepang, however, provides a very different environment to Albert Park and is liable to see a very different race as machinery and drivers are pushed to their limits.

While Australia provided a relatively gentle introduction for the new power units, Sepang will take them to extremes. The Malaysian Grand Prix has the potential to be the hottest race of the year and with around two-thirds of the lap conducted at full throttle cooling performance is expected to play a big part this weekend.

Added to that are the traditional challenges of racing at Sepang. While visually dominated by the long pit and back straights, Sepang has great variety, with a twisting middle sector and several high-speed corners requiring a relatively high level of downforce. It also demands excellent traction, with speed onto the straights being a key factor in setting a good lap time.

It is tyres, however, that have a tendency to dictate performance at the Malaysian Grand Prix. Pirelli, as is now customary, will bring its two hardest compounds to the circuit but wear rates are still expected to be high. Of course in Malaysia the ever-present threat of rain means the Intermediate and Wet tyres could also see some use. The forecast is for thunderstorms across all three days, though recent history suggests the rain is as likely to bracket the sessions as it is to fall during them.

 

CIRCUIT DATA
 
SEPANG CIRCUIT
 
Length of lap:
5.543km
Lap record
1:34.223 (Juan-Pablo Montoya,
BMW-Williams, 2004)
Start line/finish line offset  
0.000km
Total number of race laps 
56
Total race distance  
310.408km
Pitlane speed limits  
80km/h in practice, qualifying and the race
 
CIRCUIT NOTES
 
► The kerb on the exit of Turn Five has been extended further towards the apex of Turn Six.
► Artificial grass has been removed from areas around the outside of Turns One, Five, Seven, Eight and 12.
► A new kerb has been installed on the Turn 15 entry.
► Attention has been paid to levelling the grass verges as bumps were noted during December's inspection.
  
DRS ZONES
 
► The DRS sectors will be between Turns 14 and 15 and Turns 15 and One. The first zone has detection 54m after Turn 12 and activation 104m after Turn 14. Zone two has detection 16m after the Turn 15 apex followed by activation 28m after Turn 15  
 
 
 

 

 

 

 

 

Malaysian GP
Fast Facts
► Michael Schumacher ((2000, '01, '04),  Fernando Alonso (2005, '07, '12) and Sebastian Vettel (2010, '11, '13), each have three victories at Sepang. From 15 Malaysian Grands Prix the other winners are Eddie Irvine (1999), Ralf Schumacher (2002), Kimi Räikkönen (2003, '08), Giancarlo Fisichella (2006) and Jenson Button (2009). Alonso has the distinction of taking his three victories with three different teams.
► Button's win in 2009 was the last Formula One race in which half points were awarded. Due to torrential rain, the race was red flagged after 31 laps and a restart was not possible. Button was awarded the victory and the five points that went with it.
► Eight of the 15 grands prix at Sepang have been won from pole. The race has been won from as far down as eighth (Alonso 2012), while podium finishers have come from as far down as tenth (Nick Heidfeld 2005, '09).
► Of the three 2014 F1 rookie drivers, only Kevin Magnussen lacks significant experience at Sepang. Marcus Ericsson raced in 2012 and 2013, appearing in the GP2 Series on the grand prix undercard. He has two retirements and two 13th place finishes. Daniil Kvyat has raced at Sepang on six occasions across two events in Formula BMW Pacific. He has two victories at the circuit.
► Magnussen's elevation to second place at the Australia Grand Prix makes his the most successful F1 World Championship debut since Jacques Villeneuve finished second at Albert Park in 1996 (Villeneuve started the race from pole). The only drivers to better this are Giancarlo Baghetti, who won the 1961 French Grand Prix on debut and (statistically) Nino Farina and Johnnie Parson, who won respectively the 1950 British Grand Prix and the 1950 Indy 500 in the first year of the Formula One World Championship.
► With a ninth-place finish in Australia, Toro Rosso's Kvyat, aged 19 years and 324 days, became Formula One's youngest points scorer. The record had previously been held by Sebastian Vettel, who was 19 years and 349 days when he finished seventh in his mid-season debut at the 2007 United States Grand Prix, driving for BMW-Sauber.
► After much speculation regarding the reliability of F1's new hybrid power units, 15 cars took the chequered flag in the season-opener. Of the seven that failed to finish in Albert Park, two went out in a first lap, first corner collision. Only five cars retired with issues related to the power unit.
► Following the disqualification of Daniel Ricciardo, the revised Australian Grand Prix podium was a clean sweep for Mercedes-powered cars, with Nico Rosberg in the works team car leading home the McLaren-Mercedes of Magnussen and Button. The last Mercedes clean sweep was at the 2012 Chinese Grand Prix where Rosberg took his debut victory ahead of McLaren's Button and Lewis Hamilton.
Malaysian GP
Race Stewards
Biographies
LARS ÖSTERLIND
FIA WORLD COUNCIL MEMBER; HONORARY PRESIDENT OF THE SWEDISH AUTOMOBILE SPORT FEDERATION
Lars Österlind is a highly experienced FIA steward who has officiated at more than 100 grands prix and a similar number of World Rally Championship rounds. A social sciences graduate and lifelong motor sport enthusiast, Österlind was President of the Swedish Rally Commission from 1978-1982, then President of the Swedish Automobile Sport Federation from 1982-1996. He became Honorary President in 1996 and has been a member of the FIA World Council since 1984. Outside motor sport Österlind has specialised in management, working as a consultant and pursuing his own business interests. He is also experienced in local government at city council level.
SILVIA BELLOT
MEMBER OF THE ROYAL SPANISH AUTOMOBILE FEDERATION BOARD OF DIRECTORS, FIA WOMEN IN MOTORSPORT COMMISSION MEMBER, F1, GP2, GP3 AND WTCC STEWARD
Silvia Bellot began marshalling in 2001, when she was 16. She has been a steward in a number of national and international series, including the, European F3 Open, GT Open, BMW Europe, Spanish Endurance Championship, DTM, World Series by Renault and the WRC. In 2009, she took part in the FIA trainee stewards' program for GP2 and F1. She made her first appearance as an F1 steward at the 20011 Turkish GP and in 2012 was awarded the FIA's Outstanding Official prize. She is currently a steward in GP2, GP3, WTCC and F1. She is a member of the FIA's Women in Motorsport Commission and works closely with RACC, the Circuit de Catalunya and the Spanish federation in event organisation.
MARTIN DONNELLY
FORMULA ONE DRIVER 1989-90
Ulsterman Martin Donnelly was a star of junior racing categories in the 1980s before making his grand prix debut with the Arrows team at the 1989 French GP at Paul Ricard, substituting for Derek Warwick. He qualified 14th and raced to a creditable 12th. He was offered a race drive at Lotus alongside Warwick for 1990 and started 12 races, recording a best finish of seventh at the Hungarian GP. However, his time in Formula One was cut short when, later in the season, a suspension failure caused a huge accident in practice for the Spanish GP at Jerez. Despite the serious injuries he suffered, Donnelly recovered sufficiently to race competitively in national events. He now runs Donnelly Track Academy in Norfolk, England and has held a number of racing team management positions.
Malaysian GP
Championship Standings
(Drivers)
Malaysian GP
Championship Standings
(Constructors)
Malaysian GP
Formula One Timetable
& FIA Media Schedule
THURSDAY
Press Conference

FRIDAY
Practice Session 1
Practice Session 2
Press Conference

SATURDAY
Practice Session 3
Qualifying
Followed by unilateral and
press conference

SUNDAY
Drivers' Parade
Race
Followed by unilateral and
press conference
 
15.00
 
 
10.00-11.30
14.00-15.30
16.00
 
 
13.00-14.00
16.00-17.00
 
 
 
 
14.30
16.00-18.00
 
 
 
ADDITIONAL MEDIA OPPORTUNITIES

QUALIFYING
All drivers eliminated in Q1 or Q2 are available for media interviews immediately after the end of each session, as are drivers who participated in Q3, but who are not required for the post-qualifying press conference. The TV Pen is located in front of the entrance to race control.
  
RACE
Any driver retiring before the end of the race will be made available at his team's garage/hospitality.
In addition, during the race every team will make available at least one senior spokesperson for interview by officially accredited TV crews. A list of those nominated will be made available in the media centre.