2014 Chinese Grand Prix - Preview
Preview of the Chinese Grand Prix, the fourth round of the 2014 FIA Formula One World Championship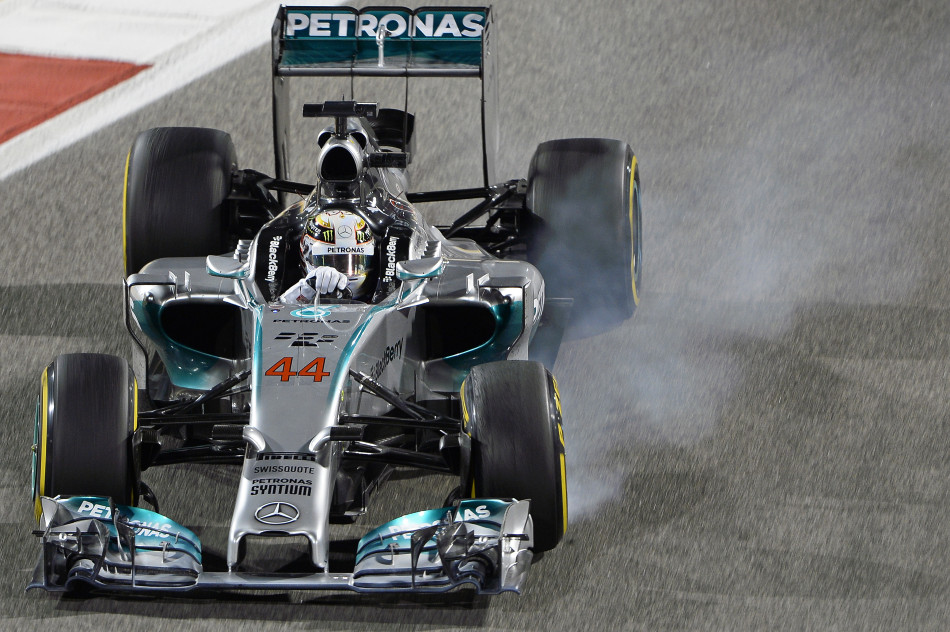 Race
Preview
2014 CHINESE GRAND PRIX
18 - 20 APRIL 2014
  
Following a thrilling Bahrain Grand Prix and last week's test at the Sakhir circuit, what is fast proving to be a fascinating 2014 FIA Formula One Championship resumes this weekend with round four, the Chinese Grand Prix.
 
The Shanghai International Circuit, located in the Jiading district of one of China's most vibrant cities, presents a markedly different set of challenges to those offered up in Bahrain. Gone is the high heat and the point and squirt nature of the BIC's layout. Instead, Shanghai offers up cooler climes, two long straights and a tough mix of slow, medium and high-speed corners, all of which test a team's ability to find a good balance for their cars.
 
It is a layout that in the past has also given tyres a good workout too – particularly rear tyres. That issue is likely to be exacerbated by the torque available from the new power units and the reduced aerodynamic grip available under this year's regulations.
 
Tyre manufacturer Pirelli is, however, bringing its Medium and Soft compounds to Shanghai and it will be interesting to see what effect this combination has on race strategies.
 
The race in Bahrain was again dominated by the Mercedes duo of Lewis Hamilton and Nico Rosberg. Rosberg might have lost out in the pair's exciting battle to the flag but the German still leads the Drivers' World Championship and will be undoubtedly seeking revenge, and a repeat of his maiden F1 win here in China in 2012. Hamilton, meanwhile will be looking for a first-ever hat-trick of wins.
 
In the teams' battle, Mercedes lead the way from Force India, whose excellent results from the past two races have catapulted them into previously unknown territory. They'll surely be looking to stage a Shanghai surprise this weekend to widen the gap between them and third-placed McLaren to more than the single point that currently separates the Mercedes-powered outfits.

 

CIRCUIT DATA


  
SHANGHAI INTERNATIONAL CIRCUIT
 
Length of lap:
5.451km
Lap record
1:32.238
(Michael Schumacher, Ferrari, 2004)
Start line/finish line offset  
0.190km
Total number of race laps 
56
Total race distance  
305.066km
Pitlane speed limits  
80km/h in practice, qualifying and the race
   
CIRCUIT NOTES
  
► Other than routine maintenance no changes have been made to the circuit since 2013.
  
DRS ZONES
 
► The DRS sectors at the Shanghai International Circuit will be as last year. The detection point of the first zone is at Turn 12 and the activation point is 752m before Turn 14. The second zone's detection point is 35m before Turn 16, with activation occurring 98m after Turn 16.

 
 
 
 
 
 
 
 
 
 
 
 
 
 
Chinese GP
Fast Facts
► This will be the 11th running of the Chinese Grand Prix, the race having joined the Formula One calendar in 2004.
► The first five editions of the race took place towards the end of the campaign, with the 2005 race being the season-ending event. At that race, Renault wrapped up its first constructors' championship title as a manufacturer thanks to Fernando Alonso's win and Giancarlo Fisichella's fourth place. The race moved to the front end of the season in 2009 in an April slot that has become now traditional for the event.
► The winner of the inaugural race was Rubens Barrichello, who took his ninth career victory in Shanghai for Ferrari. It would be the Brazilian's last win for five years. Barrichello's 10th win came when driving for Brawn GP at the 2009 European Grand Prix in Valencia, some 1793 days after his Chinese GP win.
► Fernando Alonso and Lewis Hamilton are the only multiple winners here. Alonso won the 2005 race for Renault and last year's event for Ferrari. Both of Hamilton's wins to date have been for McLaren, in 2008 and 2011.
► The other winners here are: Michael Schumacher in 2006; Kimi Räikkönen in 2007; Sebastian Vettel In 2009; Jenson Button in 2010 and Nico Rosberg in 2012. Vettel's win here was his first for Red Bull Racing, while Rosberg's was, of course, his maiden GP victory.
► Rosberg's 2012 victory was Mercedes' first grand prix win as a manufacturer since the 1955 Italian Grand Prix when Juan Manuel Fangio took victory ahead of Piero Taruffi, also driving for the three-pointed star.
► Ferrari are the most successful constructors at this race, with four victories (Barrichello '04, Schumacher '06, Räikkönen '07 and Alonso '13). McLaren are the Italian squad's closest rivals, with three wins (Hamilton '08 and '11 and Button '10). Renault, Red Bull Racing and Mercedes have one win each.
► Five of the 10 events held so far have been won from pole position – in 2004, '05, '08, '09 and 2012. Michael Schumacher's 2006 win was from the furthest back on the grid so far. The Ferrari driver started sixth.
► The pole position man has only failed to finish on the podium twice in the 10 runnings to date. Sebastian Vettel finished sixth in 2010 and in 2007 Lewis Hamilton famously crashed out at the pit lane entrance.
► None of this year's rookies have any experience of the Shanghai International Circuit. However, when Marcus Ericsson takes to the track on Friday he won't be the first Swede to turn laps here. Back in 2004, Björn Wirdheim was a test driver for Jaguar Racing. The racer from the town of Växjö, took part in both Friday sessions for the team, recording the 12th fastest lap in the morning session and the 17th best time in the afternoon, three seconds down on fastest man Anthony Davidson, who was testing for BAR-Honda.
Chinese GP
Race Stewards
Biographies
DR GERD ENNSER
MEMBER OF THE DMSB'S EXECUTIVE COMMITTEE FOR AUTOMOBILE SPORT, FORMULA ONE AND DTM STEWARD
Dr Gerd Ennser has successfully combined his formal education in law with his passion for motor racing. While still active as a racing driver he began helping out with the management of his local motor sport club and since 2006 has been a permanent steward at every round of Germany's DTM championship. Since 2010 he has also been a Formula One steward. Dr Ennser, who has worked as a judge, a prosecutor and in the legal department of an automotive-industry company, has also acted as a member of the steering committee of German motor sport body, the DMSB, since spring 2010, where he is responsible for automobile sport. In addition, Dr Ennser is a board member of the South Bavaria Section of ADAC, Germany's biggest auto club.
SILVIA BELLOT
MEMBER OF THE ROYAL SPANISH AUTOMOBILE FEDERATION BOARD OF DIRECTORS, FIA WOMEN IN MOTORSPORT COMMISSION MEMBER, F1, GP2, GP3 AND WTCC STEWARD
Silvia Bellot began marshalling in 2001, when she was 16. She has been a steward in a number of national and international series, including the, European F3 Open, GT Open, BMW Europe, Spanish Endurance Championship, DTM, World Series by Renault and the WRC. In 2009, she took part in the FIA trainee stewards' program for GP2 and F1. She made her first appearance as an F1 steward at the 20011 Turkish GP and last year was awarded the FIA's Outstanding Official prize. She is currently a steward in GP2, GP3, WTCC and F1. Away from the stewards' room she is a member of the FIA's Women in Motorsport Commission and also works closely with RACC, the Circuit de Catalunya and the Spanish federation in event organisation.
ADRIAN FERNANDEZ
FORMER CART, IRL, ALMS AND LE MANS RACER
In over three decades of competition, Adrián Fernández not only proved himself one of Mexico's finest racers but he has also made the transition to team ownership with Fernández Racing, competed in CART, IRL, ALMS and the Rolex Sports Car Series. Fernández's career took off in 1992 when he finished third in the US Indy Lights Championship. That earned him a drive in CART in 1993 and over the next 11 seasons he scored eight race wins, 21 podiums and a championship best of second in 2000. He also took three wins in IRL. In 2001 he founded Fernández Racing, winning in Portland in '03, the first victory for an owner-driver since Bobby Rahal in 1992. Fernández finished second in the LMP2 category at Le Mans in 2007. He returned in 2010 with Aston Martin Racing and finished third in LMGTE Pro category in 2012.
Chinese GP
Championship Standings
(Drivers)
Chinese GP
Championship Standings
(Constructors)
Chinese GP
Formula One Timetable
& FIA Media Schedule
THURSDAY
Press Conference
 
FRIDAY
Practice Session 1
Practice Session 2
Press Conference
 
SATURDAY
Practice Session 3
Qualifying
Followed by unilateral and
press conference
 
SUNDAY
Drivers' Parade
Race
Followed by unilateral and
press conference
 
15.00
 
 
10.00-11.30
14.00-15.30
16.00
 
 
11.00-12.00
14.00-15.00
 
 
 
 
13.30
15.00-17.00
 
 
 
ADDITIONAL MEDIA OPPORTUNITIES
 
QUALIFYING
All drivers eliminated in Q1 or Q2 are available for media interviews immediately after the end of each session, as are drivers who participated in Q3, but who are not required for the post-qualifying press conference. The interview pen is located in the paddock in front of the FIA garages.
   
RACE
Any driver retiring before the end of the race will be made available at his team's garage/hospitality.
In addition, during the race every team will make available at least one senior spokesperson for interview by officially accredited TV crews. A list of those nominated will be made available in the media centre.