2013 United States Grand Prix - Preview
FIA preview of the 2013 United States Grand Prix.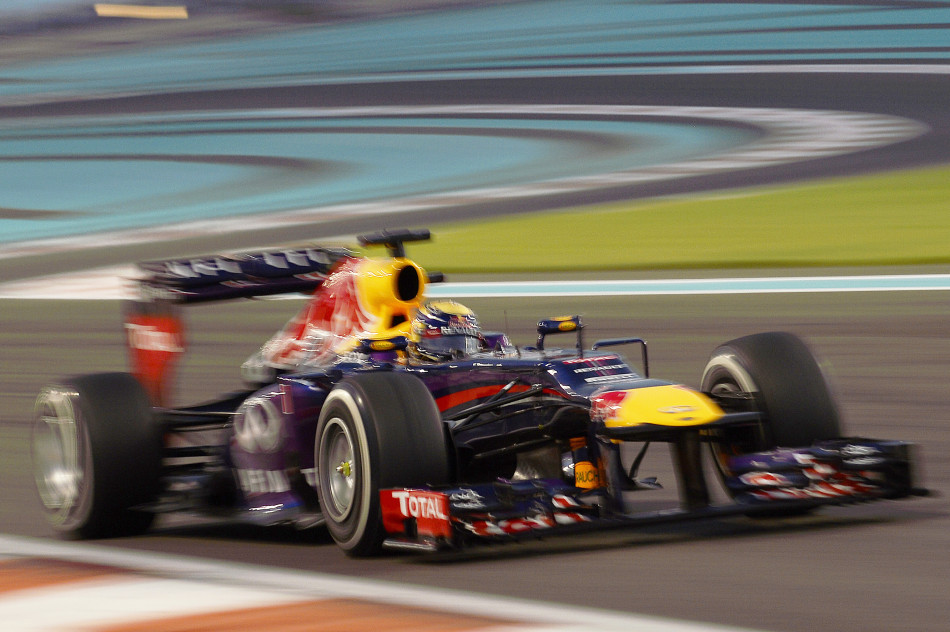 Race
Preview
2013 UNITED STATES GRAND PRIX
14-17 NOVEMBER 2013
 
For the penultimate race of the 2013 season, Formula One makes it way to Texas and Austin's Circuit of the Americas, the second time the sport has visited the 5.513km track.
 
Immediately popular with most F1 drivers on its inauguration last year, the counter-clockwise circuit is an intriguing blend of corner types, with sections modelled on famous stretches of some of the world's most celebrated grand prix tracks.
 
The first sector in particular was singled out for praise by many drivers due to the challenge presented by its first corner, approached up a steep hill and featuring a blind apex, and because of the rapid changes of direction through turns four to six, said to resemble the Maggots-Becketts complex at Silverstone.
 
Sector two contains a long straight ending in a good overtaking opportunity at Turn 12, while the final sector is a more technical stretch similar in style to Hockenheim's stadium section and the tricky Turn 19, a downhill medium-speed left-hander which many branded the toughest corner on the track to get right.
 
Last year's race was notable for high track evolution over the weekend and cold weather that made getting tyres up to optimum working temperature difficult.
 
With Sebastian Vettel and his Red Bull Racing team untouchable in the Drivers' and Constructors' Championships attention turns to the runners-up spots, particularly in the teams' competition. There, Mercedes, on 334 points, have an 11-point lead over Ferrari. However, the momentum is marginally with the Silvers Arrows, who have scored 67 points over the last four races compared with the Prancing Horse's 49.
 
In the driver's battle, with third-placed Kimi Raikkonen of Lotus set to miss the final two rounds of the season, second-placed Fernando Alonso of Ferrari looks certain to claim the runners-up spot.

 
CIRCUIT DATA
 
CIRCUIT OF THE AMERICAS
 
Length of lap: 5.513km
Lap record:
1:39.347
(Sebastian Vettel, Red Bull Racing, 2012)
Start/finish line offset: 0.323km
Total number of race laps: 56
Total race distance: 308.405km
Pitlane speed limits:
80km/h throughout the weekend.
 
CHANGES TO THE CIRCUIT SINCE 2012
► Removable kerbs, 50mm high, similar to those used at the apex of Turns Eight and Nine in Abu Dhabi, have been installed at the apex of Turns Three, Four and Five. Similar kerbs, 75mm high, have been placed at the apex of Turns Seven and Nine.
    
DRS ZONES
► There will be two DRS zones at COTA. The detection point of the first will be 150 metres after Turn 10, with the activation point 320m after Turn 11. The second zone's detection point will be 65m after Turn 18, with the activation point 80m after Turn 20, just before the start/finish line. 
 
 
 
 
 
 
 
 
 
 
 
 
 
 
 
 
United States GP
Fast Facts
► Including Austin, Formula One has staged races at 10 different venues in the United States. Indianapolis Motor Speedway kicked things off with races from 1950-1960 and then staged the US GP again from 2000-2007. Following Indianapolis' first stint, F1 World Championship races have also been held at Sebring (1959), Riverside (1960), Watkins Glen (1961-'80), Long Beach (1976-'83), Las Vegas (1981-'82), Detroit (1982-'88), Dallas (1984) and Phoenix (1989-'91).
► Alan Jones is the only driver to win at more than two US venues. The Australian racer took his first victory on American soil at the 1980 US Grand Prix at Watkins Glen and the following year he won races at Long Beach and Las Vegas. All three triumphs were achieved at the wheel of Williams cars. 
► Lewis Hamilton is the only current driver to have won at more than one US circuit. The Briton took his second grand prix victory at the 2007 race in Indianapolis and landed his 21st win at last year's inaugural Austin event. On both occasions he was driving for McLaren.
► Michael Schumacher is the most successful Formula One driver at races designated as the United States Grand Prix. The seven-time champion won five times at the Indianapolis Motor Speedway, in 2000 and from 2003-'06. The German's 2005 win was notorioulsy scored at the grand prix with the fewest starters in F1 history. Just six cars raced the '05 event after questions over tyre safety caused the withdrawal of 14 cars.
► Next on the list of biggest winners are Jim Clark and Graham Hill, with three wins each. The pair dominated the US Grand Prix at Watkins Glen for a six-year spell in the 1960s, with Clark winning in 1962 and then claiming back-to-back victories in 1966-'67. Hill, meanwhile, rattled off a hat-trick of wins from 1963-'65.
► Ayrton Senna is the most successful driver at multiple US venues. The three-time Formula One champion took two United States Grand Prix wins in 1990 and 1991 in Phoenix. He also won the Detroit Grand Prix three times from 1986-'88.
► Though California's Alexander Rossi will take part in this weekend's first practice session, the last US driver to start a home grand prix was Scott Speed in 2007. Driving for Toro Rosso, he started 20th and finished 13th at Indianapolis. Speed made his GP weekend debut with Red Bull Racing at the Canadian Grand Prix in 2005 in a practice session and made his race debut for Toro Rosso the following year in the opening round in Bahrain. He made 29 more starts for Toro Rosso before losing his race seat after the 2007 European Grand Prix at the Nurburgring. His replacement? None other than four-time champion elect Sebastian Vettel.
► If Vettel wins this weekend, he will take the outright record for most consecutive wins in a single season. Vettel currently has seven wins in a row to his credit.
United States GP
Race Stewards
Biographies
PAUL GUTJAHR
PRESIDENT OF THE FIA HILL CLIMB COMMISSION, BOARD MEMBER AND PRESIDENT OF AUTO SPORT SUISSE SARL
Paul Gutjahr started racing in the late 1960s with Alfa Romeo, Lancia, Lotus and Porsche, then March in Formula 3. In the early '70s he became President of the Automobile Club Berne and organised numerous events. He acted as President of the organising committee of the Swiss GP at Dijon between 1980-82. Between 1980-2005 he acted as President of the Commission Sportive Nationale de l'Automobile Club de Suisse and in 2005 he became President and board member of the Auto Sport Suisse motor sports club. Gutjahr is President of the Alliance of European Hill Climb Organisers and has been steward at various high-level international competitions. He was the Formula 3000 Sporting Commissioner and has been a Formula One steward since 1995.
JOSE ABED
FIA VICE PRESIDENT
José Abed, an FIA Vice President since 2006, began competing in motor sport in 1961. In 1985, as a motor sport official, Abed founded the Mexican Organisation of International Motor Sport (OMDAI) which represents Mexico in the FIA. He sat as its Vice-President from 1985 to 1999, becoming President in 2003. In 1986, Abed began promoting truck racing events in Mexico and from 1986 to 1992, he was President of Mexican Grand Prix organising committee. In 1990 and 1991, he was President of the organising committee for the International Championship of Prototype Cars and from 1990 to 1995, Abed was designated Steward for various international Grand Prix events. Since 1990, Abed has been involved in manufacturing prototype chassis, electric cars, rally cars and kart chassis.
NIGEL MANSELL
1992 F1 CHAMPION, 1993 CART CHAMPION
From 187 grand prix starts Nigel Mansell took 32 pole positions, 31 victories and 28 other podium finishes. He raced for Team Lotus, Williams, Ferrari and McLaren, winning the FIA Formula One World Champion in 1992 with Williams. The following season Mansell took a sabbatical from Formula One and raced in the CART championship. He become the first rookie to win that title and the only man to hold the Formula One and CART titles simultaneously. He returned to Formula One with Williams in 1994, taking part in four races, and scored the final win of his F1 career at the season-ending Australian Grand Prix. He briefly moved to McLaren in 1995 before retiring from F1 midway through the season.
United States GP
Championship Standings
(Drivers)
United States GP
Championship Standings
(Constructors)
United States GP
Formula One Timetable
& FIA Media Schedule
THURSDAY
Press Conference
 
FRIDAY
Practice Session 1
Practice Session 2
Press Conference
 
SATURDAY
Practice Session 3
Qualifying
Followed by unilateral and
press conference
 
SUNDAY
Drivers' Parade
Race
Followed by podium interviews and press conference
 
11.00
  
 
09.00-10.30
13.00-14.30
15.00
    
 
09.00-10.00
12.00-13.00
  
  
  
 
11.30
13.00
  
 
 
ADDITIONAL MEDIA OPPORTUNITIES
QUALIFYING
All drivers eliminated in Q1 or Q2 are available for media interviews immediately after the end of each session, as are drivers who participated in Q3, but who are not required for the post-qualifying press conference. The location of the TV pen interview area will be near the media centre entrance.
       
RACE
Any driver retiring before the end of the race is available at the team's garage/hospitality. In addition, during the race every team will make available at least one senior spokesperson for interview by officially accredited TV crews. A list of those nominated will be made available in the media centre.