2013 Japanese Grand Prix - Preview
FIA preview of the 2013 Japanese Grand Prix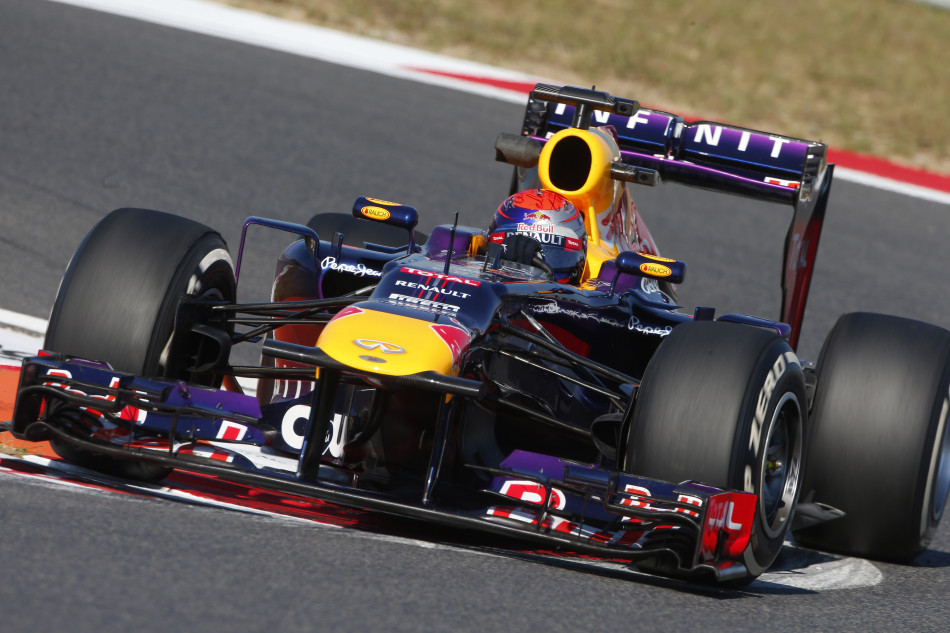 Race
Preview
2013 JAPANESE GRAND PRIX
11-13 OCTOBER 2013
 
Following a thrilling and hard fought race in Korea, the F1 teams have packed up and made the short trip to Japan and the mighty Suzuka circuit, home of the FIA Formula One Japanese Grand Prix, the 15th round of the 2013 World Championship.
 
Suzuka is a firm favourite with drivers. The circuit deliver thrills, with part of the allure being the level of risk a fast lap demands. Suzuka has teeth: from the Degner curves to the still-fearsome 130R, it's a circuit that demands high concentration.
 
The challenge is as great for engineers as for drivers. The quest for lap time is a highly technical exercise, with a number of differing set-up requirements to be reconciled. Suzuka isn't easily categorised, featuring swift changes of direction at the spectator-friendly Esses, sinuous curves through Dunlop and Spoon, high-speed sections and heavy-braking, low-speed corners at the Hairpin and Casio Triangle. The great laps require both man and machine to be on the limit.
 
Championship leader Sebastian Vettel is the presumptive favourite to deliver those great laps. The Red Bull Racing driver's form is excellent on arrival at the circuit he calls "the greatest in the world." Coming to this race he has three successive poles and four successive victories. In addition, his record at Suzuka is excellent. From four visits, he has four poles and three victories . He missed out on victory in 2011, driving conservatively to third – but that was enough to secure a second Drivers' World Championship.
 
Seventy-seven points clear of Fernando Alonso in the 2013 title-race, he has an outside chance of claiming his fourth championship this weekend. Should Vettel win and Alonso finish no better than ninth, the German will do what only Juan-Manuel Fangio and Michael Schumacher have done before and win World Championships in four consecutive years.

 
CIRCUIT DATA
 
SUZUKA CIRCUIT
 
Length of lap: 5.807km
Lap record:
1:31.540
(Kimi Räikkönen, McLaren, 2005)
Start/finish line offset: 0.300km
Total number of race laps: 53
Total race distance: 307.471km
Pitlane speed limits:
80km/h throughout the weekend.
 
CHANGES TO THE CIRCUIT SINCE 2012
► The artificial grass around the outside of Turn One now starts approximately 50m earlier, replacing a damaged verge.
► The verge on the left in Turn 10 has been levelled and taken up to the tyre barrier and wall, which have also been raised.
► A new debris fence has been installed on the left between Turns Nine and 10.
► A new opening has been provided on the left in Turn 11. This allows a gravel recovery vehicle to be positioned there instead of a large crane.
► The verge on the right approaching Turn 13 has been laid with a one-metre wide strip of artificial grass, replacing a verge prone to erosion.
► The last part of the tyre barrier around the outside of Turn 14 has been extended right, to the end of the guardrail.
 
DRS ZONES
► The DRS zone at Suzuka is on the start-finish straight. The detection point is 50m before Turn 16, with activation 100m before the control line.
 
 
Japanese GP
Fast Facts
► There have been 28 F1 Japanese Grands Prix. Fuji hosted the race in 1976 and 1977. The race returned at Suzuka in 1987 where it stayed until 2006. The 2007 and 2008 races were held at a much-modified Fuji, with the race reverting to Suzuka in 2009.
► Michael Schumacher is the stand-out driver at Suzuka with six victories. The seven-times Champion took his first Suzuka victory for Benetton in 1995 and followed it with wins for Ferrari in 1997, 2000, 2001, 2002, and 2004
► McLaren have the best record of any team at the Japanese Grand Prix with nine victories. James Hunt took the first in 1977 at Fuji, followed by wins at Suzuka for Ayrton Senna (1988, 1993), Gerhard Berger (1991), Mika Häkkinen (1998, 1999) and Kimi Räikkönen (2005). Lewis Hamilton won at Fuji in 2007, and Jenson Button at Suzuka in 2011.
► James Hunt's win at Fuji in 1977 has been overshadowed by his third place at the inaugural F1 Japanese Grand Prix a year earlier. It secured him the Drivers' World Championship, beginning a string of titles that have been settled at this race. Nelson Piquet (1987), Alain Prost (1989), Senna (1988, 1990, 1991), Damon Hill (1996), Häkkinen (1998, 1999) Schumacher (2000, 2003) and Sebastian Vettel (2011) all secured championships here.
► Schumacher twice clinched the title at the Japanese GP but three times in Japan. He became champion in 1995 after a Pacific Grand Prix win at Aida.
► Piquet's championship triumph in 1987 was by default. Title rival Nigel Mansell aggravated a back injury in qualifying. He was ruled out of the race and Piquet had the title before the grand prix began.
► One of Suzuka's quirks is the figure-eight layout. The current F1 calendar has 13 clockwise circuits, five anti-clockwise and this John Hugenholtz-designed track which does the first half of the lap clockwise and the second half anti-clockwise.
► Kamui Kobayashi's third place for Sauber in 2012 made him the first Japanese driver on the podium in Japan since Aguri Suzuki for Lola-Lamborghini in 1990. Kobayashi's was the first podium for a Japanese driver since Takuma Sato finished third at the 2004 US Grand Prix.
► Suzuka strongly favours the front row. In 24 races, the winner has come from the front row 20 times. Fernando Alonso (2006) won from fifth, Alessandro Nannini (1989) and Nelson Piquet (1990) from sixth. The anomalous  statistic is Kimi Räikkönen's mesmerising charge from 17th in 2005, overtaking Giancarlo Fisichella on the final lap for the lead.
► Last year, Vettel won the race with pole, fastest lap and victory having led every lap of the race. It was his second 'grand chelem'. Recently he's recorded  a third in Singapore and a fourth last week in Korea. He is halfway to equalling Jim Clark, who collected eight.
Japanese GP
Race Stewards
Biographies
GARRY CONNELLY
DEPUTY PRESIDENT, FIA INSTITUTE; DIRECTOR, AUSTRALIAN INSTITUTE OF MOTOR SPORT SAFETY; F1 AND WTCC STEWARD; FIA WORLD MOTOR SPORT COUNCIL MEMBER
Garry Connelly has been involved in motor sport since the late 1960s. A long-time rally competitor, Connelly was instrumental in bringing the World Rally Championship to Australia in 1988 and served as Chairman of the Organising Committee, Board member and Clerk of Course of Rally Australia until December 2002. He has been an FIA Steward and FIA Observer since 1989, covering the FIA's World Rally Championship, World Touring Car Championship and Formula One Championship. He is a director of the Australian Institute of Motor Sport Safety and a member of the FIA World Motor Sport Council.
JOSE ABED
FIA VICE-PRESIDENT
José Abed, an FIA Vice President since 2006, began competing in motor sport in 1961. In 1985, as a motor sport official, Abed founded the Mexican Organisation of International Motor Sport (OMDAI) which represents Mexico in the FIA. He sat as its Vice-President from 1985 to 1999, becoming President in 2003. In 1986, Abed began promoting truck racing events in Mexico and from 1986 to 1992, he was President of Mexican Grand Prix organising committee. In 1990 and 1991, he was President of the organising committee for the International Championship of Prototype Cars and from 1990 to 1995, Abed was designated Steward for various international Grand Prix events. Since 1990, Abed has been involved in manufacturing prototype chassis, electric cars, rally cars and kart chassis.
EMANUELE PIRRO
FORMER F1 DRIVER AND FIVE-TIME LE MANS WINNER
During a motor sport career spanning almost 40 years, Emanuele Pirro has achieved a huge amount of success, most notably in sportscar racing, with five Le Mans wins, victory at the Daytona 24 Hours and two wins at the Sebring 12 Hours. In addition, the Italian driver has won the German and Italian Touring Car championships (the latter twice) and has twice been American Le Mans Series Champion. Pirro, enjoyed a three-season F1 career from 1989 to 1991, firstly with Benetton and then for Scuderia Italia. His debut as an FIA Steward came at the 2010 Abu Dhabi Grand Prix and he has returned regularly since.
Japanese GP
Championship Standings
(Drivers)
Japanese GP
Championship Standings
(Constructors)
Japanese GP
Formula One Timetable
& FIA Media Schedule
THURSDAY
Press Conference
 
FRIDAY
Practice Session 1
Practice Session 2
Press Conference
 
SATURDAY
Practice Session 3
Qualifying
Followed by unilateral and
press conference
 
SUNDAY
Drivers' Parade
Race
Followed by podium interviews and press conference
 
15.00
  
 
10.00-11.30
14.00-15.30
16.00
    
 
11.00-12.00
14.00-15.00
  
  
  
 
13.30
15.00
  
 
 
ADDITIONAL MEDIA OPPORTUNITIES
QUALIFYING
All drivers eliminated in Q1 or Q2 are available for media interviews immediately after the end of each session, as are drivers who participated in Q3, but who are not required for the post-qualifying press conference. The TV pen interview area will be located in the paddock, adjacent to the entrance to the media centre.
      
RACE
Any driver retiring before the end of the race is available at the team's garage/hospitality. In addition, during the race every team will make available at least one senior spokesperson for interview by officially accredited TV crews. A list of those nominated will be made available in the media centre.