2013 Bahrain Grand Prix - Preview
Preview of the 2013 Bahrain Grand Prix - the fourth round of the FIA Formula One World Championship.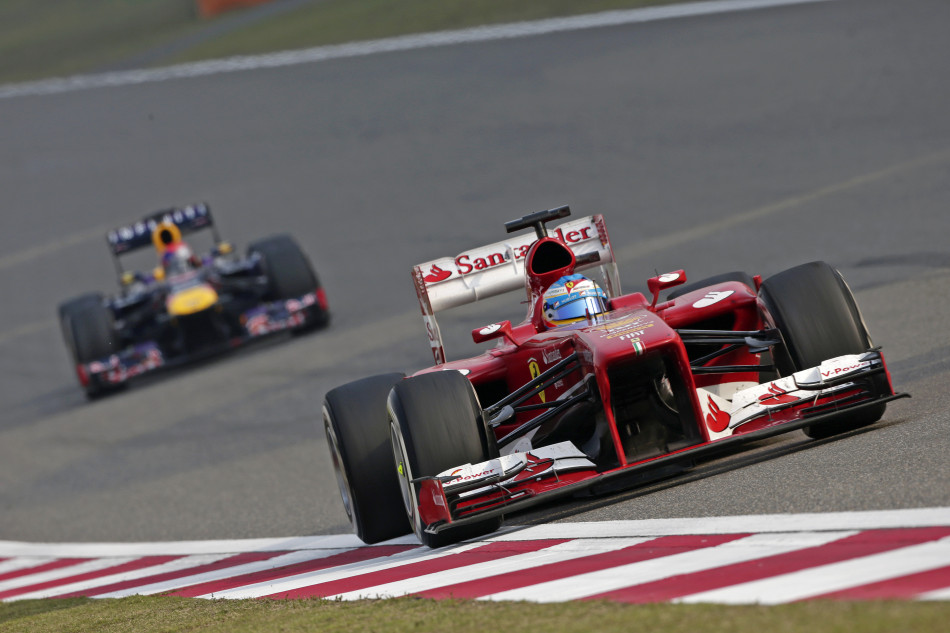 Race
Preview
2013 BAHRAIN GRAND PRIX
19 – 21 APRIL 2013
 
Just a few short days have elapsed since Fernando Alonso scored Ferrari's first victory of the 2013 season in China, but Formula One is already deep in preparations for round four of the championship, which takes place this coming weekend in Bahrain.
 
The Bahrain International Circuit joined the F1 calendar in 2004 and has hosted the grand prix eight times. During that time it has established itself as uniquely challenging track. The dusty environment can cause problems for engines, the heat of the desert makes cooling a priority and the mix of slow-speed corners at the end of long straights means that the BIC is one of the most severe on brakes all season. While tyres are already defining the shape of the championship, the dust here adds yet another variable to their use, with graining exacerbated when the track is dirty. The mix of high and low-speed sections also means that set-up is something of a compromise.
 
It all means that the Bahrain GP will not be an easy race for any team. However, on the back of Alonso's win in China, Ferrari will arrive here brimming with confidence. That optimism will be heightened by the knowledge that the Spaniard has been the dominant force at the BIC, taking three victories here – in 2005/'06 and in 2010. They'll also take heart from the fact that the next most successful driver is Alonso's team-mate, the rejuvenated Felipe Massa, who has two wins under his belt, in '07 and '08.
 
They surely won't have it all own way, however. Sebastian Vettel's fourth place in China keeps him in charge of the drivers' title standings and Kimi Raikkonen's second place last weekend means he arrives here in second place just three points behind the Red Bull man. Both will be looking to maintain their charge here, but with Mercedes looking ominously competitive and Jenson Button's fifth place in China proving that McLaren are getting back to their best the weekend's grand prix is as wide open as the desert landscape in which it will be run.

 

CIRCUIT DATA


  
BAHRAIN INTERNATIONAL CIRCUIT
 
Length of lap:
5.412km
Lap record
1:30.252 (Michael Schumacher, Ferrari, 2004)
Start line/finish line offset  
0.246km
Total number of race laps 
57
Total race distance  
308.238km
Pitlane speed limits  
60km/h during practice and qualifying;
100km/h during race
 


Changes to the circuit since 2012


  
► Uneven kerbstones on the exit of turn 12 have been replaced with a more uniform kerb.
 
DRS Zone
 
► The DRS zones in Bahrain will this year be on the pit straight (as in 2012) and on the straight between turns 9 and 10. They will have individual detection points.
  
  
 
 
 
 
 
 
 
 
 
 
 
 
 
 
 
 
Bahrain GP
Fast Facts
► Fernando Alonso has scored the most wins of any driver at the Sakhir Circuit. The Spaniard has three victories – for Renault in 2005/'06 and for Ferrari in 2010. Every other time Alonso has raced here he's finished off the podium, finishing sixth in 2004, fifth in '07, 10th in '08, eighth in '09 and seventh last year.
► Ferrari is the most successful constructor, with four wins. Michael Schumacher won the inaugural event for the Scuderia in 2004, before Massa's double in '07/'08 and Alonso's 2010 win.
► The Bahrain Grand Prix has never been won from beyond the first two rows but it hasn't been particularly favourable to drivers in pole position – only four times in eight events has the pole-sitter gone on to win the race.
► The Bahrain International Circuit has two main pit buildings and six potential layouts. Alongside the Grand Prix and Endurance layouts, there is an Inner Circuit, Outer Circuit, Paddock Circuit and Flat Oval.
► Mercedes' Nico Rosberg made his Formula One debut here in 2006, racing for Williams. He qualified 12th and drove to seventh position in the race to claim two points. The German also claimed the fastest lap of the grand prix.
► The 2006 Bahrain GP was that season's opening race. It saw the debuts of Scott Speed for Toro Rosso and Yuji Ide for Super Aguri. Speed raced 28 grands prix, with his final event being the 2007 European Grand Prix. Ide raced just four times in F1 before a crash at the 2006 San Marino GP led to his Superlicence being revoked by the FIA.
► Of this year's rookies only Valtteri Bottas has driven an F1 session here. The Williams driver took part in FP1 in 2012, finishing in 14th position with a lap of 1:35.497. Giedo van der Garde raced here in the GP2 Asia series in 2009 with iSport and returned twice last year with Caterham Racing. He finished the first of the back-to-back 2012 GP2 weekends
with a best place of ninth in the sprint race. The following weekend he finished third in the feature race and 19th in the sprint event. Jules Bianchi raced here in GP2 Asia in 2010 with ART Grand Prix with a best result of 10th. Esteban Gutierrez competed in GP2 here last year for Lotus ART. He was third in the feature race and second in the sprint event on weekend one and on weekend two finished the feature race in 10th and was second in the sprint. Finally, Max Chilton raced in GP2 Asia with Barwa Addax in 2010 with a best finish of 12th. Last year, for Marussia Carlin, he was fourth in the feature race and fifth in the sprint on weekend one and then fifth in weekend two's feature and 13th in the sprint.
► Pirelli will bring its Hard and Medium tyres to Bahrain. This allocation replaces the company's original choice of Hard and Soft tyres for this race. The Hard/Medium pairing was last used was at the Malaysian GP.
Bahrain GP
Race Stewards
Biographies
DR GERD ENNSER
MEMBER OF THE DMSB'S EXECUTIVE COMMITTEE FOR AUTOMOBILE SPORT; FORMULA ONE AND DTM STEWARD
Dr Gerd Ennser has successfully combined his formal education in law with his passion for motor racing, to become a motor sport official. He began helping manage a local motor sport club while still active as a racing driver and since 2006 he has been a permanent steward at every round of Germany's DTM series. Since 2011 he has also worked as a Formula One steward at Grands Prix. Dr Ennser, who has worked as a judge, a prosecutor and in the legal department of an automotive-industry company, has also been a member of the steering committee of German motor sport body, the DMSB, since spring 2010, where he is responsible for automobile sport. In addition, Dr Ennser is a board member of the South Bavaria Section of Germany's biggest auto club, the ADAC.
VINCENZO SPANO
PRESIDENT OF THE SPORTING COMMISSION OF THE AUTOMOBILE AND TOURING CLUB OF VENEZUELA
Italian-born Vincenzo Spano grew up in Venezuela, where he went on to study at the Universidad Central de Venezuela, becoming an attorney-at-law. Spano has wide-ranging experience in motor sport, from national to international level. He has worked for the Touring y Automóvil Club de Venezuela since 1991, and served as President of the Sporting Commission since 2001. He was president for two terms and now sits as a member of the Board of the Nacam-FIA zone. Since 1995 Spano has been a licenced steward and obtained his FIA steward superlicence in 2003.Spano has been involved with the FIA and FIA Institute in various roles since 2001: a member of the World Motor Sport Council, the FIA Committee, and the executive committee of the FIA Institute.
MIKA SALO
FORMER F1 DRIVER
In a racing career now into its third decade, Mika Salo competed in over one hundred Grands Prix between 1994-2002. After junior success in Britain and Japan, Salo made his Formula One debut for Lotus at the last two rounds of the 1994 season. Over the next eight years the Finn drove for Tyrrell, Arrows, BAR, Ferrari, Sauber and Toyota. He twice finished on the podium for Ferrari and scored points for Toyota in the Japanese manufacturer's debut race. Since he drew time on his F1 career, Salo has competed predominantly in sports cars, most notably racing in GT classes. He has GT2 victories at both Le Mans and Sebring, and in 2007 won the GT class in ALMS. He has also tried his hand in CART and Australian V8s. Salo is still a familiar face in the Formula One paddock, working extensively for Finnish TV.
Bahrain GP
Championship Standings
(Drivers)
Bahrain GP
Championship Standings
(Constructors)
Bahrain GP
Formula One Timetable
& FIA Media Schedule
THURSDAY
Press Conference
 
FRIDAY
Practice Session 1
Practice Session 2
Press Conference
 
SATURDAY
Practice Session 3
Qualifying
Followed by unilateral and
press conference
 
SUNDAY
Drivers' Parade
Race
Followed by unilateral and
press conference
 
15.00
 
 
10.00-11.30
14.00-15.30
16.00
 
 
11.00-12.00
14.00-15.00
 
 
 
 
13.30
15.00-17.00
 
 
 
ADDITIONAL MEDIA OPPORTUNITIES
 
QUALIFYING
All drivers eliminated in Q1 or Q2 are available for media interviews immediately after the end of each session, as are drivers who participated in Q3, but who are not required for the post-qualifying press conference. The interview pen is located in front of the door leading to the press conference room.
   
RACE
Any driver retiring before the end of the race will be made available at his team's garage/hospitality.
In addition, during the race every team will make available at least one senior spokesperson for interview by officially accredited TV crews. A list of those nominated will be made available in the media centre.