16 year old Oriola wins first race
Jordi Oriola, driving a SEAT León Supercópa, won the first race of the 2013 ETCC season, while there were class victories for Peter Rikli (S2000 Honda Civic), and Kevin Krammes (S1600 Ford Fiesta).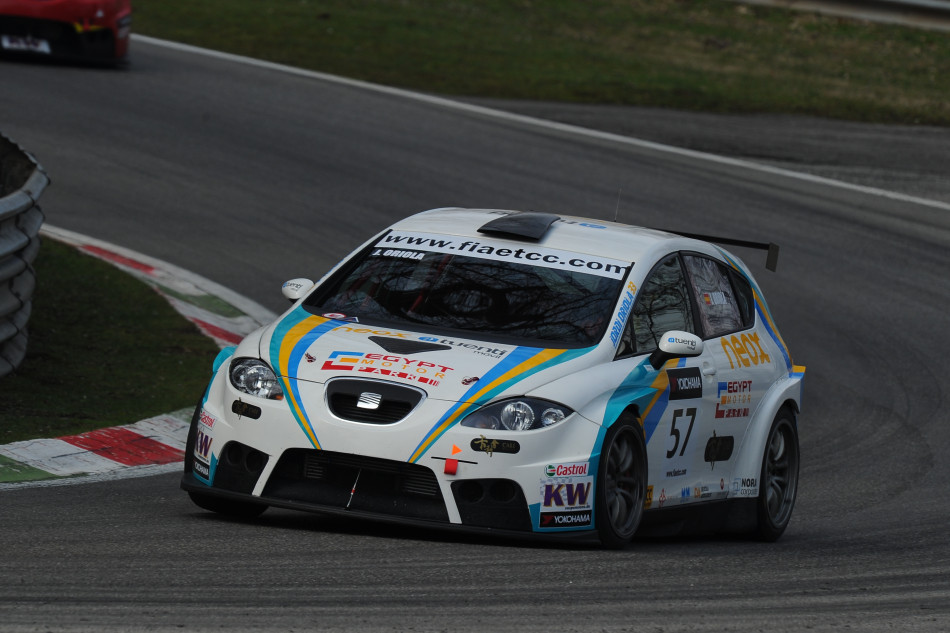 Heavy rain at Monza meant the track was soaking wet and the conditions clearly suited the front –wheel drive cars. After starting behind the safety car, pole-sitter Petr Fulín's BMW lost the lead to Rikli on Lap 5, before the SEAT of Andreas Pfister grabbed the lead two laps later. Pfister then dropped back on Lap 9, allowing 16-year-old Jordi Oriola to take the win. With Aurélien Comte finishing second, the result meant a 1-2 for competitors in the Single Make Trophy. 
The winner of the Super 2000 class was Peter Rikli in the Honda, who finished third overall ahead of Mario Dablander's SEAT and the BMW of Fulín.
Kevin Krammes started his ETCC campaign with maximum points in the S1600 category, with his Ford Fiesta finishing ahead of Gilles Bruckner and Ulrike Krafft.
Key moments
Lap 2 - Fulín first down to the chicane. Pfister passed Matějovský for 6th. Golikov stopped at Turn 6.
Lap 3 - Contact between Borković and Petrikov at Turn 1, Fischer took avoiding action. Borković, Rikli and Pfister all passed Fischer and Petrikov.
Lap 5 – Pfister passed Borković for 3rd. Fulín straight on at T1. Rikli passed Fulín to take the lead. Petrikov dropped back.
Lap 6 – Pfister passed Fulín for 2nd. Borković went straight on at the chicane at T4.|
Lap 7 – Pfister passed Rikli for the lead. Borković was given a drive-through penalty. Oriola and Comte passed Fulín to take 3rd and 4th respectively. Bruckner passed Krafft for 2nd in S1600.
Lap 8 – Oriola passed Rikli for 2nd. Comte passed Rikli for 3rd. Ladygin passed Gugger for 11th.
Lap 9 – Pfister slowed and Oriola took the lead. Comte and Rikli also passed Pfister for 2nd and 3rd. Fischer spun at Turn 1.
Lap 10 – Oriola took the victory.