Women through the decades
Overview of the achievements of some great women in the sport.
Pre 1950
Motor sport events, in which ladies could compete, have existed since the earliest days of the sport and date back to the first known ladies' motorised tricycle race in 1897. Up until 1910 there were, however, few opportunities for women to compete, so most only made a few appearances behind the wheel.  Pioneers in those early days include Madame Labrousse, Italy's Countess Elsa d'Albrizzi, and in 1900, Miss Wemblyn.
But it was Camille du Gast - one of France's most famous female racing drivers - who became the first woman to race consistently at international level. The sport captured her imagination in 1900 when she witnessed the start of the Paris-Lyon road race and the following year she was behind the wheel, competing in the Paris-Berlin race. She finished around 30th overall in a 20hp Panhard. When her motor racing career came to an end, she turned to speed boats.
Englishwoman Dorothy Levitt was another of the early racers. She began racing in motor boats, and in fact in 1903 set the first water speed record in a Napier engined speed boat. She was racing cars the same year and won her class at the Southport Speed Trial in a Gladiator. By the following year she was the first female 'works' driver competing. She drove a De Dion in the Hereford 1000 Mile Trial and reportedly would have won a gold medal, but for mechanical problems. Her most high-profile outing was in 1904 at the inaugural Brighton Speed Trials. She won her class and the Autocar Challenge Trophy in what was then a powerful 80hp Napier. In 1906 she set the Ladies' Record at the Shelsley Walsh hillclimb, knocking approximately three minutes off the previous time set by Miss Larkins. Her record stood until 1913. That year she also broke the world Women's Land Speed record, again in Napier machinery, at a speed of 96 mph.
It was in 1907 that Dorothy started to compete internationally, winning her class at the Gaillon hillclimb in France. The following year she won an award at Germany's Herkomer Trial. Following a couple more outings at hillclimb events, Dorothy's career in competition ended, although she remained interested in the sport and published several books on the subject.
It was then not until the end of the First World War in 1918 that opportunities in motor racing generally increased for women.
In Europe, Maria Antonietta d'Avanzo was one of the pioneering drivers of the 1920s. She competed in the Targa Florio in a Buick in 1920 and the following year she drove an Ansaldo in a number of Italian races, including a "Gentleman's" race, in which she finished third in a Brescia.
Eliška Junková - latterly known as Elizabeth Junek - was also regarded as one of the greatest female drivers of the decade. She and her husband, Vincenc Junek, bought a Bugatti Type 30 in 1922 and initially Eliška served as a riding mechanic for her husband, before he suffered a hand injury that gave her the opportunity to take to the wheel.  Her first professional race, with her husband, was in 1923 but the following year she raced alone and, at Lachotin-Tremosna, won the touring car category. Eliška then won at Zbraslav-Jiloviste in 1925 and by the following year Elizabeth - as she was now known - had turned her attention to Europe, competing against the best male racing drivers. She was runner up in the 1926 Klausenpass hillclimb, and was on course for a top finish in the demanding Targa Florio in Sicily before an accident put her on the sidelines. She nevertheless gained immense respect for her talent and diligent approach to preparation. She did however win the 2-litre sports car class at the Nürburgring.
With a new Bugatti Type 35B, Junek had her sights set on victory in the 1928 Targa Florio. She took the lead on the second lap but on the final lap then ran into trouble and dropped to fifth. Tragedy happened in 1928 at the Nürburgring, where she and her husband once again shared the driving at the German Grand Prix. Having just swapped driving duties, he went off the road and was instantly killed.  Elizabeth gave up racing and sold her cars, but remained part of the Bugatti 'family' when, at the age of 89, she was invited as guest of honour to attend a Bugatti reunion in the United States.
As rallying became popular and widespread in the late 1920s, females also began to enter these events as drivers. In the UK, large rallies such as the RAC Rally attracted hundreds of drivers, with a good many more ladies among them than is seen nowadays.
The 24 Heures du Mans, first held in 1923, had its share of females, and the first women, and indeed the first all-women crew to contest the event were Odette Siko and Marguerite Mareuse in 1930. The French women finished seventh overall in their Bugatti Type 40. To date, they remain the most successful all-female crew at Le Mans. Siko, however, also competed in the event in 1932, with a male co-driver, and claimed the highest-ever position for a woman driver when she completed the event fourth overall in an Alfa Romeo 8C.
Canadian Kay Petre took Britain by storm in the 1930s and was legendary around the famous Brooklands track. She first started racing in a Wolseley Hornet Daytona Special and finished second and third in her first two races, but it was not until 1933 - when she bought a 2-litre supercharged racing Bugatti - that her motor racing career began in earnest. In 1935 she set the Brooklands Mountain Class Circuit F lap record, making her the first woman to hold a Mountain Circuit class record. Petre competed in many forms of motor sport, contesting the 24 Heures du Mans, where she was one of 10 women to compete that year. She finished 16th. The same year she set a new ladies record at Shelsley Walsh. In 1937 she travelled to South Africa and was the only woman to compete in either the South African Grand Prix or the Rands Grand Prix that year. Returning to England she joined the Austin works team, driving alongside men on equal terms. In 1937 an accident during practice for the Brooklands 500 Miles marked the end of her racing career. However, after her recovery, Petre moved into rallying, initially as a navigator for the Singer team, and latterly as a driver in an Austin Grasshopper.
Little racing took place in the 1940s, but women did compete at Le Mans – in particular – from 1949. In 1951 the all-women crew of Betty Haig and Yvonne Simon finished 15th overall at an average speed of over 130 kph in their Ferrari 166 MM Coupé. It was then another 20 years until another woman competed at Le Mans; in 1971 when Marie-Claude Beaumont took the first of her six consecutive starts.
Post 1950
Britain's Anne Hall was one of the best women rally drivers in Europe in the 1950s and 1960s. She began her career in 1950 partnering her sister, Mary Newton, and in 1953 won the Ladies' Cup at the London Motor Rally, driving a Jaguar. In 1954, as co-driver to Sheila Van Damm, she won the ladies class of the International Viking Rally, held in Norway. The same year, they teamed up again to win the Ladies' Cup in the Dutch Tulip Rally and, in 1955, the Coupe des Dames at Monte Carlo.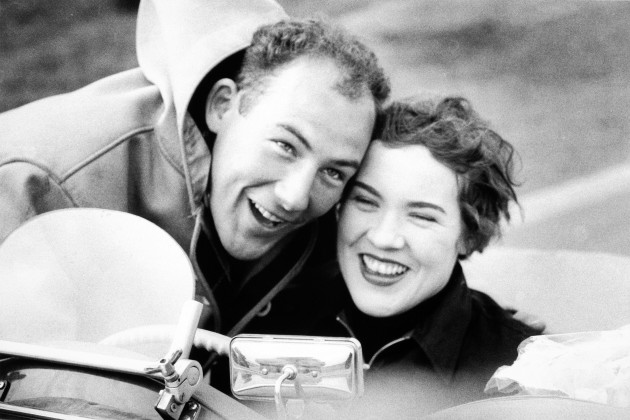 Over some 15 years, Anne Hall took part in all the major long-distance rallies, including the Monte Carlo Rally, the East African Safari, the Alpine Motor Rally, the RAC International Rally and the Cross-Canada Rally. She won several trophies, including, once again, the coveted Coupe des Dames at Monte Carlo in 1961.
When Anne Hall entered the East African Safari Rally in 1961, it was suggested she should be the second driver to Kenya's female rally champion of the time, Lucille Cardwell. Agreeing to compete in a head-to-head test to see who was the quicker of the two, Anne ultimately triumphed. During the event they shared the driving and went on to win the Ladies' Cup, finishing an impressive third overall.
After retiring from professional driving in the late 1960s, Anne Hall set up an advanced driving school in Britain. She was however lured back to rallying in 1988 when, aged 72, she won the women's section in the Pirelli Classic Marathon, a 2,300-mile round trip in the Alps, driving a 1961 Ford Anglia. Overall, she came 18th out of 104 finishers. She went on to compete in several more classic rallies, eventually retiring in 1997.
The late Pat Moss – sister of Grand Prix legend Sir Stirling Moss - remains one of the most successful female rally drivers of all time, scoring three outright wins and seven podium finishes in international events. She was crowned European Ladies Rally Champion no fewer than five times (1958, 1960, 1962, 1964 and 1965).
Born in England, Pat was taught to drive by brother Stirling at the age of 11. However her early days of competition were not in cars, but on horseback where she became well-known as a successful show jumper and member of the British show jumping team. She started driving in club rallies in 1953 and in 1954 bought a Triumph TR2, marking the start of a serious career in motor sport. Her breakthrough came in 1958 when Moss drove her Morris Minor to fourth overall in the RAC Rally, and she later achieved another fourth in the Liege-Rome-Liege rally in an Austin Healey 100/6 and went on to win the first of her five European Ladies Rally Championship titles. In 1960, she took an impressive overall victory in the gruelling Liege-Rome-Liege and claimed second in both the Coupe des Alpes and the 1961 RAC Rally. Third in the legendary East African Safari Rally in a Saab 96 and also in the RAC Rally in an Austin Healey in 1962, and victory in Rallye Deutschland were all remarkable achievements. In 1963, Moss joined Ford of Britain but, once she married fellow rally driver Erik Carlsson, Moss switched to the Saab factory team to partner her husband. Together they competed in 11 international rallies. 1964 and 1965 saw her finish fifth and third overall respectively in the Monte Carlo Rally. Despite becoming less active in the sport after the birth of her daughter in 1969, Pat Moss finally retired two years later.
Maria Teresa de Filippis was the first of five female Formula One racing drivers in the sport's history. The Italian started racing Fiat 500s at the age of 22 and after finishing second in the 1954 Italian Sports Car Championship she became a works driver for Maserati. In 1958, she contested the Belgian Grand Prix, becoming the first woman to compete in a Formula One World Championship event. She finished 10th in Belgium and entered another seven Grands Prix, qualifying for three of the five that counted towards the title. She failed to score any points and her career ended when she started a family.
Other leading ladies in the world of rallying in the 1960s included Swedes Sylvia Osterberg and Ewy Rosqvist, Norwegian Greta Molander and French women Annie Soisbault, Lucette Pointet and Claudine Trautmann.
Italian Lella Lombardi was the second lady to compete in Formula One. However her career began as a rally co-driver. This opened doors and she went on to race touring cars but then made the swap to single-seaters, working her way up to the British Formula 5000 Championship in 1974. She tried out for the British Grand Prix in an old Brabham, but failed to qualify. However, that same year she became the first woman to qualify for a Grand Prix (South Africa) after de Filippis. At the next race success was immediate and Lella finished sixth in a shortened Spanish Grand Prix. She became the first woman to claim Formula One World Championship points (0.5 point) after the race was ended prematurely. Later in the year she finished seventh at the Nürburgring. An unsuccessful 1976 season saw Lombardi leave Formula One and the Italian moved on to a successful career in sports and touring cars and she even competed in a NASCAR race at Daytona in 1977. She was also the first woman to win an FIA World Championship event when she won the 1979 Enna 6 Hours, a round of the FIA World Manufacturers Championship (for sports cars).  At Le Mans, she retired in 1975 but went on to finish 20th in 1976 with Christine Dacremont, and 11th overall and 2nd in GTP with Christine Beckers in 1977. She continued to race into the late 1980s but was eventually diagnosed with cancer and died in early 1992.
Divina Galica remains the only British woman to attempt to qualify in F1, the former Olympic skier failing to qualify for the 1976 British GP, 1978 Argentinean and Brazilian races.  She nevertheless had success in truck racing, winning the British Class A Championship. American Janet Guthrie was the first woman to qualify and compete in both the Indianapolis 500 and the Daytona 500. A qualified aerospace engineer, Guthrie began racing in 1963 on the SCCA circuit in a Jaguar XK140 and by 1972 she was competing on a full time basis. In the 1976 World 600, she finished 15th, becoming the first woman to compete in a NASCAR Winston Cup super speedway race. The following year she contested her first Daytona 500, finishing 12th after blowing two cylinders with 10 laps remaining. She nevertheless was honoured with the 'Top Rookie' title and went on to compete in more than 30 NASCAR races, finishing as high as sixth. Overall, she competed in 11 IndyCar events, her highest position fifth. Her achievements were recognised when she was elected to the International Women's Sports Hall of Fame and induced into the International Motorsports Hall of Fame in 2006.
South African Desiré Wilson also adds her name to the list of women who have competed in Formula One. She entered one Grand Prix in 1980 in a non-works Williams but failed to qualify. She also raced in the non-championship South African Grand Prix, but spun out of after 52 laps. She was the outright winner of two FIA World Championship events, winning the 6 Hour races at Monza and Silverstone in 1980, and also competed at Le Mans with Lyn St. James and Cathy Muller, in 1991.
The legendary Michèle Mouton earned respect in a man's world not only for her driving, but for her personality and passion. Her career in rallying started in 1973 in an Alpine Renault 1600 and she claimed French and European Women's Championship titles almost immediately in 1975, 1976 and 1977, finishing second overall in the European Championship by winning the Spanish rally. She joined the official Fiat France team in 1978 and won the famous Tour de France and the Lyon-Charbonières. From 1981 to 1985 she and Italian co-driver Fabrizia Pons set the world stage alight with Audi, powering its Group B machinery to victory in Sanremo to become the first women to win a World Championship rally. In 1982 Michèle claimed three further victories in Portugal, Greece and Brazil and finished second on the RAC, Portugal and Sweden. She and Fabrizia finished Vice World Champions in the series to Walter Röhrl. In her final year with Audi, Michèle also set the course record and became the first women to win Pike's Peak. Her professional career came to an end in 1986 after claiming the German Rally Championship title with Peugeot. Since then, the Frenchwoman has tried her hand at rally raid events but is now famed as being the driving force behind the world-famous Race of Champions. Michèle is also President of the FIA's Women & Motor Sport Commission, which aims to facilitate the full participation of women in all aspects of motor sport.
In the debut year of the FIA World Championship for Rallies, in 1973, 'Biche' - sitting alongside Jean Claude Andruet - won the famous Monte Carlo Rally in a Renault Alpine A110.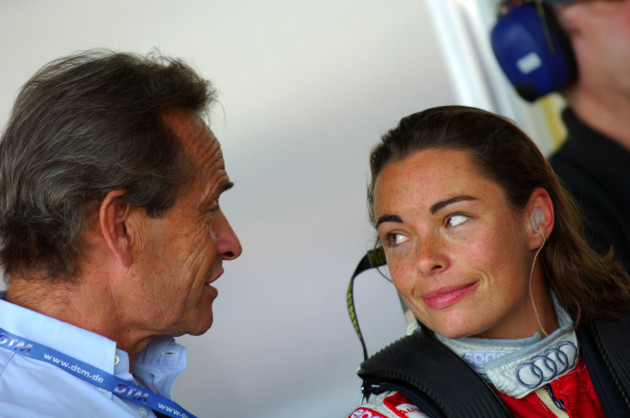 American born Lyn St. James stared her career in 1973 and is just one of five women to successfully qualify for the Indianapolis 500 and the first woman to win the Indianapolis 500 Rookie of the Year award (1992). She has twice raced at Le Mans (1989 and 1991) and has taken two wins in the 24 Hours of Daytona in 1987 and 1990 and set a world record on closed-course for women, reaching 225.722 mph during the 1995 Indy 500 qualification weekend. Today, Lyn is actively promoting the Women in the Winner's Circle Foundation, which was established in 1994, and working on programmes to train upcoming young and talented female drivers.
In Britain, Louise Aitken-Walker started her rallying career in 1979, when her brothers entered her for the Ford 'Find a Lady Rally Driver'. From 2000 entrants, Louise won. She entered her first RAC Rally in 1981, finishing 19th overall, and in 1983 she became the first lady to win a national rally and also won the Coupe des Dames in the famous Monte Carlo Rally. Driving for various works teams, more success followed and she claimed the Ladies European Rally Champion title in 1989. A bad accident in Portugal in 1990 left her undeterred and the Briton went on to win the FIA Ladies World title the same year. She was awarded the Jim Clark Trophy for the best performance in motor sport by a Scot as well as the Seagrave Trophy, as the most outstanding Briton in any form of transport. In 1992, she was awarded an MBE (Member of the British Empire) in the New Year Honours list. Since retiring in 1993, Louise is helping young hopefuls try to make their way in the sport.
Italy's Giovanna Amati began racing professionally in 1981, winning several times in the following years in Formula Abarth, before moving up in to the Italian Formula 3 Championship in 1985. In 1987 she competed in Formula 3000. It was not until 1992 that she landed a seat with the Brabham Formula One team but from three starts failed to qualify.
Cathy Muller, born in the Alsace region of France, took to motor sport having been inspired by Mouton and Wilson. She started her career in karts and was twice French Champion, as well as European Senior Champion. She progressed through Formula 3000 and claimed the French Formula 3 title in 1987. During the 1990s she was the Vice Champion of the Peugeot 905 Spider French Cup and was 2nd at the Mugello Super Finale of the Ferrari Challenge. Today, she is team manager at Exagon Engineering and manages brother and FIA World Touring Car Champion, Yvan.
Jutta Kleinschmidt is probably cross country rallying's most notable female competitor, the German involved in the sport since 1987. She contested her first desert rally that year – the Pharaoh's Rally of Egypt – on a BMW motorbike and after numerous outings eventually swapped to four-wheels in 1994. From 1996 she was a member of different factory teams, initially with Schlesser then Mitsubishi, with whom she won the famous Dakar Rally – the first woman to achieve such a feat. In 2002 she joined Volkswagen driving their diesel-powered car and in 2006 Sven Quandt's X-Raid team for a year.
In racing, Danica Patrick was named Rookie of the Year for both the 2005 Indianapolis 500 and the IndyCar Series season in 2005. With a victory in the 2008 Indy Japan 300, she became the first woman to win an IndyCar race, and third in the 2009 Indianapolis 500 was not only a personal best but the highest finish by a woman in the event's history. Vanina Ickx, daughter of driver Jacky Ickx, started her career in the Belgian BMW Compact Cup in 1996 and after a few years racing through the formulas, Vanina participated in two rally raid events before contesting the Dakar Rally, co-driving her father. She has also competed at Le Mans, raced the Spa 24 Hours and driven for Audi in the German Touring Car Championship, before being replaced by Katherine Legge. The Briton was another to start in karts, and has raced through British Formula Ford, Formula Renault and Formula 3.  In 2005 Katherine competed in the Toyota Atlantic Championship, where she took three victories and claimed five podium positions, finishing third in the Championship as a rookie. She tested the Minardi Formula One car the same year. She then moved into the Champ Car World Series, becoming the first woman to compete full time in the series and also lead a Champ Car race.
Today, there are many more opportunities for women in all formulas and at all levels. The FIA Women & Motor Sport Commission aims to help develop this talent. It latest initiatives have seen the Commission join forces with Volkswagen Motorsport to provide a car for a full season for a young woman to contest the Scirocco R-Cup, as well as promotion of female talent in the CIK-FIA Karting Academy, whereby a kart will be provided for a young girl.
Much of the early history of motor sport is incompletely documented; this document gives an overview of the achievements of some women in the sport.