This page contains archived information and may not display perfectly
WTCR - Tiago Monteiro Q&A: Hero plans return in WTCR
Tiago Monteiro has announced his intention to return to racing almost a year since he suffered serious head, eye and upper body injuries in a testing accident at Barcelona.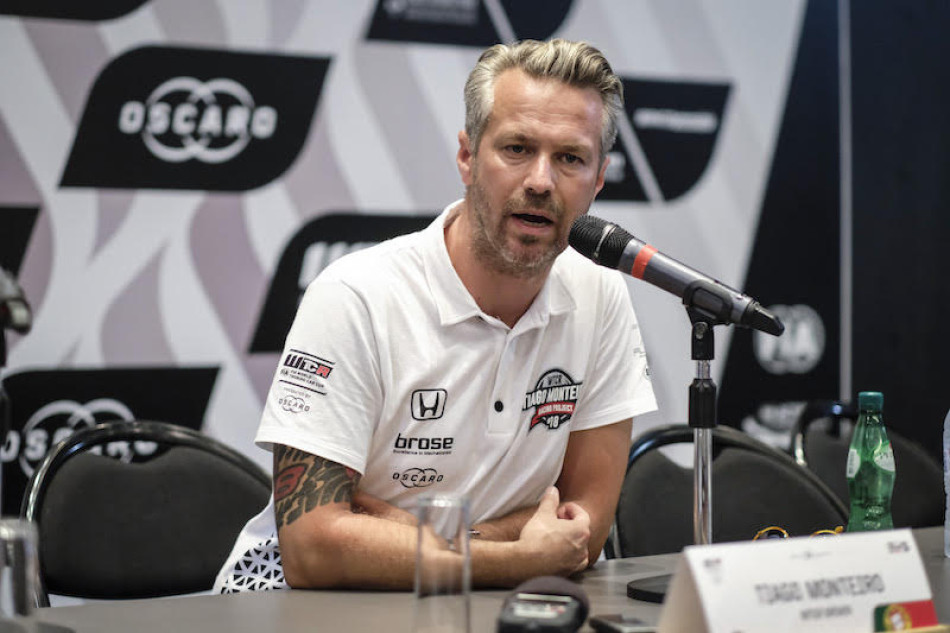 The Portuguese hero, who has been frustrated not to be competing in the inaugural WTCR – FIA World Touring Car Cup presented by OSCARO this year, was a popular figure at last month's WTCR Race of Portugal in Vila Real, where he remains a fan favourite.
He spoke at length about the devastating injuries he sustained, his remarkable recovery and his plans to make a comeback later this year.
Q: Tiago, tell us about your good news.
TM: The good news is I'm actually coming back. This is a great opportunity, a really good second chance and therefore we want to make the most out of it. After many exams, many talks with my doctors, with the FIA doctors, we analysed all the pros and cons and we looked at the long term. I'm still a young boy and I want to be racing for many years still. I still have a lot to do and a lot to show.
Q: How are you feeling?
TM: As you can see my eyes are fine. It's been a small miracle that I've recovered my vision. It is not 100 percent, but it's not affecting anything I do day to day. My cervical is also very well, my shoulder, everything is 100 per cent. But the head trauma that I had was much bigger than we initially thought. Therefore, everybody recommends a minimum of 11 to 12 months of no impacts, so we cannot risk racing right now.
Q: So when will you return to racing?
TM: We are almost at that time where I can come back, so my focus and my goals are really towards the end of the season to prepare for 2019, and I must say, it is an amazing pleasure and relief to be able to say that. I know that I will race again. We're almost there. It's going to be 10 months next week, so it's a matter of one to two months if everything goes according to plan and evolves well. There should be no reason I don't come back. My tests have been quite positive.
Q: Have you always expected to race again, particularly in the first months following your accident?
TM: The probability of coming back was very small. The first thing was to have a normal life, which is great and I'm so grateful for that. But of course, the second step is something that's my dream. My life is to race.
Q: You have already returned to testing. How has it been going?
TM: So far I have done five or six days of testing; two days alone and two to three days with many cars on track. Once you put your helmet on, you don't think about anything else. It was very important to drive with other cars because you don't need to use your full vision when you're alone, but if you have a car side-by-side, it's important to be able to see where he is. That's the reason why we wanted to test with other cars.
Q: Did everything feel familiar when you first drove again?
TM: Yes, that's the crazy thing. When I came back to the car it was seven or eight months after the crash. In 20 years of racing I've never stopped for so long, so that was also weird. After half a day, not even that, it felt like just last week that I last drove.
Q: Tell us more about your injuries and your recovery.
TM: I've spent my life in the hospitals with doctors! For the first two weeks after the accident I was in Spain, then I was transferred to Portugal. For four weeks I was in intensive care, so that was really hard. They were very worried about swelling in the back of my neck, my cervical vertebrae, whether they needed surgery or not. So it was quite worrying for the first four weeks.
Then I was two weeks in the same hospital but in a regular area, then went back home, for a week or two without moving. I couldn't move, I was like a ghost, with very big headaches and very big pains. My eyes were crossed, I couldn't see; couldn't watch television, couldn't read, couldn't do anything. It was quite boring. It's ridiculous when you look at it now, but at the time I was really hoping I could come back at the end of the season! But coming back was what pushed me.
After I was able to get out of the house and to move, I started the treatment process. I used a hyperbaric chamber, which I spent 60 hours in; two hours a day breathing pure oxygen to regenerate cells. I did oxygen therapy, ozone therapy – in which they take your blood away, mix it with the ozone and put it back in you – I did lots of osteopathy, chiropractor, physio, initially just hardly moving. After a while, when I was able to move a bit more I started my training in physiotherapy in the water, a swimming pool with special instruments and gym tools.
Then we did some botox injections inside my eyes because my sixth nerve, the outside nerve that opens your eye, had been stretched in the impact. By giving botox injections inside the internal part of the eye, you are putting anaesthesia on that part which will relax that nerve and will help it recover. So I did that four times. It wasn't a very nice injection but it had to be done.
Then I went to the United States. I went to a specialist in San Diego and spent eight hours a day on a drip. You're just there doing nothing. It feels very strange, but it's a mix of lots of vitamins, amino acids and lots of things that they use for very big head traumas and injuries, everything natural. They do it for IndyCar drivers, they do it for skaters, snowboarders, extreme sports, motocross. It's an American doctor that got together with a former skateboarder that got really badly hurt and they created this recovery process. There are pictures there of Max Papis, of lots of IndyCar and motocross drivers. Travis Pastrana is there all the time – all those guys that are always getting hurt!
Then I've had a lot of eye training with ophthalmology. It's a lot of exercises with machines with lasers. For months I was going out of the house at 6am or 7am and coming back at 7pm, all day doing different treatments. Not everything was in one place. It was very intense, very hard but I had that goal: I wanted to come back, at the next race, then the one after…
Q: Finally, Benjamin Lessennes has taken your place in Boutsen Ginion Racing's Honda Civic Type R TCR. How do you think he has done so far?
TM: He's doing fantastically well. It's a surprise for many people but not for me because I've seen him racing in Belgium and raced against him two years ago. He was just starting racing, coming from go-karts and was only 16 years old. OK, I won the races but he was not very far away. I liked his attitude and his approach. Since then I followed him and saw his good results. When I started working with him I was quite impressed. He listens very well. Whatever I tell him, he's able to do it. Of course, he lacks some experience still, but he's 19 years old. He's amazingly fast and very clever. We get on very well, so I'm proud that he's in my car. The deal, in theory, is that when I come back, he jumps out. But we're thinking he deserves to be there, so we're trying to find ways of making him stay whenever I come back. We'll see what happens.