This page contains archived information and may not display perfectly
WTCR - Race of Japan- Race 1 press conference
2018 WTCR Race of Japan- Race 1 press conference transcript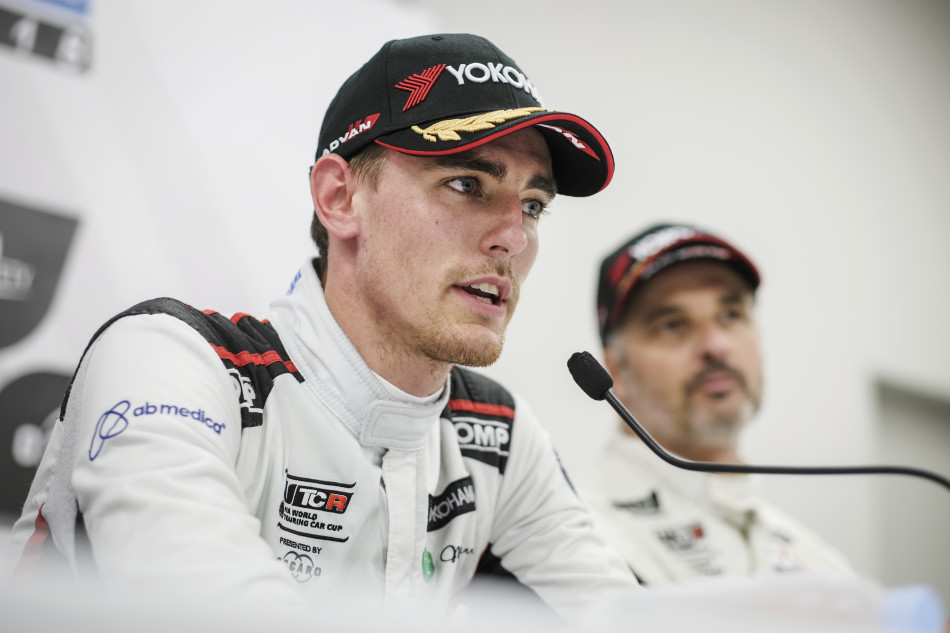 RACE 1 PRESS CONFERENCE
FIA WTCR JVCKENWOOD RACE OF JAPAN
Suzuka Circuit, 26-28 October 2018
WTCR – FIA World Touring Car Cup presented by OSCARO, Rounds 25-27 of 30
 
TRANSCRIPT
  
Briefing Room, Suzuka Circuit, 15h30, 27 October 2018
 
In attendance:
Kevin Ceccon, Team Mulsanne, first position
Aurélien Comte, DG Sport Compétition, second position
Yvan Muller, YMR, third position
Tiago Monteiro, Boutsen Ginion Racing
 
Q:
Kevin, you are the 14th different winner of this WTCR OSCARO season and now all seven customer racing brands have won races. Talk us through your incredible drive.
 
KC:
As you say, Alfa was the only that hadn't won a race before so that was my target when Team Mulsanne called me before Slovakia. We did a good job, I think today and especially yesterday because as you know it is important to start from the front. Today it was good fighting with Aurélien because his start was slightly better than mine and I was not able to overtake him on lap one, but then we fight. We had two safety cars and it was not easy to hold our position, but then I achieved that and I am happy for myself and the team as well.
 
Q:
Kevin, we saw what this victory meant to you on the podium. But how did it feel inside the car taking the lead and the victory?
 
KC:
You don't think you are winning the race until the last corner. You keep your concentration to not make mistakes and keep your position. I have to say that when I started and was P2 on the first lap Yvan was very close to me and Aurélien much further [ahead], so at the beginning my idea was to keep the position. But then I saw I could catch Aurélien quite easily, so I decided I needed to pass him, but it's never easy to pass. I as lucky that we started to fight hard at 130R and on the exit I was able to grab the position before the braking, which was good. The only thing I did different from a normal race was before the final corner I called the team by radio and said 'guys, jump on the wall and see you there'.
 
Q:
Aurélien, from pole position do you see this as disappointing or still a good result on a track you haven't raced on before?
 
AC:
First position and to finish P2 is bad for me, but it's not easy.
 
Q:
Yvan, you are now joint leader of the championship with Gabriele Tarquini, so a good result for you?
 
YM:
Absolutely, a good result because Gabriele is behind and I've take some points on him. The problem will be tomorrow. Qualifying didn't go as well as I wanted, although the car was very good. But the pace was not there for me unfortunately. Anything can happen. There are still two races tomorrow, for sure Gabriele will try to take some points. He can leave this meeting 20 points ahead, probably, but Macau is Macau…
 
Q:
Finally Tiago, it's great to see you back and here at the press conference. What was it like for you to make this comeback?
 
TM:
It's a great feeling to be back. As I've said before, the whole weekend has been very emotional and very exciting and I'm enjoying the moment really. The warm-up lap was actually very tense, it was quite strange. I felt like I was almost dreaming, like I wasn't really here and at the same time it felt like it was two or three weeks ago. It was very surreal. Then in the race it felt normal, you're doing your stuff. I just did my race, to understand the car, tried to push and have fun. And I did. I enjoyed it.
 
Questions from the floor:
 
Ryuji Hirano (Auto Sport, Japan):
 
Q:
Kevin and Aurélien, it is the first time you have raced here. What are your impressions of the track and was it a struggle?
 
KC:
It's a great circuit. As you say, I haven't been here before. It's a proper old-style circuit and I really enjoy it because it's very long, and there's a lot of quick parts and a lot of corners very close to each other, so you can't miss the first one otherwise you miss the whole section. It is one of the best I've been to. It's really enjoyable to drive here and of course it's completely different to some new circuits. And I have to say Japanese fans are incredible. It's my first time in Japan and I am enjoying it a lot.
 
AC:
I like the track, it's very fast and technical!