This page contains archived information and may not display perfectly
WTCR - 2018 Race of Slovakia Pre-Event Press Conference Transcript
WTCR OSCARO representatives in attendance:
Mato Homola, DG Sport Compétition
Norbert Michelisz, BRC Racing Team
François Ribeiro, Head of Eurosport Events, WTCR OSCARO promoter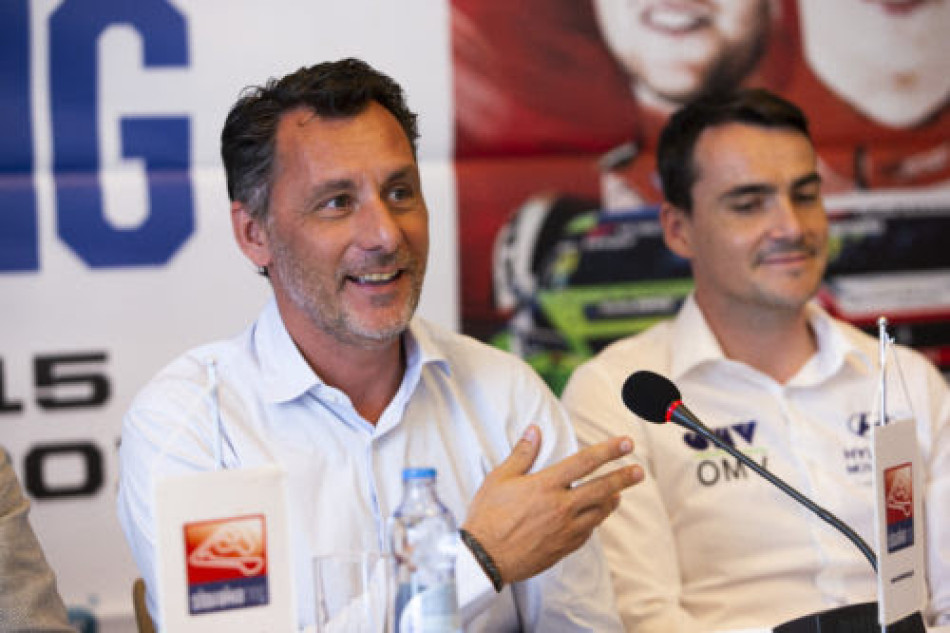 Q: Turning to François Ribeiro, tell us about how this race came together?
FR: I remember the last time I came here, it was mid-May for EWC, for FIM and a journalist asked me when will you be back for WTCR. Quicker than expected obviously! But first I want to thank Slovakia Ring, ETRA, because it is true we have been in a difficult situation. I remember Pavel (Culik, Slovakia Ring CEO) came to Hungaroring for WTCR at the end of April and asked me, give me a date for 2019 and we were starting discuss something for 2019. But three weeks after I had a phone call from the Argentinean government and they told me they are in a terrible financial situation and I had three days, no more, three days to find an alternative solution. I was in Zandvoort for WTCR and I said to Pavel if you want a date for WTCR you find me tomorrow morning in the paddock in Zandvoort. And they came and two weeks after everything was done. We met ETRA in Italy, Misano. Because we know each other and there is trust in our relationship everything was done pretty smoothly.
 
Q: And what about 2019 or is it just this weekend only?
FR: First, let's make this weekend as good as possible and if it's good… I said to Pavel I was more planning for 2019 than 2018. But if the event this weekend is good and my hope is this weekend is probably the biggest motorsport weekend Slovakia Ring has ever organised with the combination of both. If it's good it will be easier to find a solution for 2019.
 
Q: And it's the perfect timing for a race after the win of Mato Homola in Vila Real?
FR: When he won in Portugal I remember I went to him after the race I said 'thank you for the promotion for Slovakia!' He was on fire. Believe me, Slovakia Ring is a difficult track but Vila Real, probably along with Macau, is the most difficult track of the season. To win there you cannot do it by coincidence. It's fast, it's challenging, it's a street race, it was very, very hot. And sorry Norbi but he was probably the most clever driver with the use of the 'joker' lap. That is something very unique for WTCR in Vila Real. He did so well and to win the event before his home event I hope it was everywhere in the news in Slovakia because he deserved it and I hope it will serve the promotion of what we are doing this weekend for sure.
 
Q: Let's hear from Mato Homola, just how good does it feel to be racing in your home country having won your first race in WTCR?
MH: The Portugal win has of course very helpful for the promotion for Slovakia Ring but it has really helped me psychologically because the beginning of the season was not like I wanted to have but finally I got some points and my first win. It was a good start with some points and I'm looking for a good Slovakia Ring. I have some kind of advantage compared to the other drivers. But all the drivers are world-class so they will only need a couple of laps to be on the pace so I don't think they will have any problem with that. There is some advantage in the support of the fans and media and so on. It's good to be here and I am looking forward to a nice and sunny weekend.
 
Q: Turning to Norbert Michelisz and for what is almost a home race for you, a lot of Hungarians will come?
NM: It's a bit like a second home race to be honest and it's nice to be back. I remember we were racing here in 2012 for the first time and from the first moment this was a place where Hungarians love to come to and I expect the same this year. I really help also Mato will have a lot of support because I also know how difficult it is for a young, really good drive like him to perform when the expectations are high. Of course I will try to do my best but I will also have my fingers crossed for him.
 
Q: How would you summarise your season so far?
NM: Overall I think it was positive. If you look at how close the championship is, it's something really exciting as a driver. Of course there are some good moments, some bad moments but in the end the important thing is to have all the possibilities for the second half of the season to fight for the first position overall. As long as I have this feeling of having the chance to become champion at the end of the season I think I can summarise it as a positive first half.
 
Questions from the floor:
 
Q (Miro Koštial, Luxury Magazine On): Mr Ribeiro, you were speaking about this race for next year but I want your opinion for the next five years?
FR: It's the first year only for WTCR and I think we have immediately brought that championship way above anyone's expectation if you consider we started nearly from scratch in mid-November last year. Now two thirds of my head is building to the future, not only for 2019, I'm thinking five or 10 years from now. We are in the middle of discussions with different parties to structure something as strong as possible and for as long as possible. The championship needs to meet car manufacturer demands, team demands, driver demands and, most importantly, fan demands. It has raised my appetite to do something long term for WTCR. There are countries where touring car is more popular than others. If we were going to a neighbouring country, for instance Austria, I don't know if we would be popular. Here in Slovakia I think we can be. We have all the ingredients to do something. We have a good circuit, we have a good promoter, we have a local hero, we have active media, we have a good fan base. If we build something strong in the future for WTCR and Slovakia and Slovakia Ring wants to be part of it I see no reason why we should not be able to find good solutions.