WRC - SAFARI RALLY KENYA - PRE-EVENT PRESS CONFERENCE
Transcript of the pre-event press conference organised by the FIA for the 2022 Safari Rally Kenya on June 22, 2022.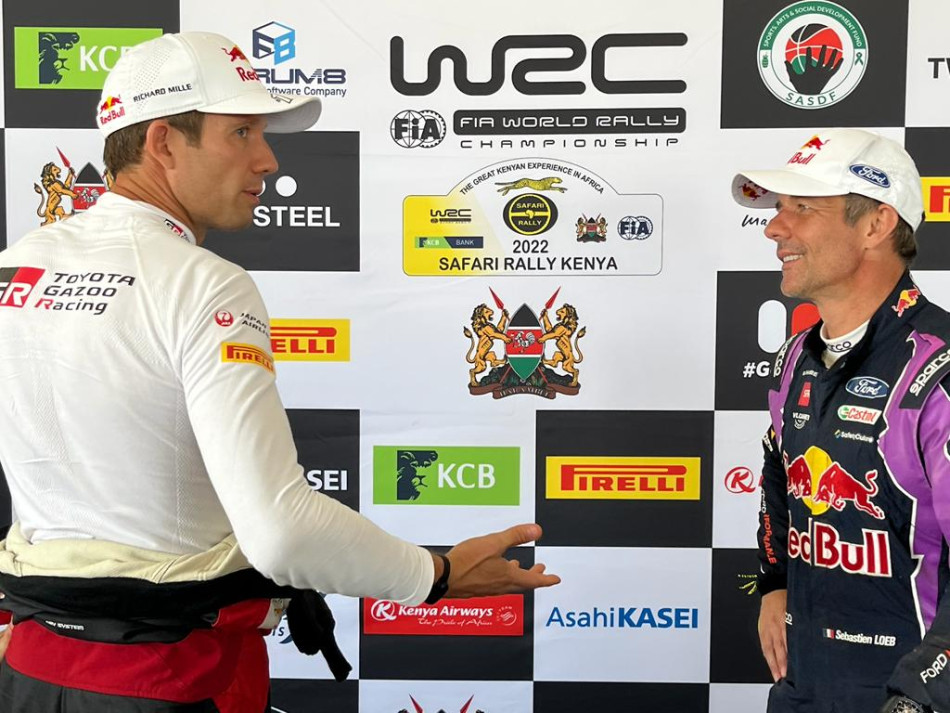 FIA WORLD RALLY CHAMPIONSHIP
Present:
Toyota Gazoo Racing WRT – Sébastien Ogier (FRA), Toyota GR Yaris Rally1
Hyundai Shell Mobis WRT – Thierry Neuville (BEL), Hyundai i20 N Rally1
M-Sport Ford WRT – Sébastien Loeb (FRA) and Isabelle Galmiche (FRA), Ford Puma Rally1
Q: Seb, as last year's winner, you return to defend. Tell me what your thoughts are coming back to the Safari Rally. From your experience last year, how do you feel?
SO: The main reason why we came back is really because I was positively surprised and amazed about the atmosphere here last year and the passion from the people around the rally. And when you win, of course, you add more positive feelings and you want to come back again for the challenge. It's gonna be a big challenge, we've seen conditions which look much harder than last year. I think everybody is going to get into trouble at some point.
Q: Everybody's saying it is a much steeper challenge than last year. In what way? What's different from last year that makes it that way?
SO: Simply the conditions are rougher and some sections with more rocks and 'fesh fesh' soils, you don't know what is under them and you can always have such a sudden surprise. It's hard to know what to expect. At the same time, with the car you can get things such as overheating - many parameters that you can't really control. But at the end, we are going to fight and make the best of it.
Q: The rally gets underway with the 'Super Special' stage (Nairobi, Kasarani) before we get into the tough stuff on Friday and this weekend. You won last year, you mentioned to me last night that you could be in the top three, do you stand by that?
SO: Yes, here you can bet on anybody, more or less. Hard to say what's going to happen. But, I don't know, I didn't start any rally in my career to be number five or ten, so we are here to fight for top positions and hopefully, we can do that. Some stages I believe we are going to have fun to drive, some we have to try to be clever.
Q: Last year, we saw some incredible pace, you seemed to have adapted quickly to stages and knew how to drive on them, then it went all wrong on Sunday. What did you learn from last year that you can bring in this year?
TN: Last year, we were a bit nervous about the event and we had no clue of how to approach it. Last year's experience was good for us; to know how to go about it this time. We know that this year, we have to be well prepared in case of trouble; always to have good solutions, but I am really looking forward to this as a first event without any trouble and a good weekend.
Q: We saw some rain last year on the final stage; Saturday – "Sleeping Warrior" of course – absolute chaos for some of the drivers. We have quite a bit of rain forecast this year. Did you have any rain in the "recce" and if so, what will it be like?
TN: A bit wet. It's hard to predict the situation in the upcoming days. Remember last year, there was this downpour, making it slippery and very difficult to drive. But the conditions were equal for everyone in the stages. This year, the rain can come and make it challenging but we have to accept.
Q: Two new stages this year, what's your view on that?
TN: To be honest I'm not a fan of the new stages. Probably one that I will enjoy the less, especially the Sunday stage. Especially with the 'fesh fesh', we don't know what's underneath
Q: Finally, is it good to be back?
SL: Yes, it is good to be back. I wanted to come back. To I have a lot of good memories and am happy to be back.
FIA WRC2 CHAMPIONSHIP
Present:
Kajetan Kajetanowicz (POL), Škoda Fabia Evo
Alex Kihurani (USA), Saintéloc Junior Team Citroën C3 Rally2 (co-driver to Sean Johnston)
Q: Alex Kihurani, you have such a nice story coming up here to Kenya and very rarely we have a co-driver in a pre-event  Press Conference. So you were born here, your Dad was born here. You're practically on the front pages of all sports sections here in the past weeks. It's been your dream to compete at the Safari Rally and now you are here, how are you feeling?
AK: Oh, it's just an unimaginable feeling. It's been a bit of a multi-generational circle around the globe to get here. My Dad grew up with the Safari Rally in the 1960s and '70s; always wanted to compete, but never had the means to. But came to America hoping he could make a little more money and he could make that happen one day. But the chance of that happening fell onto me and after many years in the US, I moved on to the UK to be able to compete in Europe and at this level. Doing this, coming back to Kenya, Dad says he feels like he's doing the rally himself.
Q: Your Dad sat in your seat for a drive with Sean at the test this week, what did he think of it?
AK: I am surprised he did that. He hates being a passenger, he always likes to drive. That's one reason why he never got into rallying because he expected to drive but you know you got to pay the money to be that.
Q: From a co-driver's perspective, and now that you are here at the Safari Rally and you get to see it up close and personal, how tough a job is it for you guys this weekend?
AK: It's really, really difficult. Knowing to go about ups and downs, things you have never seen before. Also the rally is very long; the pace, everything. Coming from the European situation there is so much you have to take in. It's not about how fast but doing the most while getting to the least amount of trouble.
Q: Is there so much pressure you coming here?
AK: Hah, I don't feel it too much. I am happy that there is the excitement of me being around here. From the championship perspective, a bit of pressure, we want to score points, but as far as in the field being here for the first time is great enjoying the event and having connection with the people.
Q: Kajetan, welcome to the Safari Rally, your first time here. You've seen the coverage over the years, you've heard about the Safari, what's the experience been so far?
KJ: I have done many rallies in my life, I'm not a young man of different kinds. But there is nothing like the Safari. My head can't believe that I'm finally doing the Safari. It is by far the most difficult event I have ever done in my career.
Q: What's you approach going to because normal of the events you go to it's flat out from the start. You cannot do that here. What's you approach for the Safari?
KJ: I always want to score points, but for this, everybody knows it's a unique event. You can't just push. It's a different philosophy. How many entries last year? About 65? How many finish the rally? About 15, see. To be honest, I don't know how to drive here but I will try. And for sure I will try to just enjoy this rally. We have beautiful views, of course it is not possible to capture everything on your pace notes.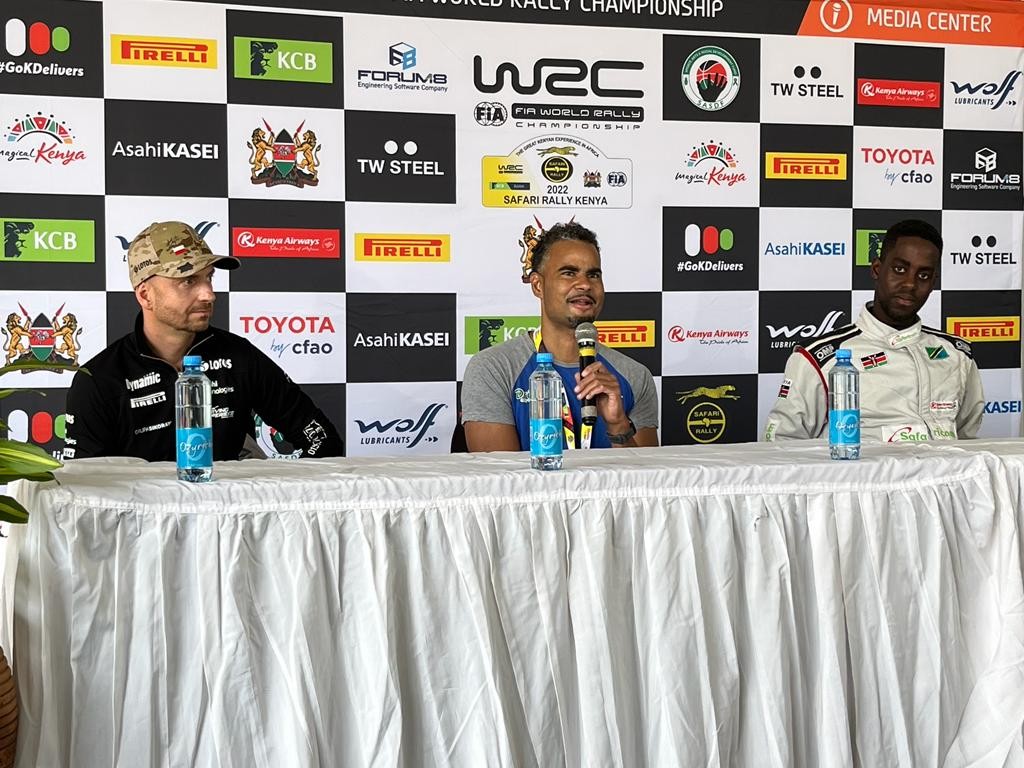 FIA WRC3 CHAMPIONSHIP
Jeremiah Wahome, Ford Fiesta Rally3
Q: You were just telling me, this event last year was your first ever rally. That's a big ask. What have you learnt in the last 12 months of competition that is gonna fare you well this year?
JW: We were making a log with my co-driver; I have learnt everything – did five rallies last year, had accidents, good stage times and every in a beginners road-book with ticked off. Had a good run in the African Rally Championship event [in Kenya] last April and were doing well before an unfortunate error dropped us from a satisfactory position. We are feeling more confident and enjoying the local knowledge.
Q: Everyone tells me of a bigger challenge this year. In the rough parts it's tougher, in the soft parts, it's softer. Do you think it's a bigger challenge than it was last year?
JW: You can't be absolutely pre-warned of what to expect. You often have to drive by sight. A bit of caution is wise if you want to finish a stage. I don't know it all I just hope I will have the right approach.
Q: Looks like there'll be more rain than we had last year.
JW: Yeah. And last year the rain had quite a bad effect on us. We went off three times, but luckily continued. You can never know in Naivasha, one stage is raining, half of the other is dry. We are being ready for anything