This page contains archived information and may not display perfectly
WRC - Dani Sordo - "We've been fighting all the time."
Transcript of the post-event press conference organised by the FIA for the 2019 Rally Italia Sardegna.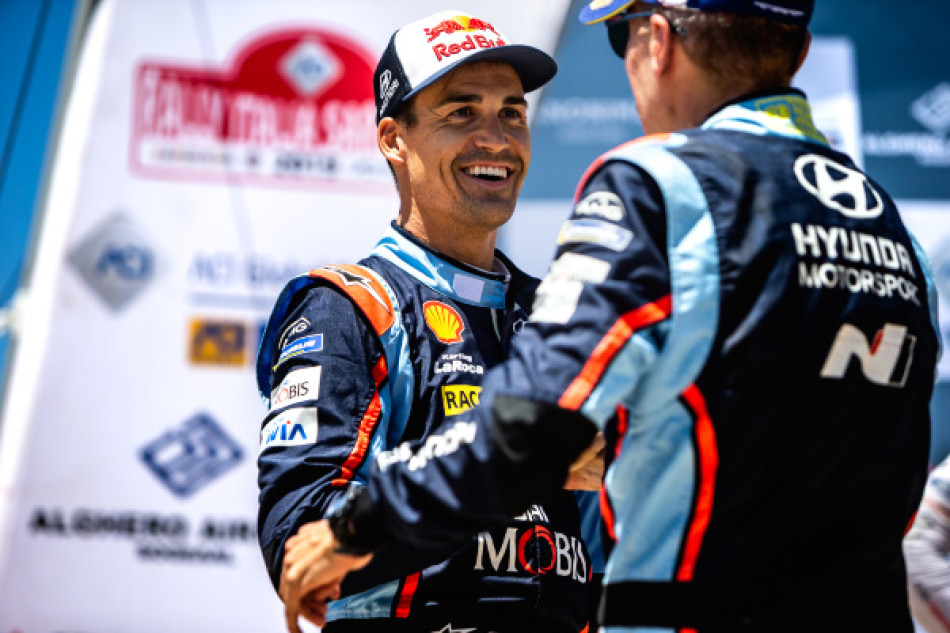 FIA WORLD RALLY CHAMPIONSHIP
Present:
1st Dani Sordo (ESP), Hyundai Shell Mobis World Rally Team
1st Carlos Del Barrio (ESP), Hyundai Shell Mobis World Rally Team
2nd Teemu Suninen (FIN), M-Sport Ford World Rally Team
2nd Jarmo Lehtinen (FIN), M-Sport Ford World Rally Team
3rd Andreas Mikkelsen (NOR), Hyundai Shell Mobis World Rally Team
3rd AndersJaeger (NOR), Hyundai Shell Mobis World Rally Team
Andrea Adamo (ITA), Hyundai Shell Mobis World Rally Team
Q:
Dani Sordo, congratulations on the win number two of your career! Surprised maybe on your final stage… A brilliant performance throughout the entire weekend from you. How are you feeling at this moment?
Dani Sordo: It was a really nice weekend. Ott did a mistake on the last stage but everything is welcome for a victory.
Q:
Yes, it's been quite some time since we have seen you on the top step of the podium, we have to look back to 2013: what was the feeling like, stepping on the top again after such a long time?
DS: The feeling is always great to be on the podium, it's always nice. If you are on the top, you feel better, but for me this weekend was very positive. We had a good pace all the time, fighting. Ott was a little bit far in front, we took a really good pace, but we've been fighting all the time. It is nice when you are fighting in all the stages.
Q:
It must be a real confident boost to see that pace continuing all through the weekend. Does this make up for the disappointments that you had in Portugal and Mexico? Does this result make up for all of that?
DS: In Portugal, I was really disappointed, the rally was looking really good, I liked the stages there. In Mexico also, there was a small problem, but it's what rally is about and sometimes you have some problems. But this time, we took the win and we've already forgotten the other times and we are looking forward.
 
Q:
When are we going to see you performing next? Finland maybe?
DS: It is not maybe, I don't know.
Q:
Would you like to be competing at Rally Finland? I know you don't have such a great relation with this event over the years.
DS: Oh no, it's a nice place, nice roads, it's a nice rally, but I would like to try also there. It's not my favourite rally, but I don't have the scare of Finland, it's a nice place, but I will not talk about anything that we don't know yet.
Q:
Do you want to do more rallies, now that you have got this win on the board and you have been so competitive out there this weekend?
DS: No. Honestly, my plan this year was to do 8-10 rallies maximum, so I continue with my plan, I really like to do rallies like these ones. I enjoyed it, I would like to win all like I do, I will not change my mind. Of course, I want to do eight rallies as it is stated in my contract this year.
Q:
Carlos Del Barrio, the last time we saw you on the podium together, did you imagine you would be on the top step of the podium with Dani again?
Carlos Del Barrio: Yes, because he had the from when I came back with him at the beginning of 2018. We did two podiums in a row in Mexico and Argentina and from then on, we have gone through some misfortune, that's true, like the off Germany and things like this. But the speed was there and somehow today, this has paid off. So I am very happy, especially for him because he deserves this kind of achievement and also for our team, that has put in a huge amount of work throughout the year. There are still some developments coming through, so I am very confident for the future. I am also very happy with the guys because they have done an amazing rally. It is very nice for me to sit besides Jarmo - another kid on the block, like me! I am five months older than him. We have done an amazing driving and I have enjoyed it a lot.
Q:
Talk to me about the reaction for you both when you heard on the stop line that Ott may have had some issues… I guess a "bitter-sweet" moment?
CDB: No, because if you analyze the footage this evening, you will see that we were not aware of what was happening. We had some news on the phone, but nothing was sure, we came to the podium area and when we saw the faces of fans and others, and of our teammates, they were really happy. At that moment, we knew we were the winners. Of course, I am very sorry, also for the team, for Ott. They did an amazing job throughout the weekend, but this is part of the game.
Q:
Teemu Suninen, congratulations on your second ever podium. You achieved that by showing strong pace and consistency of pace throughout the weekend. It is second position overall at the end of it. Did you imagine at the start of the rally that this would be the outcome?
Teemu Suninen: To be honest, I didn't because rallies have been challenging for me and for this rally, we changed co-driver, so shakedown was the first time together in a rally car. I expected it to be more challenging in the teamwork, but we worked well. On Friday morning, we were in the first stages able to set the fastest time, so this co-operation could not have started better than this.
 
Q:
So it was a maximum confidence boost for you straight away, then.
TS: At the moment, yes. The next rallies, let's say, are going to be different, so there is a different challenge coming up.
Q:
It seemed to be a little difficult for you out there today to measure your pace because you started quite "conservatively", let's say. Then you apologised to the team that you were going faster because that is what you found more natural. How tough was it for you out there?
TS: To be honest, today it was a quite a difficult day because at the beginning, the plan was to bring the car home and the car was handling really badly. It was not good to drive it slowly, I was trying to find the rhythm. Then on the following stages, I was in the pace and I started to drive on the limits, and then the car had an excellent drive. But, yes, it was difficult today to have a good rhythm.
Q:
We move on now to your home event. You are second on the podium here, what are we thinking ahead of Rally Finland, Teemu? I am sure you are aiming high there.
TS: Yes, I would say everything will be possible in Finland. I have been with Ott and Seb in the same team, so I believe I can be faster there in Finland. Of course, the rally is going to be challenging and everything have to be good there. If I get a good rally, that is the only way to get some podiums.
Q:
Jarmo Lehtinen, welcome back to FIA WRC, you left the championship in 2014 at this level and your last podium was at the final event in Wales and you were second. You come back and it's second overall here in Sardinia. Did you believe it would go so well this weekend on the first outing?
Jarmo Lehtinen: No, I didn't have time to imagine anything. Everything happened so quickly. I just came in and suddenly I was at the start line of Shakedown.
Q:
It's going incredibly well, tell me how much have you had to train this young man this weekend. We know how quickly he can go out there.
JL: No, there is no baby-sitting happening in the car. It's really nice to work with a guy who already know what he is doing. I can concentrate on my job and between the stages, we can analyse a bit what we did.
Q:
What did you think about his performance with all the experience under your belt, with what he has achieved and yourself, of course? You have seen so much in your carreer…
JL: For me, he was incredibly consistent over the weekend. Nothing high risk, no moments, nothing, one spun on the Friday in an odd place, we don't really know what went wrong on that corner… Everything else was spot on all the weekend. Personally, for me, it was a big thing to pull myself and I am still up to it.
Q:
Andreas Mikkelsen, a huge day for you today - the objective was to get ahead of Elfyn Evans and you did that. What a drive from you and it is a podium at the end of it. How are you feeling right now?
Andreas Mikkelsen: I feel very good. Starting today, we knew seven seconds would be possible in stages that we all know very well, so to gain a lot of time was hard. But then, after the first stage, when we thought we had to take 7 seconds and it turned out to be 14 seconds (when Evans was credited 7 seconds by the stewards), we thought it would be impossible. But we decided not to give up. We decided to push and to pressure him because then he had to go fast. And that plan worked perfectly. Really on the limit, so very good feeling now to know that we didn't give up and gave it everything and now we have achieved a third place.
Q:
Was it extra motivation, knowing that possibly if you didn't catch Evans, some team's tactics could play moving Thierry in front of you?
AM: Yes, that goes both ways. If I didn't catch Evans, ok, I am not driving for the drivers' (championship) now, that's too late, so to help Thierry in that way would feel natural. But I know at the same time that if something would have happened to me trying to catch Evans,  then Thierry would be there for the manufacturers' (championship), so I had a good feeling pushing without being too afraid of risking or losing too much. It worked very well and we had some really nice stages today. I liked them, it was really enjoyable.
Q:
It has been a tough season and we have seen you miss two events. With a performance like the one you have delivered today, do you feel that you have proved that you are a talented driver that should be at every event?
AM: Of course I want to drive all the rallies, I think most of the drivers want that. But yes, our performance has been a little up and down and we missed a couple of rallies. Of course, I want to try to be consistent and perfect on all the rallies and we are working very hard to make that happen. So I am looking forward to the next events.
Q:
Anders Jaeger-Amland, the plan was to get Evans today - seven seconds, then all of a sudden it was fourteen… The mountain seemed quite high to escalate at that point. How much commitment was there for you both this morning?
Anders Jaeger-Amland: As you say, it was a bit a punch in the face after the first one, seeing Evans getting some seconds back. But at the end, that was probably also the correct decision so it was easy to accept. But as Andreas said, we didn't give up, we had a good push, we needed to drive fast. And then, you know, mistakes can happen, it didn't happen, we managed nevertheless, so that was a really good feeling to end on a Sunday like this. To get awarded with the third place was really good in the end, even if our main objective for the weekend was to fight for a podium. The Sunday morning looked tough, but it feels good for sure.
Q:
Did you pull your belts just that bit tighter going into the final stage?
AJA: Already from out of service. I was sure he would go fast. I also have to congratulate the other guys, you probably agree that this is a rare podium this year and especially to Dani and Carlos, you really deserve it.
Q:
Andrea Adamo, anything can happen in rally and we see a lot happened with final stage dramas today. But Dani and Carlos had a strong rally into the win. We saw an emotional response from you, you left the Hyundai area and went straight to Toyota to commiserate with Tommi Makinen and Mia. Was that an instinctive feeling to go straight there?
Andrea Adamo: Honestly yes, because I felt the same in the past. And because this year between the team managers, let me say, we are working well together, we speak a lot, especially for the future rules… And there are also some human-being relations because, at the end, we are here to work together. We fight each other but at the end, it is a show that together, we have to keep alive. To make a stupid battle for the garden without caring about the park would be stupid. And, honestly, when you work day by day and, let me say, also exchange comments from colleagues you have human relations and this is beyond what is the final rally results. So the first feeling I had was to go there, maybe I am an emotional Italian, but that was the way I was feeling. When I entered in, I saw Mia with some tears, I was moved more than ever and I found normal to hug her and say nothing because everything else would be stupid.
Q:
Can you give me some words on the performance of Dani and Andreas. They put in for us a really strong show, did you expect to see this from them this weekend?
AA: I want to say one thing. I have to say thank you to all of them because they have just shown what I am saying to everybody working in WRC since the start of the year. I am not the bad teacher that punish people or prize people, I just try to make the best out of them, trying to have a human relationship, to motivate or to help them to perform at their best. They have shown something that I really have to be very thankful for, we are working together as a team and they are there when we need them. So I think that, especially today, they have shown that when Thierry and Nicholas have some issues, we were there to catch the opportunity and I have to say, of course Dani and Carlos did an amazing rally, but I also have been especially impressed by Andreas and Anders, because they did something amazing today. I thought, as an emotional one, that after the seven seconds added to the gap, they would maybe throw in the towel, as we say in boxing. But instead, they were even more motivated - something that impressed me a lot. So I will not say thank you enough to these four guys.
Q:
So, next event, Finland, what can we expect? Who is going to be in third car?
AA: I have to say, as I already said to some of you, they already told me the name of the bird that hides its head under the sand (ostrich), so I will leave my head under the sand until tomorrow because I don't want to think about that, but sooner or later it will arrive.
Q:
When is the sooner point when it will arrive? When are we going to know? On the entry list when it comes out?
AA: I can tell you when the latest point is (he laughs). Honestly, that third one is really a question mark for me so far.
Teemu Suninen says:
I am sure that there's a guy in the team who is ready to do the rally and who would be really pleased to do it.
Q:
Oh, really, can you reveal some secrets here then?
TS: I have nothing…
AA: Lately press conferences have seen secrets revealed. Some insiders know, maybe.
TS: I didn't mean that one.
Q:
We've heard lots of things on conferences in these days…
AA: It is the most emotional moment of the rally lately, the press conference!
TS: I meant someone who has done two Finnish championship rallies… I am sure he wants to do it.
Q:
Do you think he should do it?
TM: I think he knows. It's.Jari Huttunen.
AA: I don't know if he wants to do it, I also want to fly home tonight, but I can't, you know.
 
FIA WRC 2 PRO CHAMPIONSHIP
Present:
1st Kalle Rovanperä (FIN), Škoda Motorsport
1st Jonne Halttunen (FIN), Škoda Motorsport
Q:
Kalle, three wins in a row in FIA WRC 2 Pro, it has been a really successful run of events for you so far. It must be feeling pretty good, the championship standings are looking very good for you...
Kalle Rovanperä: Yes for sure, after the difficult start of the season, now it is going much better and also the championship looks how it should.
Q:
Tell me about the weekend here in Sardinia: a new adventure for you, of course, on this one we talked about survivalability throughout the event. You said at one point it wasn't as quite rough as you expected out there on the second pass. Not so difficult as you expected this weekend?
KR: It was more difficult than I expected but in some parts, it was not so tough and still enjoyable to drive on the second pass, but still it was very difficult. One of the most difficult rallies and really tough for my first time here because there are some places on the stage that you must know from experience and when you come for the first time, it is not easy to match the experience of the other guys.
Q:
Friday morning, we didn't see you quite yourself and certainly not the pace that we are used to seing from you. You made a set-up change to the car, it was better on Friday afternoon, even better on Saturday, what was the change you made?
KR: We softened the car quite a lot and still it would need to be even softer on the suspension side on the first loop because here, it is quite more slippery than Portugal. So it is good to know now that, on these kind of conditions, we need to soften the car more.
Q:
This is becoming a regular thing, isn't it? Three wins in a row, the championship looking really good, confidence must be just getting higher and higher on each event.
Jonne Haltunen: Thank you, it is always nice to win but I think that last year, we did quite well in this part of the season. But these were new rallies, so it's nice and the next part of the season, the rallies are more familiar to us and I think we can do a lot also then.
Q:
They do become more familiar for you in the second half of the season, which is a good thing to see, but that doesn't stop the fact that you guys are keeping improving and keep your work rate quite high. I know how hard you both work to prepare for each event, next event will it be Finland, now?
JH: Actually we do one rally in Czech Republic but after that, it's Finland and as you said, we do a lot of work during the rally week. Like for example, I slept 4 hour per night during the rally nights, so it is a very rough week for us because it is the first time this year. But I think that the work we do now will help us also in the future, so you just have to work hard.

FIA WRC 2 CHAMPIONSHIP
Present:
1st Pierre-Louis Loubet (FRA)
1st Vincent Landais (FRA)
Q:
Pierre-Louis Loubey, your second win in a row in FIA WRC 2! We have seen a brilliant weekend from you, great pace out there, but a few dramas along the way as well.
Pierre-Louis Loubet: It was a great weekend for us, yes, for sure with some issues on Saturday… Yesterday we had a puncture and from yesterday on, we've had a problem with our diff and it was even worse this morning. So, yes, it was good when it was finished because I think, with one or two more stages, it could have been a disaster. So very nice to finish.
Q:
When I spoke with you at the end of the day yesterday, you felt like the win was out of your grass after what happened during the afternoon. Were you quite surprised to hear what happened to Katsuta today?
PL: Unfortunately, a lot of bad luck for him, he did a great rally I think. But you know, in motor sport, that happens unfortunately. But I would like to give a big congrats to him because he did a great job this weekend, so he certainly should be on the podium for sure or win.
Q:
You now prepare yourself at the lead of the board in FIA WRC 2 with the points of two wins so far, what are you thinking now about the championship season ahead and the rallies remaining?
PL: I don't know. I hope to continue in this way for the rest of the season. If we can take maximum points in Finland, for sure it would be a good option for the championship. We have a lot of work to do and have to continue to run this way and then we will see.
Q:
Vincent Landais, a tough job this weekend for both driver and co-driver. As he said, there were some dramas along the way as well, how sweet is it to taste victory at the end of it?
VL: Thank you. This one is even better than Portugal because we have been searching it since the beginning of the rally, and yesterday evening, it was completely destroyed because we got the puncture. So this morning, we had two options: stay like this and just try to keep the position or try to catch it back. We tried and it didn't end up well for Katsuta. I am very sorry, it's a drama. We know this situation because last year, we had a lot of problems with the car and we know how it felt. So t it's even better than Portugal here.
Q:
Are you moving next to Finland, how much are you looking forward for that because it is such a legendary event on the championship's calendar?
VL: Yes, this rally is quite special for us. Last year, we have been fast, so we love it so much. We are looking forward to be there!
 

FIA JUNIOR WRC CHAMPIONSHIP
Present:
1st Jan Solans (ESP)
1st Mauro Barreiro (ESP)
Q:
Jan Solans, congratulations on your first FIA Junior WRC victory. Incredible pace this weekend, your final stage really stand out, let's find out how you are feeling at the end of it?
Jan Solans: Thank you so much. It has been a really hard weekend and even more with R2 cars. It was really rough. On Friday, the car stopped in the middle of the stage and I lost like 13 seconds so then, I decided to push again and try to get closer to the lead. And at the end, we did it and I feel really happy.
Q:
Let's talk about the final day, because a huge battle with Dennis Radstrom happened today. You went in the final stage 3.3 seconds ahead and you finished it 14/15 seconds ahead of Radstrom. You must have flown through that final stage.
JS: Yes, after fighting a lot all the weekend, pushing in every stage I decided not to give up on the final one, so we have done our best and it was fine. That's how I achieved my first victory.
Q:
And now, you are leading the championship as well, which is great for you moving forward.
JS: Yes, we are leading the championship now and also it is good because we have done lots of stage wins, so one point for each stage win. Now will come Finland, really difficult for us because it will be my first time there and I am not used to driving on these fast roads, but anyway we will try it.
Q:
For sure, on gravel you will be fine there, we have seen Dani Sordo, another fellow Spanish driver, take his victory here today, so how special was it to take a win on the same day?
JS: I think it is a really special day also for the Spanish media. We both won the rally today, so I feel happy for him. We are close friends and he has given me a lot of good advice and so it's nice.
Q:
Just tell me a little bit about Mauro's performance this weekend and how has the relationship worked?
JS: I think it was a difficult day also for my co-driver, also in these last two stages because they were both really fast and the co-driver really needs to be on the pace with the notes and so we have done a really good job.
QUESTIONS FROM THE FLOOR
David Centeno (3,2,1, Motor, Spain), two questions to Dani Sordo:
Q:
Today it's quite a special day for sports in Spain as we all know. It's a lot of success at international level, does it feel like a special moment for all the country to have these victory? You have been waiting so long for this and finally you have it in such a special day for all of the country.
DS: Many Spanish people win today and so I think tomorrow, it will be difficult for us to be in the press because a lot of people in Spain have won. We are not lucky because Marquez won today, Alonso won and so we will not be in the press (he laughs). So for Jan Solans, I am so sorry, because I think this guy had a really nice victory, his first victory in Sardinia on a Junior rally car. He is doing so good, congratulations.
Q:
About Jan, because he spoke about you earlier, about the advice you gave to him, do you expect to see him in a top team in the near future?
DS: Yes, I hope. And he has all the speed. He didn't have a lot of experience and what he is doing with low experience is so good, because I think in this rally, with all these cars, you need to be really clever to have the pace and to go fast, and he was doing very well. I hope he will have the opportunity to drive a better car in the future.