Women in Motorsport Seminar – Best practices around the Globe
The second Plenary Session of the 2016 FIA Women in Motorsport Seminar today (7 October) focused on the positive successful work of ASNs around the world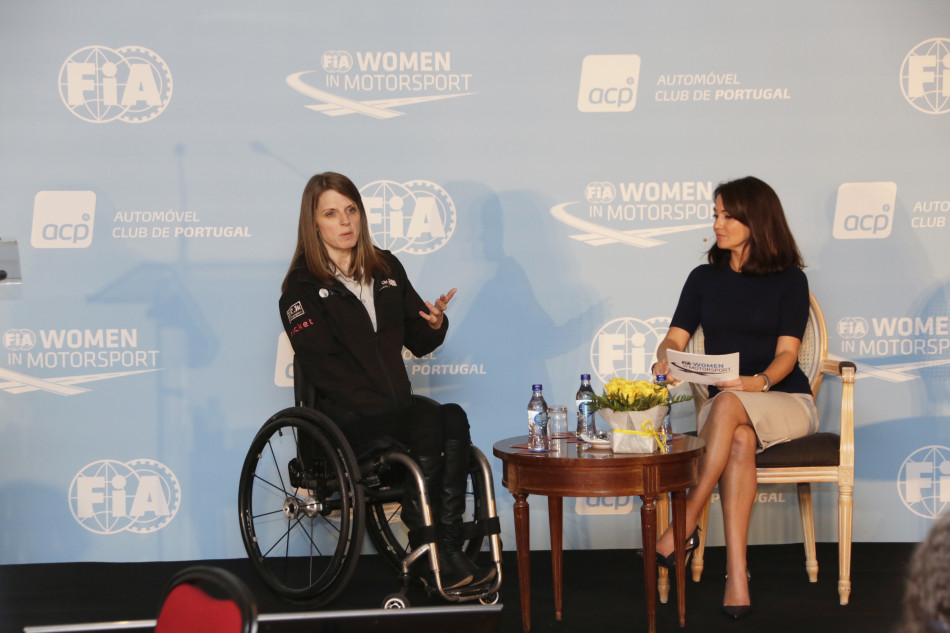 Following the morning's opening session, which focused on the successes of the FIA Women in Motorsport Commission projects to date, the Seminar in Lisbon continued with its second Plenary entitled 'Best practices and key successes around the globe – raising awareness'. The session outlined the key aspects of motor sport that give it the scope to become a truly inclusive and open environment, and looked at ways in which National Sporting Authorities (ASNs) are already taking steps to encourage this.
The session began with keynote speaker, Nathalie McGloin, who in May 2015 became the first female with a spinal injury to be granted a racing licence.
"Where it really started was with someone telling me I shouldn't do it," she said. "That motivation was the stepping stone into racing, I started doing track days in my Porsche 911, and after that I decided I was confident enough to go for my race licence. If you are disabled, you have to prove that you're safe to race on hand controls in a racing environment, but that's a challenge that made me even more determined."
Following her injury at age 16, she turned to sport to form the core of her recovery process. This began with wheelchair rugby, which she found to have a lot of similarities with the world of motor sport. "They were doing all the things I didn't think possible to do in a wheelchair," added Nathalie. "I went from being barely independent to being a fiercely independent athlete in a year."
Nathalie is an ambassador for the Motor Sport Association's Dare To Be Different campaign, which was explored in further detail later in the session. She was keen to point out the importance of role models to light the path for other disabled and female drivers.
"The Dare To Be Different project is such a success because it's built from the ground up for the next generation, and also there is an emphasis on networking, both online and in face to face events. Setting up something similar for disabled drivers is a goal of mine for the future."
Graham Stoker, FIA Deputy President for Sport, takes an active role in promoting the exceptional position of motor sport as an environment which enables and encourages such inspiring and important careers such as Nathalie's. "I think Nathalie touched on all the key points that form the foundation of this Seminar," he added. "What's important to remember is that she has the full licence from an ASN and is competing with able-bodied drivers, which is the unique opportunity of our sport. Rather than having to compete in a separate environment, people with the talent and desire to race can use the relationship between technology and the human being to create solutions which allow her to overcome what many people might think are impossible obstacles.
"The ability of motor sport to transform people's lives, to deal with an issue that's life changing and get through it, is something we must absolutely promote. A number of disabled teams have entered some of the most prestigious motor sport events in the world – the Paris-Dakar Rally, 24 Hours of Le Mans – and this is what we've got to look at to inspire greater participation, and make the most of our unique position."
For Stoker, ensuring that the ASNs make the process of becoming a driver as welcoming as possible is highly important. He concluded, "The key for ASNs is to understand that the barrier is the licences, and that we all need to make sure that the process caters for disabled drivers, and that if we do it right we can lead the way globally in our levels of inclusive competition."
Following this opening keynote, speakers from three ASNs then gave insightful presentations into campaigns and initiatives that are running in their regions, looking at the various ways in which they have promoted the eight recommendations that followed the first FIA Women in Motorsport Seminar held four years ago.
Tim Swietochowski, Head of Communications for UK ASN the Motor Sports Association, first spoke about Dare To Be Different, a campaign run in partnership with FIA Women in Motorsport Commission Ambassador Susie Wolff. "We wanted to do something long term and strategic that would benefit the sport for years to come," said Swietochowski.
The initiative aims to create a shift in perceptions by engaging with school groups and targeting girls who may never even have heard of motor sport. "It's about giving girls real experience of all the different aspects of motor sport," he added. "It's not just about driving, but also media, fitness and nutrition, engineering and all the various career prospects that are out there. This year we've put motor sport into the minds of 500 girls for the first time."
Australian Karyn Hamer then took to the stage to present her work in creating the Women of Australian Motorsport Commission (WAMS) as part of her ASN, the Confederation of Australian Motor Sport (CAMS).
In a committee of eight women, all volunteers, the organisation works alongside the operations of CAMS to specifically address the issues facing women in motor sport in Australia. "Utilising data and facts, we created a toolkit for our clubs about how to increase the number of women in the sport," said Hamer.
This focus on utilising the access ASNs have to key data about their members was essential to the presentation, which gave examples of how WAMS targets campaigns at the various age groups of its members.
"We have 7 million women over 50 in Australia," she continued, "So we also need to highlight and engage with them. At the same time, everything we do has social media attached to it – it's a core part of what we do and especially how we shine the spotlight on young talent through our Junior Development Scholarship, which aims at 15-24 year olds with a karting/competition licence."
Karyn's work is closely tied with the final ASN representative – Janette Tan, General Secretary of Singapore ASN SMSA.
CAMS and SMSA share an Officials Exchange Programme between the Australian and Singapore Formula One Grands Prix, with female officials forming a key part of the process of sharing information and learning from different environments.
"Singapore runs a very successful Women in Motorsport officials programme," said Tan. "A quarter of our lower level officials, and one in five in high level positions are women."
She gave an overview of the various roles that women play in the Singapore Grand Prix, adding, "We've paved a way for women to reach higher levels of officials in motor sport. Together we can accomplish anything, and motor sport is no exception."
Continuing the exploration of the role of female officials and volunteers, a breakout Q&A session followed featuring Cheryl Lynch, MSA Race Executive and FIA World Rallycross steward as well as Waultrud Wünsch, Chairperson of the stewards for the FIA World Rally Championship. Questions centred on the obstacles faced not only by existing stewards and officials, but also by ASNs as they seek to increase female participation in this area.
The session drew to a close as Sue Sanders, a founding member of the FIA Women in Motorsport Commission, opened the floor up to no fewer than nine ASN National Representatives from around the world who shared their experiences with the gathered delegates.
Speaking about projects and experiences were Tiina Lehmonen from Finland, Boglarka Budai from Hungary, Japanese endurance driver Keiki Ihara, Sylvie Rakotovao from Madagascar, Henny Hemmes from The Netherlands, Aleksandra Knyszewska from Poland, Beyza Avcioglu from Turkey, Laleh Sedigh from Iran and Vicki O'Connor from the USA.
Each had their own unique and compelling story to tell, although perhaps capturing imaginations the most was Iranian Sedigh, who explained the huge cultural and religious barriers facing women in sport in her country, and how she continues to break down barriers and serve as an inspiration to future competitors. "The culture of my country means they look at women in a very backward way," she said. "We are trying to change this, and sport is a key way to overcome these barriers."
With all of the materials from each speech and example made available digitally, the Seminar is undoubtedly fulfilling its role as a forum of dialogue and progressive policy making.