This page contains archived information and may not display perfectly
WIM – Six aspiring racers scoop Girls on Track honours
Each and every one of the 27 finalists in the European Final of the Girls on Track Karting Challenge have proven to be winners. Six of the aspiring racers will, however, now benefit from a significant boost to their motor sport careers having won a place in the coveted European Team.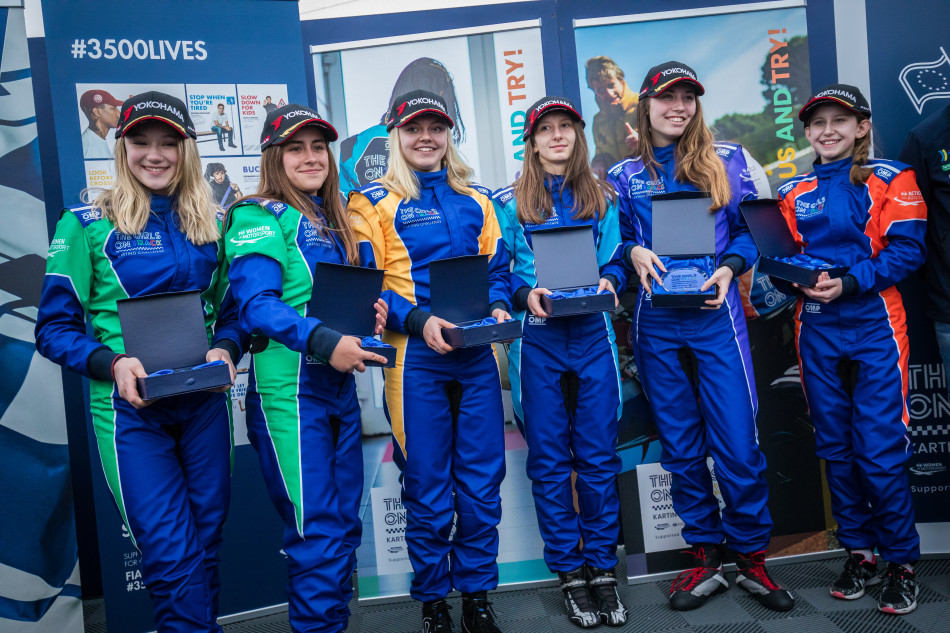 The FIA's European Young Women programme, the Girls on Track Karting Challenge, reached its competitive climax today with the selection of six winners from 27 finalists chosen from more than 1,200 girls who participated in national selections across nine European countries. As anticipated, it was a highly-competitive European Final that brought ambitious and talented girls to the FFSA Academy at Le Mans for three days of intense competition both on and off the track.
Showing potential behind the wheel has always been fundamental to success in the programme. But, as part of the FIA Women in Motorsport Commission's mission to encourage more 13-18 year old girls to come and try the sport, girls with or without experience were able to participate and the criteria for selection of the winners was therefore not just about outright speed on the track.
The winners, now part of the Girls on Track European Team, are:
Milja Kukkonen, Finland
"I don't have words, I didn't believe I would be one of the best and when they said my name I couldn't believe it. My driving was not the best I can do and I know I can be better. A new journey awaits and it's really exciting. I have a season in F4 in Finland coming up so there are lots of new opportunities."
Nina Pothof, Netherlands
"I'm feeling really brilliant, I was nervous the whole time and very happy to be in the last six, and relieved. I got a lot of tips from the coach, he helped a lot and I was more than a second faster with his tips so I am really thankful for that."
Michalina Sabaj, Poland
"This means a lot, it's a huge success for me and all the years in karting has really paid off. I'm very happy! I think I learned a lot from the coaches, and it was also something new for me coming to France and being on this track."
Matilde Fidalgo, Portugal
"It was an incredible weekend, I learned a lot because it was my first time in these kind of karts. It's a dream come true, I was not expecing to be one of the six because I saw so many good girls driving so well."
Anna Glaerum, Sweden
"I can't even put it into words, it's so incredible, it's perfect, awesome and the best thing that ever happened in my entire life. The last days I learned a lot, especially from the coach who taught me how to steer, brake, gas; so much and it's been perfect. I met a lot of people and it has been lovely to meet the girls and see how fantastic they are. It's been so good to be here and so much fun to drive."
Maja Hallén Fellenius, Sweden
"I'm so happy I really didn't believe I was even going to get through to the final; I'm a bit speechless. I was really happy I even got selected from the national selections, and then to get to the final, and then to be one of the six best! I've learned a lot, met new people and had a really great time and it's really nice to drive on such a track at Le Mans. This is a big thing, I'm really happy."
The six-strong Girls on Track European Team will now receive an exceptional opportunity to be supported by the FIA at two driver training camps during the year, where they will undergo a sporting and educational programme to support and enhance their careers in the high-octane world of motor sport.
The decisive day of the European Final was the climax of three days of activities that saw the girls out on track in 125cc junior karts as well as undergoing gruelling physical and mental tests that sought to underline the importance of peak levels of fitness.
On Sunday morning, practice sessions saw the girls once again take to the 1.3 kilometre Le Mans Circuit International de Karting, enabling them to demonstrate what they have learned from the FFSA Academy driving instructors and their progression over the last few days. During pre-finals, each of the girls could count their average speed from three hot laps of the track and this was combined with their overall performance during the physical and educational sessions at the Academy. Nine of the girls then went into the final, where their five best lap times were taken into account, again just part of the overall assessment criteria that sought to ensure the six most promising young women who demonstrated potential, progression and commitment were selected to join the European Team.
"This has been a truly exceptional experience for the girls and something I am sure all of them will remember for a lifetime," said Jutta Kleinschmidt, Ambassador for the FIA Women in Motorsport Commission and the only woman to have won the Dakar Rally. "The level of competition has been extremely high and it's true to say that all of the girls who made it this far are winners. I am convinced they will continue following their dreams of success in what is an incredibly difficult but rewarding sport. Our mission is to encourage young women into motor sport and the Girls on Track Karting Challenge has definitely achieved that. Our intention now is that the programme can continue to be rolled out at national level and attract yet more young girls in many more countries around the world. This would be a huge step forward, especially at the grassroots level of the sport where the youngsters need to start their careers."
This two year Erasmus+ supported project was created by the FIA Women in Motorsport Commission to encourage more young women between 13-18 years of age to try motor sport and, in partnership with nine of the FIA's national sporting authorities, attracted more than 1,000 young women to take part in urban karting slalom events, the grassroots of the sport. The project also received invaluable support from tyre partner Yokohama.
Find more pictures here.