This page contains archived information and may not display perfectly
What The Drivers Said…. Race
WEC - 2016 6 Hours of Shanghai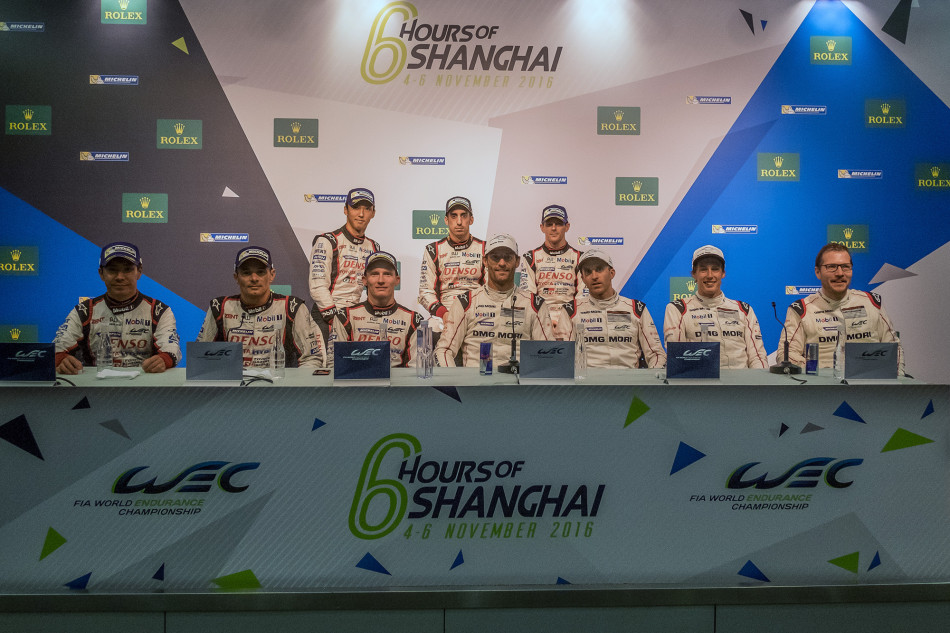 No1 Porsche Team Porsche 919 Hybrid  - Winners LMP1
Brendon Hartley: "What a day! The first corner after the start was interesting. I think the Toyota used a big package of energy from the e-motor and passed me quite easily into turn one. I knew he would suffer later in the lap, because according to the rules you can only use a certain amount of energy. I got him just before the safety car came out. This was a good little battle on the first lap, and after that I just tried to keep it clean and handed the car over with an 18 second lead. We had to change the nose because a massive peace of rubber had damaged the light. Once again our pit stops were great and on my last double stint everything went smoothly. I am very, very happy."

Mark Webber: "Brendon was flying today and Timo's double stint was really nice. I did a single stint and got some used tyres out of the way before Brendon brought it home. It was an amazing day for Porsche and we are really happy to have contributed to it."
Timo Bernhard: "We've had a super race today. Brendon made a great start, so we were able to keep the lead and then extend it. I was the second driver in the car and also did a double stint. The number 6 Toyota with Kamui Kobayashi driving was really strong. Very often the situation in traffic was the limiting factor. Here you really had to constantly balance between being aggressive or rather defensive when lapping slower cars. I am absolutely happy that our trio has another race win.
Andreas Seidl, Team Principal: "It feels great having secured the manufacturers' world championship title again for Porsche. This is an achievement by every single team member – at home in Weissach, here at the race track and also thanks to our partners. The title is the result of having a fast, reliable car and a strong team performance. Here in Shanghai we took pole, set fastest race lap, constantly had the fastest car on track, the best pit stops, the right strategy and the best drivers at the wheel. This title win is well deserved and at the finale in Bahrain we want to fight for the drivers' world championship title."
No 6 Toyota Gazoo Racing Toyota TS050 Hybrid – 2nd LMP1
Stéphane Sarrazin: "That was a good race for us, even though it's not the victory that we enjoyed in Fuji. We had a strong weekend and we showed that our car is very fast. We were unlucky with the punctures. Who knows what we could have achieved without that but I'm still really happy. We're still in the fight for the World Championship; 17 points is not easy but our car is quick and we will keep pushing."
Mike Conway: "It's been a positive day overall for us and great to be on the podium yet again. It's a pity to get two punctures but the team did a great job to recover; everyone dug in and got the maximum out of our race today. We fought right to the end so thanks to everyone for their effort. I'm pleased to see the #5 guys on the podium as well; it's great for them and the team."
Kamui Kobayashi: "I'm really happy with our race; second is a good result considering everything. It was a strong recovery drive. Our car was fast and we managed the traffic pretty well. It's nice to see both TOYOTAs on the podium and the team deserves this because we have worked really hard to improve during the season and we are finishing the year strongly."
No 5 Toyota Gazoo Racing Toyota TS050 Hybrid – 3rd LMP1
Anthony Davidson: "Luck hasn't gone our way this season so it's really nice to be back on the podium again. The race was tough with traffic and an unbelievable amount of rubber on track. Our focus was to get ahead of the #2 car and it was fantastic to do that. It shows how far the team has come since the last podium for our car, at Silverstone in 2015. To get two cars on the podium is a great achievement."
Sébastien Buemi: "It has been a very tough season for our car so we will enjoy being on the podium. We knew we should be competitive in the race and we were, we just didn't have the pace of the #1 Porsche. Thanks to the team for their hard work to get car #5 back on the podium; I'm really happy. Now we look forward to Bahrain when we want to be strong again."
Kazuki Nakajima: "I'm really pleased for everyone on the car #5 crew to get this result. Everyone has worked so hard for us to stand on the podium again despite a lot of bad luck this year so big thanks to the team; I hope this is a turning point. It was a difficult race for me but my team-mates drove well and it was nice we could help out our sister car by finishing ahead of the second Porsche."

No2 Porsche Team Porsche 919 Hybrid – 4th Place LMP1
Romain Dumas : "It was very tight racing today. I was third in the car for a single stint. I had some bad traffic, which, of course, cost some time. I had lots of pick-up on my tyres that I never got rid of."

Neel Jani : "I started from sixth on the grid, and tried to drive tactically with regards to positioning myself in traffic and saving boost to be able to attack when needed. It worked out, the car was super good and I could catch one car after another. When I was in third position I struggled a bit, because I then very unluckily hit traffic and lost several seconds. But still I was able to hand over the car in second position after a double stint. Unfortunately in the middle stints of the race we lost some time. I did another double stint in the end, but then the car didn't feel quite as good. Now we have to take care of the drivers' world championship at the finale in Bahrain in two week's time."

Marc Lieb : "I was in the car second after Neel and my stint wasn't great. In the beginning I had a lot of traffic and constantly had to lap cars, I just ruined my front tyres. I had no grip at the front axle and constant understeer."
No67 Ford Chip Ganassi Team UK Ford GT – Winners LMGTE Pro
Andy Priaulx:  "I'm really happy with that! I managed to make a good start and had a couple of good first stints. We had a perfect race. The car ran faultlessly and the pit stops were great.  To take two wins on the trot and for them to be team 1-2 finishes is just mega."
Harry Tincknell:  "I'm enjoying this run of results! After taking pole yesterday to getting our second win on the bounce today is just unbelievable. Nothing has really changed with the car in terms of updates and balance of performance since Le Mans but we have all been working hard and getting faster and faster. Everything has come together at the right time. When the #66 had a puncture it gave us some breathing room but we still had to get the job done. I'm delighted that everyone's hard work has been rewarded. The whole team should be very proud of themselves."
No26 G-Drive Racing Oreca 05-Nissan – Winners LMP2
Alex Brundle: "We had a really good start and I had the option to either push on and get ahead or conserve the tyres and stay behind. I knew we had the car that would let me run at the front so I got on with making the move. Because we were double-stinting the tyres, this affected the performance in the second stint, but overall it was the best strategy to choose and did gain the team some time. After that, Roman and Will both did a fantastic job and the team performed excellently in the pits all day long."
Roman Rusinov: "We had a great car and we worked hard during the weekend for this victory. I am really happy for the second time in a row and my teammates were very strong. The conditions were tough with lots of rubber on the track but we got the job done so thanks to everyone we get more maximum points today."
Will Stevens:  "It was comfortable for us and we did a great strategy so well done to the team. It is nice to get a second win in as many races and show what we can do out there against some really tough competition.
No36 Signatech Alpine  Alpine A460-Nissan – 2016 LMP2 Champions
Nicolas Lapierre: "This is a great achievement after a brilliant season. This is the first race we have finished outside of the podium which tells you that we have had a really super year. To win Le Mans and the WEC in one season is really satisfying. The Signatech Alpine team have been mega all season and they deserve a big party tonight."
Gustavo Menezes: "If you had told me this time last year I would be a Le Mans and WEC champion I would not have believed you. It is a big tribute to the whole Signatech Alpine team and I would like to say a big thank you to everyone involved in this great success."
Stephane Richelmi:  "What a journey, what a great achievement by the Signatech Alpine team.  It was an irony we didn't make the podium today as we have been on it all season but we got the big prize! I am so proud of the whole team and a big thanks to the boss Phillipe Sinault."