WEC - What the Winners Said after the 89th 24 Hours of Le Mans
The winning crews in each of the four classes gave their reactions in the post race press conference following the 89th edition of the 24 Hours of Le Mans, Round 4 of the 2021 FIA World Endurance Championship.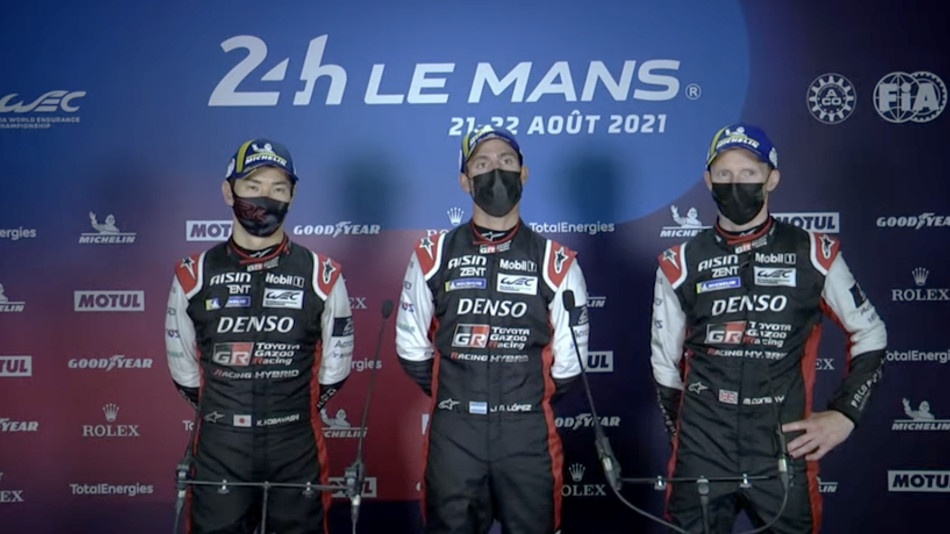 Kamui Kobayashi
#7 Toyota Gazoo Racing Toyota GR010-Hybrid
"At Le Mans you always need luck. We needed luck even this time. We had some trouble during the race. The last couple of hours, all three of us had to do something special to save the car.
"It's not an easy race. We've tried to maximise what we can do to survive.  The engineers worked really hard, we tried to maximise the car to be safe. To be here, it's an amazing feeling in the end. My team-mates did a great job through the week. Finally, we're the 24 Hours of Le Mans winners!"
Jose Maria Lopez
#7 Toyota Gazoo Racing Toyota GR010-Hybrid
"Yeah, that's hard to believe that (the second Argentine to win, 54 years after José Froilán González). We came through periods that were quite tough for us. To be part of this is amazing, honestly! I came so far, so many years for this dream [to come true].
"I couldn't choose better team-mates. Mike [Conway] and Kamui [Kobayashi] are like brothers for me. I've seen them doing amazing things in the car, so I'm very lucky to have them and, of course, the team.
"In the end, we take the glory, we jump on the podium but behind us there's more than 600 people back in Cologne and more than a thousand back in Japan making this happened.
The new car raced in Le Mans for the first time. As Kamui [Kobayashi] said, it wasn't easy to make it till the end, we had to work, we had a few issues, but as a team we came through and that's the greatest value we can take away today."
Mike Conway
#7 Toyota Gazoo Racing Toyota GR010-Hybrid
"It was hard. For the last six hour we knew that we had something on the car that could have been a rally big problem. Luckily the team came up with a solution to keep us going. All credit to the team for figuring that out and making sure that we have a 1-2 finish. This is pretty special with all the circumstances. 
"The last six-seven hours were really stressful. This race is never easy, even if you're out leading on your own, in the front, with many laps ahead you're still worrying all the way till the end. 
"I'm going to thank all my team-mates for the mega stints and all the hard work and obviously the team, everyone in Cologne, everyone back in Japan for all their support and hard work that makes it possible for us to finish. Thank you for anybody, we can enjoy now and celebrate."
Alessandro Pier Guidi (LMGTE Pro Winner)
#51 AF Corse Ferrari 488 GTE EVO
"The race wasn't easy at all. We pushed like crazy since the first moment and there were loads of static cars. Sometimes you gain, sometimes you lose and it's important to keep the advantage. So, we pushed really hard.  
"The weather conditions were not easy. It started during the night when it was raining. Uh, it was not easy at all.  We were gaining some time in some laps, we were losing some time in other laps, just because of traffic; so, it was not easy at all. 
"To be here is a special feeling like it was two years ago. And even if it wasn't my first Le Mans, my first victory in Le Mans was two years ago, I have the same feeling; it's incredible and amazing. I mean, I have to say thanks to Ferrari and to AF Corse who have given me the opportunity to be here and enjoy this moment."
James Calado (LMGTE Pro Winner)
#51 AF Corse Ferrari 488 GTE EVO
"It probably looked easy from the outside, but actually it was really, really difficult race with the conditions.  There were so many slows zones and safety cars that it proved to be really strategic.  I think the team did an amazing job in terms of a strategy to get us up the front. 
"The car was good. I was happy with the balance and the pace was there, but I have to say the Corvette was quicker at times, they were putting a lot of pressure on us. They started to set best lap times towards the end of the race. And we were nervous, anything could happen in Le Mans and I'm just thankful to get our second win. It's a great achievement and I'm super happy."
Côme Ledogar (LMGTE Pro Winner)
#51 AF Corse Ferrari 488 GTE EVO
"It feels good to win Le Mans. For me there not so much stress because I knew that it's also a championship going on and I just had to do my job and keep the car on track. I tried to drive it as fast as I could and not damage it. So, to give them the car in the best condition possible. I knew that they were doing the rest of the job without any problems."
Robin Frijns (LMP2 Winner)
#31 Team WRT Oreca 07-Gibson
"First of all, I think the team did an amazing job by basically leading both cars into the night and coming out unscratched. Both cars were working really amazing, really good pace, a bit quicker than the JOTA. Then the last time I jumped in, we suffered big issues. Suddenly, the air jack died so we couldn't change the tyres, I had new tyres on the front and older ones on the rear and then visa versa.
"So basically, everything went wrong in the last two hours. I had no pace anymore because I think something broke on the car as well. So, the JOTA was catching very quickly, I think four or five seconds a lap. I was securing my P2 because I was struggling with the car. But then heading into the last lap I heard on the radio that, the sister car was basically breaking down and stopping.
"And meanwhile, you are still fighting a guard to try to secure your P two, but suddenly Meanwhile, you are still fighting the car to try to secure your P2, but suddenly you're fighting for P1. So, it's a bit of a different load on your shoulders.  I think that the finish was as close as it gets in, in all ways. Obviously the two Toyotas were in front of me, and they were slowing down before the finish line for the photo. But like all the three, four cars behind them were all slowing down and I was still fighting for the win. So, I was trying to find my way around them but luckily everything went well."
François Perrodo (LMGTE Am Winner)
#83 AF Corse Ferrari 488 GTE EVO
"Oh, that's amazing. I didn't know that this was the first LMGTE Am win for the team, it's well-deserved for AF Corse. I feel privileged and very lucky to be driving with these two young drivers. They are very, very impressive. I mean, it's my second year with Nicklas (Nielsen) and, you know, he's flying, he's absolutely amazing. And he keeps his cool all the time. He already did a great job two weeks ago in Spa and now in Le Mans. So, for him it's quite a year. I discovered Alessio (Rovera) this year. Who is also just as quick, super nice guy and very professional on the track.
"So, they did an amazing job at night. It was really complicated. It was a very tough category with 23 cars, over one third that dropped out, there were a lot of accidents, a lot of contact. So, we still set out of trouble and had a clean race, no mistakes. So, we couldn't be happier. It's amazing. And it's really good for the championship."