This page contains archived information and may not display perfectly
WEC - What the Drivers Said.... Race Press Conference in Shanghai
WEC - 6 Hours of Shanghai - Post Race Press Conference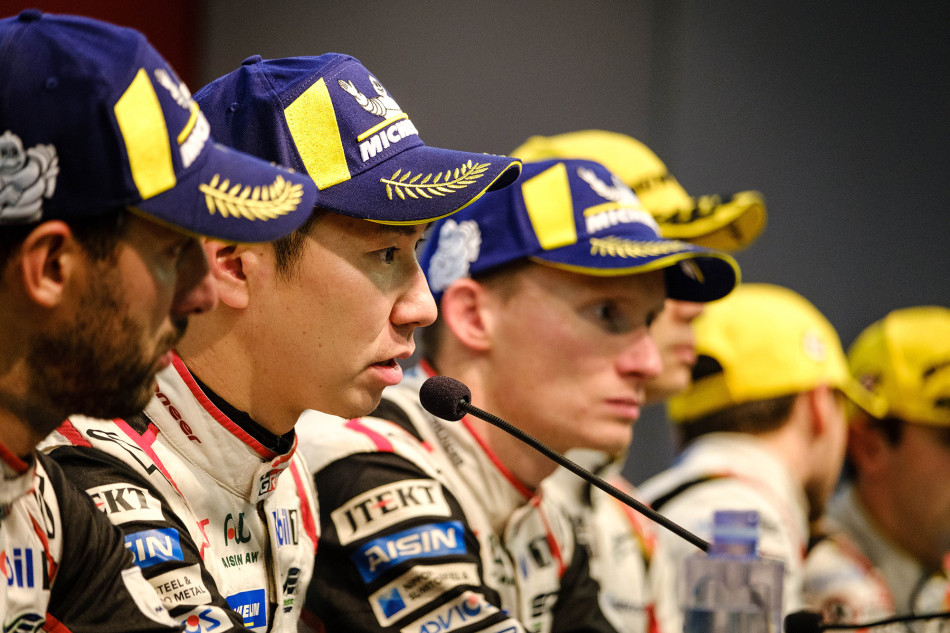 Kamui Kobayashi
No7 Toyota Gazoo Racing – Toyota TS050 Hybrid
"We expected this was going to be a hard one and the rain was really a lot and I had no visibility at all. We just try to not take any risk and overtake properly but we knew that at points the safety car would come out to make it a help for us.
"We tried to not push too hard and we had a safety car on not good timing but we made a gap to car No.8 which for them was a big shame. When we restarted we tried to pull a gap it was quite good and the car felt good too and I handed it over to Mike (Conway).  The team did a great job and I have to congratulate everyone."
Stephane Richelmi
No38 Jackie Chan DC Racing – Oreca 07-Gibson
"I have been a bit sick today so when I opened up the curtains this morning and saw the rain I said 'ok I want to stay in bed and have a chilled day' but I had a job to do and start the race. It was not easy obviously because of the conditions and we lost some positions at the start.
"We made a tricky choice with the tyre pressures and it was hard to stay on track but I knew the race was long and even if we dropped to P5 the win was still possible and then we made a good choice to pit before the others.  When the safety car went in the pace of the car was good and we could open a bit the gap and then my team-mates continued the good job, especially Gabby (Aubry) on the inters."
Marco Sorensen
No95 Aston Martin Racing – Aston Martin Vantage
"It was definitely a long race in difficult conditions as you saw. I think we are both super happy that we got this first win with the new car.  It seemed to be so quick that we were almost fighting for the overall victory today. The team has been so much work.  It was a hard start to the season, so to finish off before the winter break with a win we can go home and try to improve even more.  Just super happy and we are looking forward to Sebring."
Matt Campbell
No77 Dempsey-Proton Racing – Porsche 911 RSR
"It certainly wasn't easy having not driven all day.  Getting in the car in those conditions was very tricky.  The spray was immense; you just couldn't see anything, especially going into Turn One.  But we are extremely happy to win by coming from behind.  We were quite far down at the start of the race but the team did a fantastic job and it is great to come out on top today.  It's a fantastic end of the year."