This page contains archived information and may not display perfectly
WEC - What the Drivers Said.... Friday Press Conference in Shanghai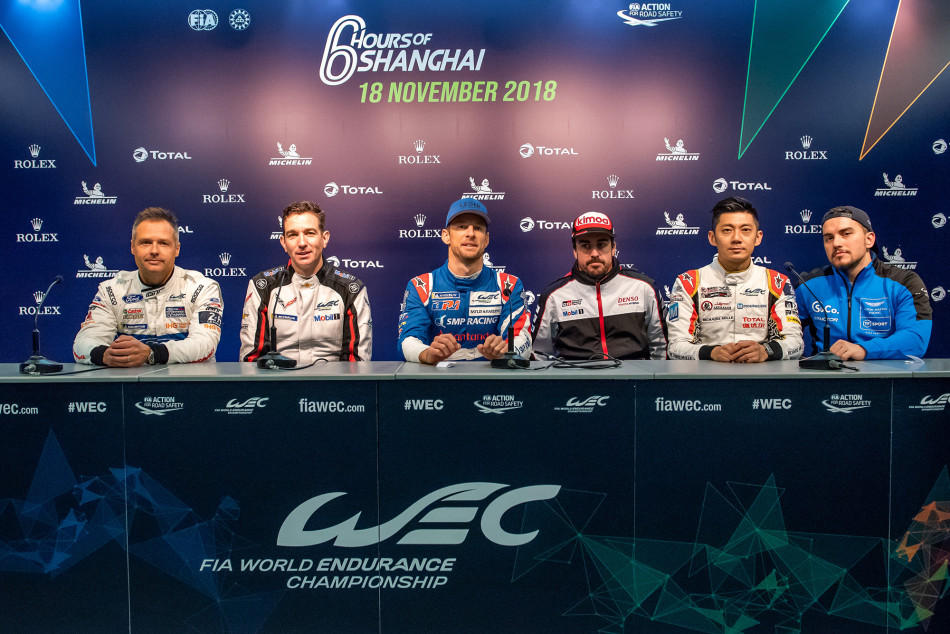 Jenson Button
No11 SMP Racing BR1-AER
"Fuji was a lot of fun but we did have some issues in the race and obviously the area that we need improving on is the reliability, but in terms of pace it wasn't too bad. We weren't near the Toyota's but it wasn't bad pace at all compared to the Rebellions.
"Here in the wet it is interesting because it is very cold and it is hard to get the tyres working, and for everyone it is very low grip.  So far the car is working reasonably well, lap times are good and the balance is good, so it should be a fun fight."
Fernando Alonso
No8 Toyota Gazoo Racing Toyota TS050 Hybrid
"Like other teams we are trying to get as much information as possible like analysing the best time to use the wet tyres and the two [types] that we have and then the intermediates
"It is going to be a challenging weekend for preparation, also some guessing and a bit of luck too. I am sure there will be some moments when we gamble a little bit on the tyres because you need to make decisions quote quickly when the pit stop arrives."
Ho-Pin Tung
No38 Jackie Chan DC Racing Oreca 07 – Gibson
"It is a huge week for us and it is great to see so many people here today which is impressive to have the continued enthusiasm for endurance racing and the WEC in China.
"The ever growing attention for us is great and it grew after Le Mans last year. It is always good to come back here although it is a track where we have not that much success and we have been on the podium at all the WEC circuits apart from here.  So this is definitely something that we are looking forward to changing this weekend."
Andy Priaulx
No67 Ford Chip Ganassi Team UK Ford GT
"It is always difficult to read to be honest as everyone has been so close over the last two races in LMGTE Pro.
"If it is wet we are going to struggle a little bit because we are lacking quite a lot of top speed. It all depends on tyres and strategy but the last few races have been good for us which is great because at Spa and Le Mans we had some issues so we are just trying to claw back as many points as we can."
Oliver Gavin
No64 Corvette Racing Chevrolet Corvette C7.R
"We are just finding our way and trying to get ourselves back in to gear in the WEC in what is our first time back after Le Mans.
"So far it has been interesting, fun and we have a lot of enthusiastic fans and also guests here over the weekend so hopefully we can be there in the hunt. I think that if the weather is changeable we might stand more of a chance than if it is dry."
Salih Yoluc
No90 TF Sport Aston Martin Vantage
"I think that the LMGTE Am class has had the most competitive season so far and we are against some very strong competition.  We have always been up there fighting for the win and we came very close at the three races apart from Le Mans.
"This weekend we want to be on the top step but it is a marathon so the main point is to finish every race with good points and to see where we are at the end of the season."