WEC - What the Drivers Said After The Race
After the Total 6 Hours of Spa-Francorchamps the winning drivers took part in the post race press conferences.  Here is what they said.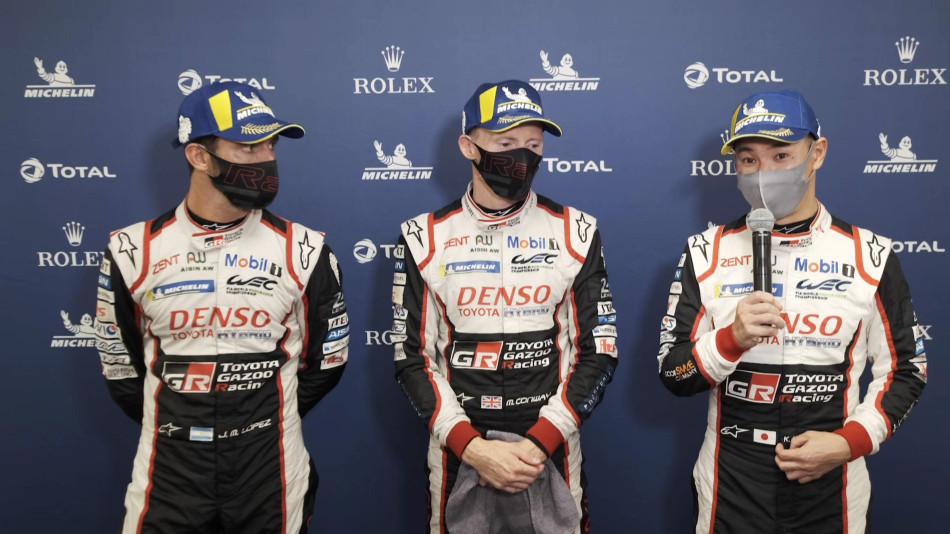 Mike Conway – no7 Toyota Gazoo Racing Toyota TS050-Hybrid
"First of all I must say a big congratulations to the team, our crew on car 7, Kamui and Jose next to me. They all did a great job.  Not easy conditions at all today with the rain, dry and then rain, but I guess we are used to this at Spa.
"To come back after the long break and to get the win, which was quite unexpected I have to say with the penalties and stuff that we have, we just thought we were going to finish third this weekend. It's been a great day.
"At the beginning it was pretty wet, so it was hard to keep up him, but we managed the gap.  They had some issues with their car and it was the right call to go on the slicks when we did.  From then we managed to extend a big gap but things were always changing with the safety cars.  It was challenging all of the time.  Car 8 was very quick in sectors 1 and 3 with the extra boost they had.  But we managed to pull it together and get the car really well dialled in.  The engineers did a great job overnight, they changed some things and it all worked out well for us today."
CLICK HERE to see Mike Conway, Kamui Kobayashi and Jose Maria Lopez in the post race press conference
Michael Christensen – no92 Porsche GT Team Porsche 911 RSR-19
"It was a bit difficult to choose a strategy today really, as we saw there was rain at the start, but we also saw holes in the weather where it dried up and then we saw more rain coming. So, it was hard to predict anything.  We went with the wet tyres of course and we stayed on the wets as long as possible.  We changed to slicks at a really good point I think, we did a good call on that.  I jumped back in the car when it started raining again. 
"It was a bit tough for me because most of the other drivers stayed in, so I had to jump right into a field that was already experienced with the weather.  We managed to pull it through and in the end we had really good pace in the dry to take the victory."
CLICK HERE to see Michael Christensen and Kevin Estre in the post race press conference
Paul Di Resta – no22 United Autosports Oreca 07-Gibson
"The biggest thing was the weather today.  When I got in the car we had that battle with Thomas Laurent. I nearly pipped him in the pits but when I came out of the pits he was very close to me.  I thought I put him in a position where he wouldn't be that brave at Eau Rouge, I don't think I would've done the same thing to be fair.  I was fortunate that I had good pace already into the Bus Stop at the end of that lap and I was able to set him up for the move into Turn 1.
"From that point on it was more important to bring the car to the end of the race, hit the targets we had to, and that's what we did."
CLICK HERE to see Filipe Albuquerque, Phil Hanson and Paul Di Resta in the post race press conference
Nicklas Nielsen - no83 AF Corse Ferrari 488 GTE EVO
"To be honest it was very difficult from the beginning, probably not as difficult as it was for Manu, when he was out on slick tyres when it started to rain, and Francois in the beginning in the heavy rain.  This was the first time I have been out on rain tyres and slicks in the same race, so it was good experience.  
"At the end of the day we did a fantastic job, the three of us and the team.  I don't think there was much more we could've done.  We probably weren't the favourites before the race but we took the maximum out of everything and we finished on top."
CLICK HERE to see Francois Perrodo, Emmanuel Collard and Nicklas Nielsen in the post race press conference