WEC - What the Drivers Said After The Race
Following the 4 Hours of Shanghai the four winning crews celebrated on the podium before heading to the post race press conference.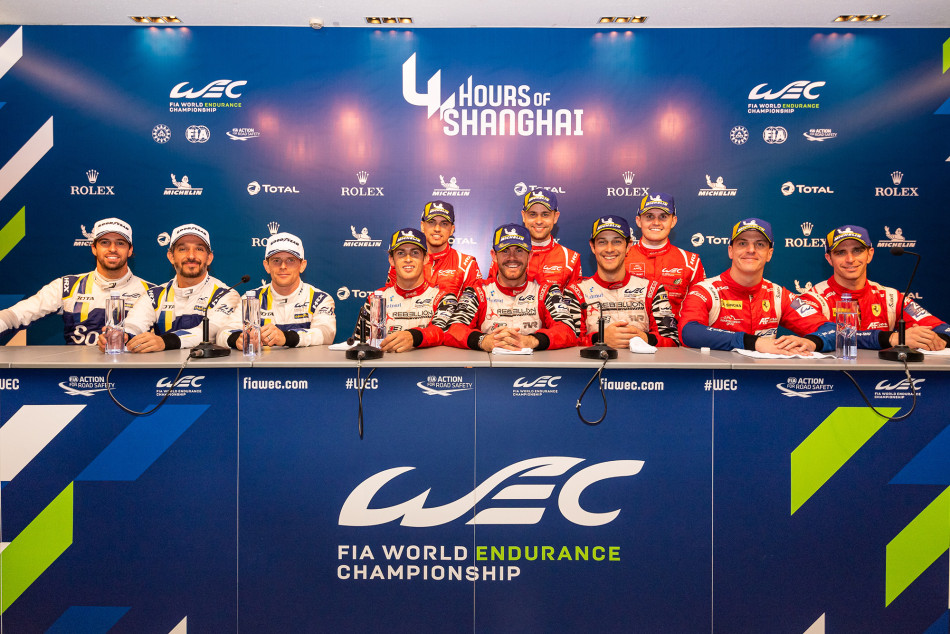 Bruno Senna – No1 Rebellion Racing R13-Gibson [LMP1]
"I felt Norman's pain because I started on a full set of quali tyres and we were really struggling with pace and we losing time to the guys behind us on old tyres, so it was a real struggle.
"Then when we put two new tyres on the rear the car transformed completely, it was like a new car and it gave me a second and a half advantage and it was just like that so I could push and I know that my teammates pushed and gave everything they had and they did a really good job considering every condition that we had and the team did a really good job as we have had some small reliability issues.
"Today the car just ran from the beginning to the end without any issues so maybe today was meant for us and we are happy about it and we will take it."
James Calado – No51 AF Corse Ferrari 488 GTE EVO  [LMGTE Pro]
"For all the classes I think tyres were the biggest issue, the drop off from the first lap to the end of the stint is around four seconds so you can imagine that the management is huge.
"You have to be patient but it's difficult because all you want to do is race and overtake but you have to back off and that is the quickest way to do the stint.
"It is the first win for Ferrari at Shanghai and honestly we didn't expect it. My first two stints were pretty good and obviously we took from the misfortune of the Aston Martin but that is motorsport and it has happened to us before. We have had a tricky start to the year and it is nice to be back on the podium since Le Mans and it feels great."
Anthony Davidson – No38 Jota Oreca-Gibson [LMP2] 
"It means a lot to win and as a new car crew it feels special to win especially after the good race we had together in Fuji where we ended up P2 but were cruelly robbed of the position after being excluded.
"So to come back and win in dominant style I'm really happy about that. It's great for Goodyear as well and it is their first race win in LMP2, so it's nice to be a part of that and to have engineered that and it is an important day.
"The start of the race was really challenging against all these young kids in LMP2 fighting tough and nail. I thought I would just back a bit at the start as we started P5 and it was interesting seeing how they raced each other and I was able to pick them off one by one as the race settled down."
Jonny Adam – no90 TF Sport Aston Martin Vantage [LMGTE Am]
"It's nice to race against Darren [Turner], we are usually in the same car.  I was fortunate to have twelve laps fresher tyres so I managed to get by. It was all done to Salih's stint today, he drove so well over the first two stints, which gave us a good position to manage the gap and play the strategy out as the race unfolded. Tyre management is crucial around here, there was so much pick up towards the end of the race, it was just about staying on the line.  
"For us, back to back victories and leading the championship now. Unfortunately, we have a little bit more success ballast going into Bahrain, so that might take its toll there, but really happy.  We didn't expect the win, a podium was potentially on the cards, but it is great to get back to back wins."