WEC - What the Drivers Said After Qualifying
The eight drivers that claimed the four class poles for the 4 Hours of Shanghai gathered for the post qualifying press conference.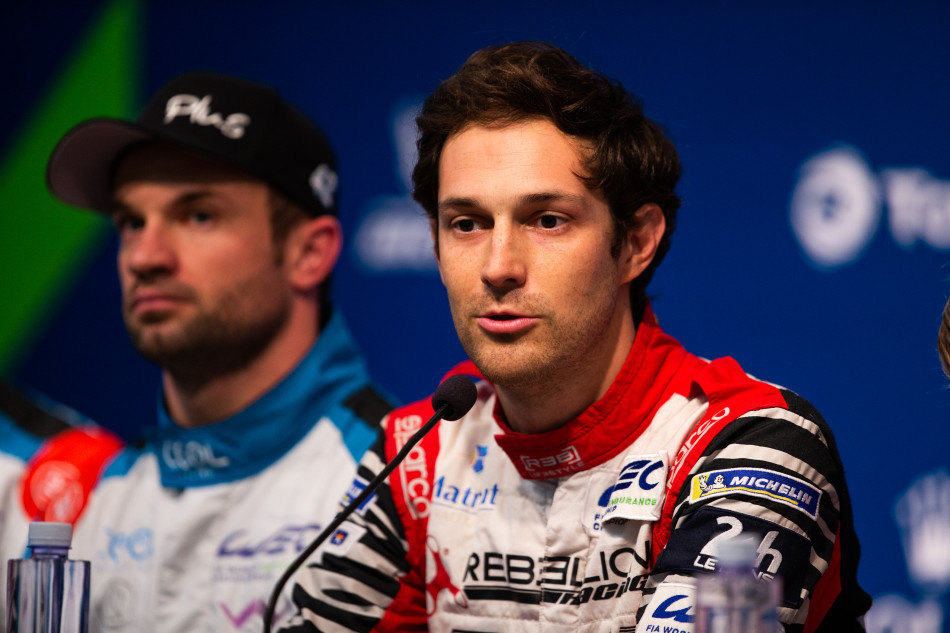 Bruno Senna – no1 Rebellion Racing Rebellion R13-Gibson - LMP1
"I think the car really comes to life on low fuel and new tyres.  Last year was amazing to drive the car in qualifying here. Last year we were about three seconds faster than we did here today, which is a bit strange. Today the car was gripping better and I felt I left a bit on the track unfortunately, but when you are losing three seconds it takes a bit of getting used to.
"Tomorrow we know the degradation for the tyres is very high here, so we need to make sure the tyres are surviving the double stints.  We know the Toyotas will have a strong race with regards to tyre degradation, we saw that their average pace so far has been quite flat, so I guess they don't have the peak pace but their average pace is strong.  Hopefully we can deal with traffic as well as them.  The Ginetta is obviously very fast. If they are in front of us it will be very difficult to overtake as they are about 10kph faster than us on the straights and we are not much faster than the LMP2s so traffic management will be very important tomorrow.  Hopefully we can finish where we start the race." 
Gustavo Menezes – no1 Rebellion Racing Rebellion R13-Gibson - LMP1
"I'm super excited and grateful to be here to start the race from the front.  Bruno did an incredible job.  I'm in shock! We've been struggling, in fact the whole LMP1 class has been struggling, with grip throughout the weekend.  I'm not saying it was perfection because you can see clearly with the pace compared to last year.  I was really surprised when we went on track for qualifying and the car was three seconds a lap faster.  
"Obviously making the most out of it on one lap isn't easy but I'm very satisfied with what we had; Bruno managed to go out there and take it up another notch.  It's a good sign, but at the end of the day, it's one lap and now we have a four-hour race to maintain the pace.  Hopefully we can keep shining the way we did today." 
Michael Christensen – no92 Porsche GT Team Porsche 911 RSR-19 - LMGTE Pro
"It was pretty tough to be honest. We'd planned to do just one lap each.  Track conditions had changed quite a bit for me from FP3, so it was going out there and getting a feel for everything; it was hard putting everything together and I made some mistakes.  I wasn't really pleased with what I did but I managed to be pretty close to the others. Kevin got in the car and finished off everything, which was pretty good." 
Kevin Estre – no92 Porsche GT Team Porsche 911 RSR-19 - LMGTE Pro
"To be honest my lap didn't feel that special and I think that was the key.  It was very hard here to put a lap together; also for us it is a huge gain on new tyres and low fuel and I just tried to drive without making any mistakes.  Obviously, it worked.  It may have been a mega lap time but in the car it didn't feel that special.  I am really happy for our side of the garage as we haven't had great qualifying so far this year, our last pole was Sebring.  It's cool but it is going to be a very long race tomorrow as tyre deg is high here.  It's good to start first but it's going to long and the long run might be different than qualy."
Nicolas Lapierre – no42 Cool Racing Oreca 07-Gibson - LMP2
"My lap was pretty ok and you have just one lap here so it is just a matter of not messing it up but more important today is that I am very proud of the team because it is the first time in the WEC and it is the first pole.  My teammate as well didn't know the track and it was a great achievement for everyone and we are happy and looking forward to the race tomorrow."
Antonin Borga – no42 Cool Racing Oreca 07-Gibson – LMP2
"I am very happy and congratulations to Nico because the lap was amazing. My thanks to the team and my teammate.  I'm crossing my fingers for the race as it is a long four hours."
Matteo Cairoli – no56 Team Project 1 Porsche 911 RSR – LMGTE Am
"I didn't feel super in the car but the lap time was quite OK.  The strange thing is I was able to improve in my third flying lap, which is normally strange in a track like this. I was able to put all the sectors together and it was enough to be on pole here today. Egidio did a perfect job as well and the team is brilliant. Hopefully we will be able to finish the job tomorrow."
Egidio Perfetti – no56 Team Project 1 Porsche 911 RSR - LMGTE Am
"Obviously it is great to get our first pole of the season and we hope to get some more for the rest of the season. It is a bit strange how we ended the last session but we insisted on going with another set of tyres and the track helped, possibly the track was too green for us earlier and I think I managed to get a bit more settled and that helped us to me more comfortable today and not to worry too much about the set-up. Then it was a matter of not pushing too hard and putting the sectors together."