WEC - What the drivers said after Qualifying
WEC - 2017 6 Hours of Nürburgring - Post Qualifying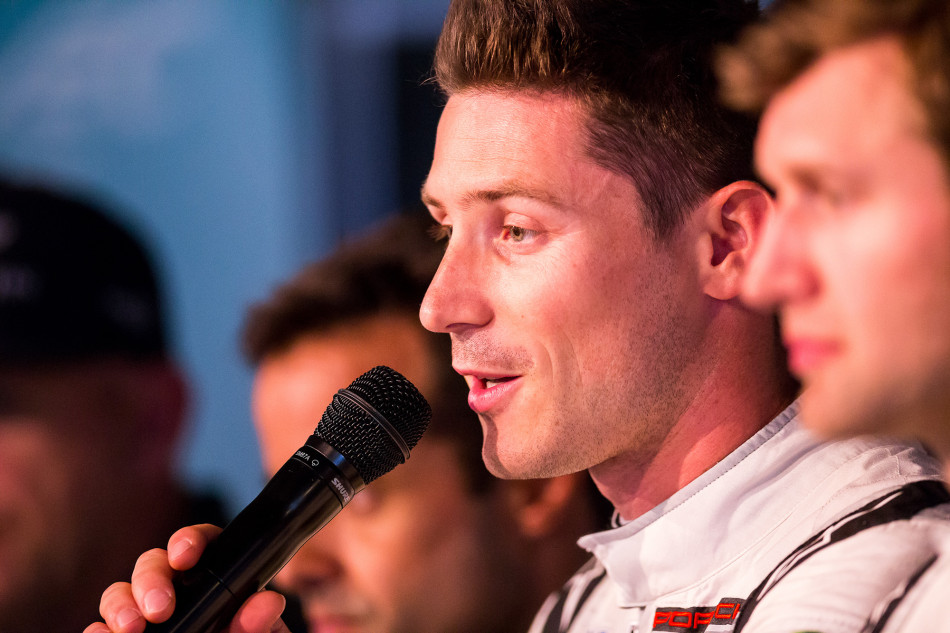 Jose-Maria Lopez
LMP1 - No7 Toyota Gazoo Racing Toyota TS050 HYBRID
"We have worked hard and tried to catch up to Porsche this weekend. We had a good lap in Free Practice this morning and we knew the pace in the car was there. It was my first qualifying attempt in LMP1 and thank to the team because they gave me a lot of opportunities to do laps in qualifying mode.
"Kamui did a fantastic job too and this is about the team so everyone put it together and it is a pleasure to drive this car and the nice set-up we have. It is a great start."
Kamui Kobayashi
LMP1 - No7 Toyota Gazoo Racing Toyota TS050 HYBRID
"The team and crew did a really good job. In the past we have struggled a bit with this track and especially with the tyres. Actually before the qualifying session we didn't think we would be in this position now. We put new tyres on when I got in the car and it felt pretty good. We have to focus on tomorrow but we will enjoy this moment."
Ben Hanley
LMP2 - No26 G-Drive Racing Oreca-Gibson
"The team have done a fantastic job this weekend and they have a 100% record this season for poles so the pressure was kind of on me to keep that going but the team did a great job in setting the car up for today and it paid dividends for us."
Pierre Thiriet
LMP2 - No26 G-Drive Racing Oreca-Gibson
"Pole position is always a nice way to start the weekend. We know that tomorrow it will be a difficult day with the three minute penalty. But I am really happy with the car and the job the team has done. Congratulations to Ben for the job he has done today."
Michael Christensen
LMGTE Pro - No92 Porsche GT Team Porsche 911 RSR
"Of course to get pole position here at Nürburgring is good for us, for the team and the project itself.  We wanted to do better in the first few races but it has been hard and to come here and take the fastest lap in a GT car is really nice.  Everything came together, it was great and we are really happy to be back."
Kevin Estre
LMGTE Pro - No92 Porsche GT Team Porsche 911 RSR
"Firstly I am very happy to be here.  The lap was not perfect from my side, it started pretty badly at Turn 1 but the rest of the lap was good.  Michael had set a really fast lap and it was tough for me to match. 
"With regards to the Balance of Performance, the FIA is trying to make the best job possible to try and make all the cars equal.  Obviously there are a lot of different tracks in the championship which are all different and so far I think they've done not a bad job.  When you look at the different cars here and everyone is quite close and for us it was good today but the race is going to be tough.  It is 6 hours long and four sets of tyres.  Of course it is nice to start in front on pole but the race is going to be really long.  We saw in Le Mans that everyone was close, it makes for great racing and everyone enjoys that."
Pedro Lamy
LMGTE Am - No98 Aston Martin Racing Aston Martin Vantage
"It's great to have another pole position but in Free Practice I wasn't feeling very confident with the car.  The team worked hard, we arrived in qualifying and the car was good.  We managed to improve our lap times quite a lot.  The team did a great job and well done to Paul because he was amazingly fast."
Paul Dalla Lana
LMGTE Am - No98 Aston Martin Racing Aston Martin Vantage
"I'm always happy to get the extra point for pole.  Pedro of course is being ever modest as it was a crazy fast lap for him.  I am sure it is going to be tough tomorrow as the competition is getting a lot closer now with just a few tenths between us.  It's going to be a long race but hopefully we can come back to the press conference tomorrow."