This page contains archived information and may not display perfectly
WEC - What the Drivers said after the 6 Hours of Bahrain
WEC - 2017 6 Hours of Bahrain - Post Race Press Conference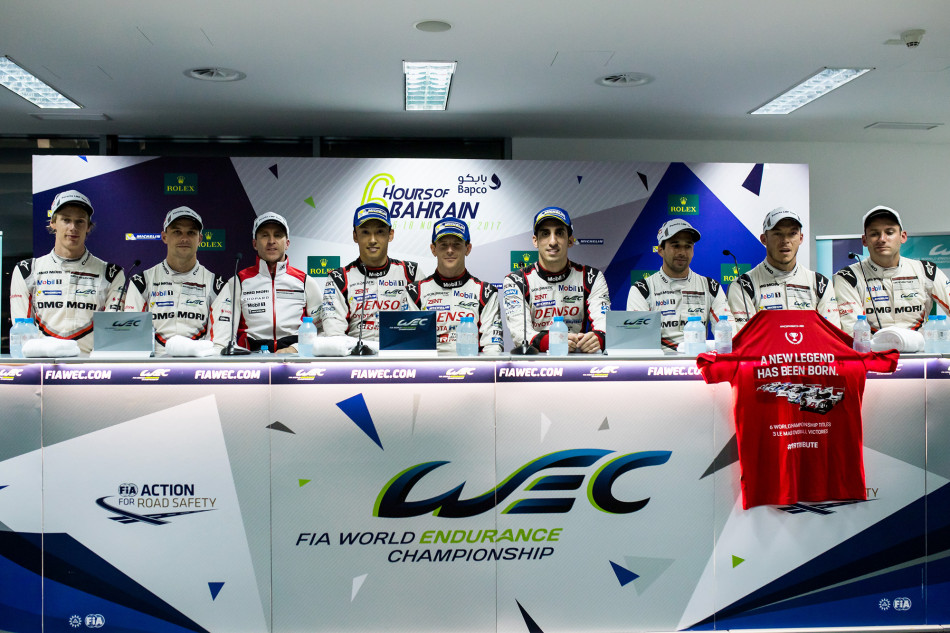 Sébastien Buemi
No8 Toyota Gazoo Racing Toyota TS050 Hybrid
 "It's amazing to get five wins in a season; I am really happy. It's the first time we have achieved that and it shows what a good car the team produced. I'm trying to enjoy the moment but on the other side I am a bit sad because it's the end of an era with Porsche leaving LMP1. Still, we worked very hard for this so we will enjoy this win."
Anthony Davidson
No8 Toyota Gazoo Racing Toyota TS050 Hybrid
"It was a great race. All three drivers, plus the engineers and pit crew, deserve credit for this. Everyone did a perfect job this weekend; we hit the ground running and got the tyre choice just right, so a big thanks to the team. Thanks also to Porsche who have helped us to raise our level to new heights; it was a pleasure to race against them."  
Kazuki Nakajima
No8 Toyota Gazoo Racing Toyota TS050 Hybrid
"That was a fantastic way to end the season. We had a very strong car and all of our crew did a great job; they deserve this victory. It is nice to finish the year with a strong and consistent race. To win five times in one season is amazing and to finish the year with three wins is great. Thanks to the team for giving us this opportunity; I am really happy."
Timo Bernhard
No2 Porsche LMP Team Porsche 919 Hybrid
"We didn't have the pace today to challenge Toyota more. In the beginning we had this (track marker) bollard situation and today I collected it but that was the situation.
"We didn't stop fighting but the result was actually secondary today. It is the end of a great era and I am just honoured to be part of it from the beginning to the end of the Porsche 919 Hybrid project.
"We have got great people, great teammates all round and it has been a big pleasure and I will definitely miss it as it has been a real high of my career and there have been a lot of great moments."
Brendon Hartley
No2 Porsche LMP Team Porsche 919 Hybrid
"We fought until the end and it is nice to have both cars on the podium for our final race. It is very mixed emotions for me as I am going to miss this very much as it has been incredible to be part of this programme from the very beginning. It was a real honour."
Earl Bamber
No2 Porsche LMP Team Porsche 919 Hybrid
"In the race today we were a little bit on the back foot but we never gave up and tried to keep a clean race  and we managed to get up to second place without having an problems.
"I was just pushing and enjoying the last ever laps in the car. To be part of the programme which I joined quite late but to have the chance to be part of it, coming from the Carrera Cup and go to Le Man (in 2015) was crazy so I have to thank everyone at Porsche and belief in system and the pyramid at Porsche to give the opportunity in the first place. It has been an honour to drive for Porsche in the highest level of motorsport."
Neel Jani
No1 Porsche LMP Team Porsche 919 Hybrid
"At the beginning it was not easy for us to stay out front and I tried everything and had some great fights with the two Toyota's. I just enjoyed every battle as I knew it was the last time we could play with this boost, do tactical games and to do under and over boost, so this race was really in that perspective. It was an amazing four years and an amazing journey."
Nick Tandy
No1 Porsche LMP Team Porsche 919 Hybrid
"I enjoyed the race, it was a good fight and we were all pushing hard. We got ambitious as the second stint on the tyres looked quite good and we thought we would roll the dice and try and do a triple on these tyres because we quite a way behind the No.8 car at the time.
"Unfortunately we had contact with another car in the middle of the race and we were trying to get some kind of advantage to catch up with the No.8 car. It has been a pleasure to drive with these two guys over the course of the season and to be part of this team."
Andre Lotterer
No1 Porsche LMP Team Porsche 919 Hybrid
"We had a good race but unfortunately we had the issue. It has been a bit of a difficult season to accept without a win but we try to enjoy every lap and the car was great and it was nice to do the fastest lap and I am a pretty lucky boy to do 50 races in the WEC. We will look back at these great moments and this great racing in the years to come. It has been a pleasure to b at Porsche as well."