This page contains archived information and may not display perfectly
WEC - What the Drivers Said After the 6 Hour of Bahrain
After the 6 Hours of Bahrain, round 5 of the 2021 FIA World Endurance Championship, the winners gathered in the post race press conference.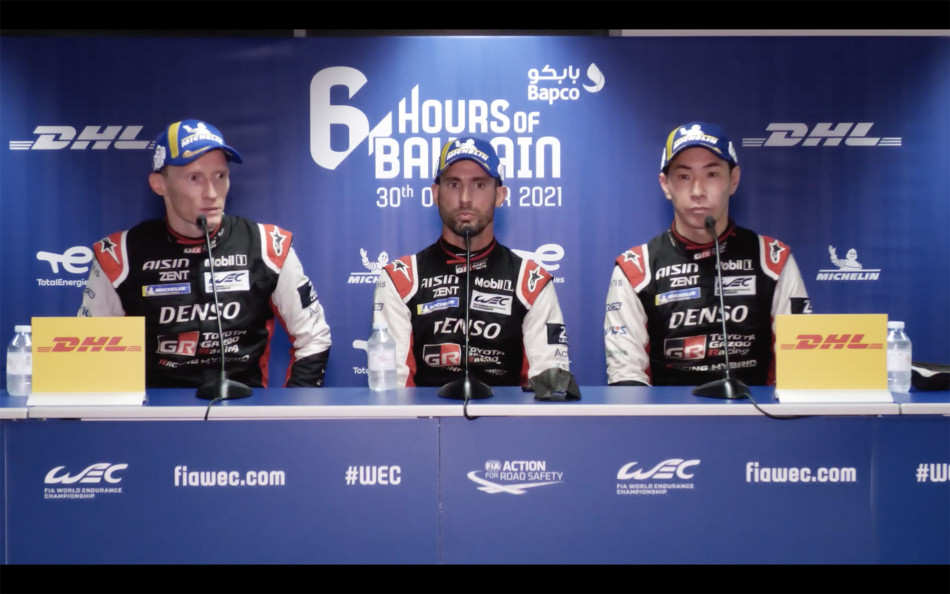 Jose-Maria Lopez – Toyota Gazoo Racing, No.7 Toyota GR010-HYBRID          Hypercar 
"Congratulations to all the team who did a fantastic job today.  I started the stints, and we were a bit penalised with the full course yellow and then it was all about tyre management. We didn't really know still with the kind of temperatures because so far, we were doing just 15 laps in a row in practice. I just managed the tyres in the beginning, and I probably managed them a bit too much but then that helped me definitely for the second stint when I could pull out again a gap and give the car to Kamui, which after he kept pulling away. 
"It was a smooth race with no mistakes from the team, so we are very happy with this victory. I think it's very important for the team and individually as well for the for the Drivers' Championship. It gives us a good lead. There is still a long way to go with the eight hours but it's a very important result for us today."
Kevin Estre – Porsche GT Team, No.92 Porsche 911 RSR-19         LMGTE Pro
"The start was very good, I was a bit afraid, but in the end, I had a good jump and a clean first corner. Ferrari stayed with us for the first five-six laps and then they started to drop, and it seems that we were a bit better on the tyres. We could stay a bit more constant. The #91 was on our tail the whole race. It was nice to have somebody between us and Ferrari, but also good for Porsche because we needed this double victory for the [fight for] the manufacturers championship. 
"It was quite smooth but as always difficult. Bahrain is a tough track on tyres, especially with this heath. From 11:00 to 3pm is quite hot out there and the tyres suffer a lot.  The team did well on the strategy. I think we could extend what we could and didn't take any crazy risks. We were well in control today. All the pitstops were correct and this made for a clean victory. [It's] very important for the points and it's a great season so far."
Ferdinand Habsburg – Team WRT, No.31 Oreca-Gibson  LMP2
"First of all, it was just a mega race for us. We had a great time and improved so much through the practice sessions that we didn't even expect the pace that we had today. It just meant that I had more fun out there, we had to start further back in seventh. But I had to start for the first time this year and I didn't know what to expect. But anyway, I was able to overtake car by car and bring us up into the top three and I just enjoyed it all so much. I handed over to these guys (Frijns and Milesi) who finished the job perfectly. They look like they had fun out there as well and it was just awesome to once again relive the celebration feeling that we had with the team in Le Mans."
Frits van Eerd – Racing Team Nederland, No.29 Oreca-Gibson  LMP2 Pro/Am
"This is a perfect day to be honest, really, this is a dream that came true. We were really fighting with a car to find the right setup. Last year, we were doing well, so we had a feeling we go to Bahrain, and we know what to do. But on Thursday the first time out, we had so much understeer, and then it turned to oversteer and there was no way of being compatible. 
"On Friday it was about the same, but it was getting a little better. But today in the race suddenly, we had a car that was really performing well, like it should be honest. We were all happy with the car and said, 'okay, let's save tyres, let's save the car, let's save mechanically, and make sure that we are going to make it today and then let's go to the podium and see if we can win.' 
"It worked out so well, and to be honest this was for me the most relaxed race we ever did, you know, my heartbeat goes up 100 times a minute, or even more, because you see you can win. Of course, the other side of winning today is leading the world championship. But it all comes together next week, and the next race."
Ben Keating – TF Sport, No.33 Aston Martin Vantage   LMGTE Am 
"Starting the race, our car was just handling better than it did yesterday, so kudos to the team for whatever they did to make it feel a little better for me. It's a whole lot easier to build a gap when you start up front but starting sixth it takes a lot of work to get around all of those cars ahead of you and that takes some time out of you. 
"It was really hot out there today and two hours in the car was a lot. There were no full course yellows or safety cars, so no breaks of any kind for the first two hours of the race which meant I was full on it the whole time.  But it's enjoyable to have a race win because we were extremely close at Spa when we had random contact from a LMP2 that ruined our chances and we were so close at Monza too, and again so close at Le Mans, so it's really nice to finally get the win."