WEC: Toyota wins at Spa; Ferrari takes LMGTE Pro honours
Kamui Kobayashi, José-María López and Mike Conway took victory in the round two of the 2022 FIA World Endurance Championship, TotalEnergies 6 Hours of Spa after a dramatic and rain-affected test of endurance this afternoon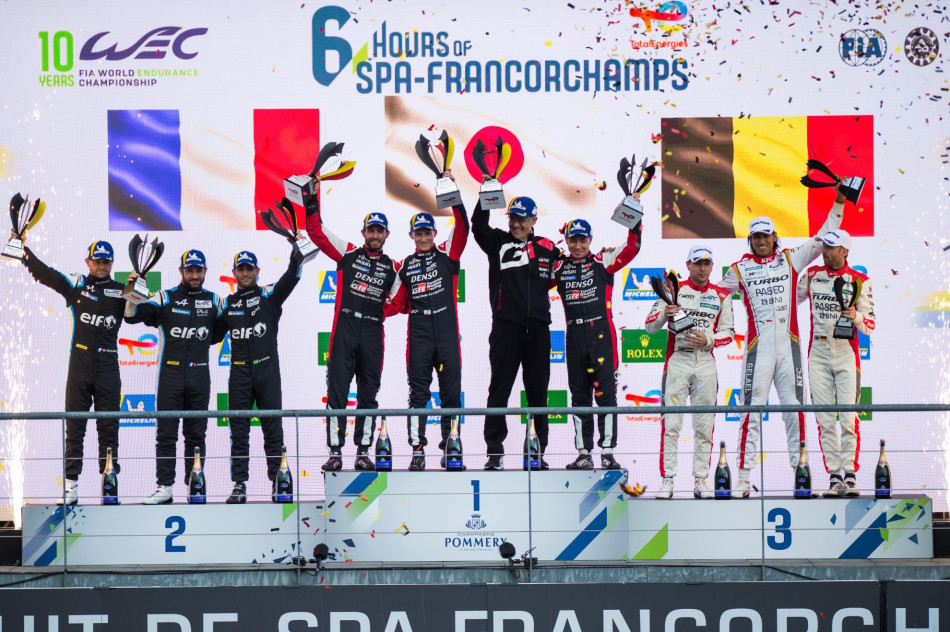 Red flags, safety cars and full course yellows punctuated the race, but it was the No.7 Toyota GR010 Hybrid Hypercar that emerged with maxim points.
AF Corse claimed the spoils in the LMGTE Pro category after a clever strategy saw James Calado and Alessandro Pier Guidi emerging victorious. In the thrilling finale Calado just held off the Porsche of Michael Christensen, eclipsing the Dane by 0.523s. 
WRT took a brilliant LMP2 victory on home soil as Robin Frijns, Sean Gelael and Rene Rast came out on top of the ultra-competitive field. 
In LMGTE Am Harry Tincknell, Christian Reid and Sebastien Priaulx took the victory for the No.77 Dempsey Proton Porsche squad after epic final 10-minutes of racing. 
The Headlines from the TotalEnergies 6 Hours of Spa-Francorchamps:     
Hypercar   
No.7 Toyota GR010 Hybrid Hypercar of Kamui Kobayashi, José-María López and Mike Conway takes their first-ever win at Spa to break the No.8 domination since 2018 
Lopez takes the chequered flag in race of wild weather and several stoppages ahead of No.36 Alpine ELF Team trio of Andre Negrao, Nicolas Lapierre and Matthieu Vaxiviere 
Glickenhaus take third place but rue communications error on tyre call at mid-distance 
No.8 Toyota retires early with suspected Hybrid problem
LMGTE Pro   
James Calado and Alessandro Pier Guidi take the first victory of the season for AF Corse as they come through after the sister car of Miguel Molina and Antonio Fuoco lead the mid-phase of the race 
Fuoco fended off Christensen in the final hour, but Christensen makes it through at La Source to then apply pressure on Calado
Corvette Racing's Tommy Milner and Nick Tandy take fourth position after fighting back from losing out in the first red flag period when they were trapped in pits 
Gianmaria "Gimmi"  Bruni and Richard Lietz complete LMGTE Pro in No.91 Porsche 911 RSR-19 after losing out on the opening lap due to contact with No.92 sister car 
LMP2    
WRT claims splendid home LMP2 win as Rene Rast takes chequered flag but foundations for win are set by early stints by Sean Gelael and exceptional efforts by Robin Frijns in worst of the weather conditions 
Sensational last hour sees frenetic battle for podium positions as Ferdinand Habsburg driven Realteam WRT entry fights with United Autosports USA car of Phil Hanson
Habsburg secures second place after excellent final hour fights
Taking third place is the No.38 JOTA car of Will Stevens, Antonio Felix da Costa and Roberto Gonzalez
The battle ends in contact at La Source and Bus Stop chicane. Hanson drops back into the clutches of Team Penske's Felipe Nasr 
Hanson though fights back but eventually finishes fifth after re-engaging in the fight with Nasr who claims fourth in the final thrilling laps 
LMGTE Am    
Harry Tincknell, Christian Reid and Sebastien Priaulx take LMGTE Am victory for the No.77 Dempsey Proton Porsche squad  
Tincknell holds off charging TF Sport Aston Martin of Marco Sorensen in the final laps  
Third position is the Northwest AMR entry as Nicki Thiim engages in battle with former LMGTE Pro teammate Sorensen