WEC - Qualifying Press Conference Driver Quotes
The eight drivers who claimed the four class pole positions sat in the post qualifying press conference to answer questions from the international media.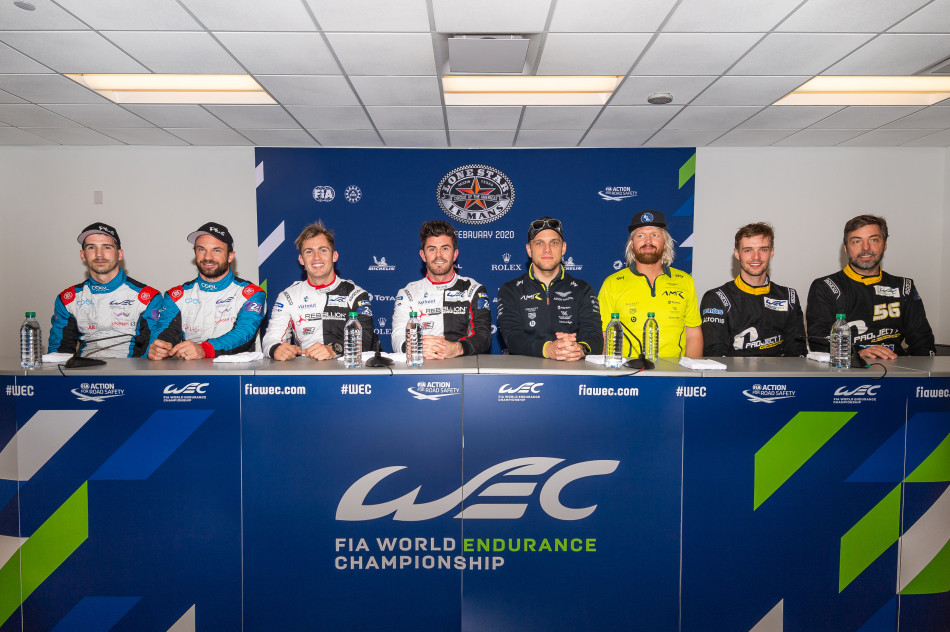 Gustavo Menezes - No 1 Rebellion Racing R13-Gibson (LMP1)
"Honestly I have to say a massive thank you to each and every one of the boys at Rebellion. We blew an engine half way through Free Practice 2 today and, for anyone that knows, it's obviously not very easy to change an engine and be ready in four hours but they assembled it all fast and flawlessly and gave us the opportunity to be out there in qualifying.  I'm quite excited to be able to put it on pole."
Norman Nato - No 1 Rebellion Racing R13-Gibson (LMP1)
"Qualifying went well, as Gustavo mentioned.  It's good to be on pole today but the most important thing is that we fixed the car.  The mechanics did an incredible job to get us into qualifying today and we thanked them with pole position so it's a good start to the weekend. Now we know that's going to be a long race tomorrow and, although the red flag didn't come at the right time, we are on pole and that's the most important thing."
Marco Sorensen - No95 Aston Martin Racing Aston Martin Vantage (LMGTE PRO)
"It was a fun qualifying session because we lost a bit of time in the second practice session we had.  It made everything a little bit more wild for the qualy because it didn't feel we had the track completely under our nails, but it was an amazing qualifying.  The track temp was a lot lower, it made the car feel absolutely great. 
"In FP2 we were struggling a bit with the balance of the car.  We came into the qualifying with some small tweaks to the car, it really felt like a hard core weapon.  Super work from the team and now we just need to finish the job tomorrow."
Nicki Thiim - No95 Aston Martin Racing Aston Martin Vantage (LMGTE PRO)
"I don't really have much to add what Marco said. In the cold conditions with low fuel and new tyres every car feels incredible on this track.  To nail one lap on this track is not easy but we did it and I'm really happy with the first pole for the car this season.  I'm very happy for the team."
Nicolas Lapierre - No42 Cool Racing ORECA 07 Gibson (LMP2)
"It was a very eventful qualifying but, in the end, we managed it quite well.  We had already posted the lap which was enough for the pole position before the red flag, but we decided to go again just in case, to make sure that if anyone improved, we would be there.  It was a great job from the team.  We were struggling a bit in free practice but in the end we made it to the second pole position of the year.  For our first season in the WEC it's quite a good result, and a great drive from my teammate [Borga] as well."
Antonin Borga - No42 Cool Racing ORECA 07 Gibson  (LMP2)
"It's a long race tomorrow but it's better when you start from first position!  A big thank you to the team as they have worked very hard, and a big thank you to Nico for his driving. I'm very happy for my team."
Egidio Perfetti - No56 Team Project 1 Porsche 911 RSR (LMGTE AM)
"This is my first day on track here in Austin, so I didn't exactly know what to expect, but I am very pleased with the way the car was prepared and the job the team has done.  After seeing Matteo's lap, I had the confidence to go and do well.  Unfortunately, I made a bit of a mistake in the first lap; I got track limits.  I had to keep focusing and pushing, luckily the lap came together."
Matteo Cairoli - No56 Team Project 1 Porsche 911 RSR (LMGTE AM)
"This weekend is so far, so good.  We have a new teammate.  He has no experience at all with this car or with this track, so everything is new for him but he is doing a great job.  I have to thank the team a lot because the car was really mega to drive today, we couldn't ask for anything better; we will try to finish the job tomorrow."